Tokyo, Jan. 23, 2023 (GLOBE NEWSWIRE) -- The global abrasives market size was accounted at USD 54.83 billion in 2022. An abrasive is a material used to grind wood, concrete, ceramics, stone, or minerals. These materials provide a sleek, clean and finished look. This process is commonly used to polish materials to a smooth, reflective surface. These products are used to roughen materials for matte, satin or pearlescent finishes.

The use of these materials in abrasive papers, abrasives, polishing agents, grinding wheels, vibrating and vibrating bulk finishing media, crushed stone, sandblasting, ball mills and other tools aids in increasing market leader. Construction industry is witnessing tremendous and unprecedented changes supported by economic growth, hence the increasing demand for the product.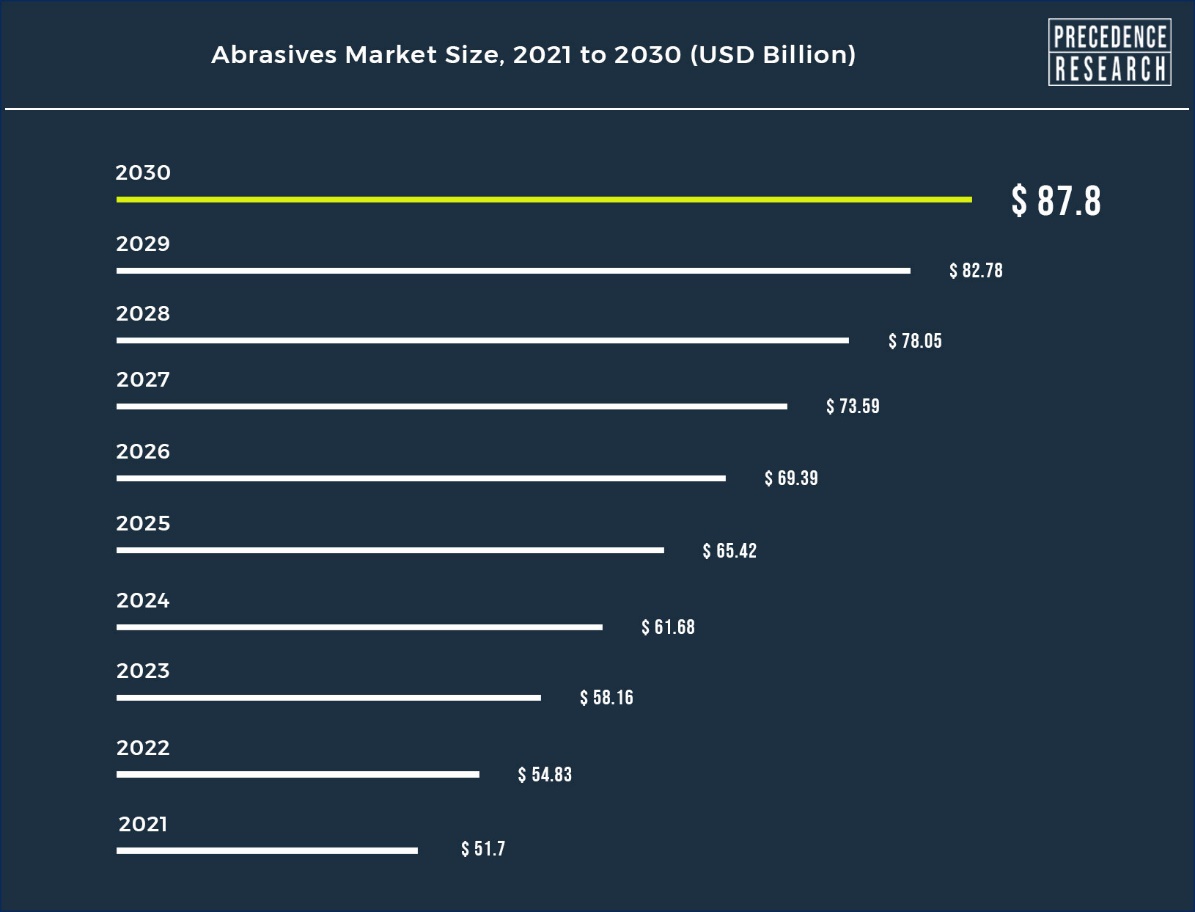 Key Insights:
The Asia Pacific market was estimated at USD 24.5 billion in 2021.
By application, the automotive industry has accounted revenue share of 42% in 2021.
By product, the bonded segment has held revenue share of 43.5% in 2021.
Asia Pacific has captured revenue share of 56.4% in 2021.
North America has captured revenue share 21% in 2021


Get the sample copy of this report@ https://www.precedenceresearch.com/sample/2320
Regional snapshots
Asia-Pacific is expected to occupy the top position in the overall market over the forecast period. This is because technological progress, as well as the development of the construction industry, will support demand for the product in China, Japan and India. China is the main consumer due to strong demand for metal fabrication and machinery. Europe is the center of car production, thus increasing product consumption. In addition, the high degree of cleaning and sustentation services for these cars is a major factor driving the market growth in this continent.
North America is anticipated to grow exponentially during the forecast period. The rapid growth of the mechanical and precision tool manufacturing industry, coupled with technological advances in the United States, is expected to multiply the market growth.
In Latin America Argentina and Brazil are the key countries that will boost the market size. This excrescence in the region can be note to the rise of the automotive, aerospace, construction and furniture industries.
The Middle East and Africa market is expected to grow significantly during the forecast period. The boom in woodworking, and solid surface grinding and polishing, in the region will drive the growth of the market in the coming years.
Ask here for more customization study@ https://www.precedenceresearch.com/customization/2320
Scope of the Report
| | |
| --- | --- |
| Report Attributes | Details |
| Revenue Forecast by 2030 | USD 87.8 Billion |
| CAGR | 6.06% from 2022 to 2030 |
| Automotive Segment Share | 42% in 2021 |
| Asia Pacific Segment Share | 56.4% in 2021 |
| Base Year | 2022 |
| Forecast Year | 2023 to 2030 |
| Key Players | Robert Bosch GmbH (Germany), NIPPON RESIBON CORPORATION (Japan), Saint-Gobain (U.S.), Asahi Diamond Industrial Co., Ltd. (Japan), Fujimi Incorporated (Japan), Carborundum Universal Limited (India), The 3M Company (U.S.), Henkel AG & Co. KGaA (Germany), Krebs & Riedel (Germany), KWH Mirka (Finland), NORITAKE CO., LIMITED (Japan) |
Market Dynamics
Drivers
Growing demand for products for grinding and polishing operation in end-use industries, such as automotive, electronics, electrical equipment and machinery, and metal fabrication, is expected to augment the market. In the production of automotive components, products are essential to alter operating field such as noise reduction and carbon dioxide emissions from high-performance engines and component processing.
Restraints
Lack of raw materials and strict regulations impeding the market growth of the abrasives market. The most common corrosive raw materials are synthetic diamond, silicon carbide, cubic nitride, aluminum oxide, and ceramic. These raw materials are acquired from sustainable resources such as petroleum. The depletion of these resources leads to the depletion of raw materials, thereby limiting the growth of the market.
Opportunities
Growing application of abrasives in construction business to create growth opportunities Construction is expected to be the main application of the product over the forecast period. The increase in construction exercise is due to rapid urbanization and improved lifestyles. Economic growth in developing countries coupled with high innovation activities further support the development of the market. These products are accustomed in the construction industry in a number of applications such as woodworking and fabrication, metal fabrication and metal components. Developing countries, such as India, China, Japan and other Asian countries, are the main countries that are experiencing upsurge in the construction industry. The population growth in these countries has had a positive impact on product utilization due to the increment of residential construction. In addition, the large shift of industrialization from the Western region to smaller countries directly supports the growth rate of the construction industry, which in turn promotes the development of the abrasive industry.
Challenges
The growing concern for protecting the environment and forestalling the spread of pollution has prompted governments to take action and impose strict rule on the utilization of this product, thereby hindering market growth.
Report Highlights
By material analysis, the synthetic segment to hold large market share due to superior properties On the basis of materials, the market is bifurcated into natural and synthetic. They have a wide variety of applications because the shape of the abrasive can be altered as needed, the purity can be changed, and the crystal structure inside the grain can be controlled. These customizable properties provide a positive outlook for segment growth. The coated section consists of the granules, the base material, and the bonding binder. Each of these elements gives the product a unique quality that makes it suitable for different applications. The use of pile abrasives in consumer goods, manufacturing, power and hand tools, general engineering, furniture and surgical products will drive industry growth. Bonded abrasives are made up of a material held in a matrix called a bond. The growing applications for bonded abrasives in the automotive, electrical and electronic industries are supporting the growth of the market.
The growing applications for bonded abrasives in the automotive, electrical and electronic industries are supporting the growth of the market. There is a growing demand for super-abrasives in applications such as construction, precision edging in automotive, and woodworking tools. These products in are used to shape materials that are too fragile or too hard, such as glass, in the construction and automotive industries, ceramic compounds and other types.
In automotive applications, the product is primarily used as abrasives and segments to smooth or roughen surfaces for polishing, mounting or painting. Growing applications for cleaning, washing and repairing automotive parts will drive segment growth. In addition, rubber bonded grades are used for semiconductor manufacturing and electronic usage such as CMP tapes, re-grinding, wafer slicing, chip die cutting and other manufacturing operations. They have applications such as wide belts, flexible belts, beaded gels and nonwovens for advanced ceramics.
Related Reports
Get Our Latest Press Releases@ https://www.precedenceresearch.com/press-releases
Recent developments
September 2020 - RPM International Inc. took over Ali Industries, LLC's business operations, a sandpaper manufacturer. Through this acquisition, Ali Industries will be able to provide an advanced product segment with enhanced surface by adding abrasives to its line of repair and cleaning products.
February 2019 - Brookstone Partners has acquired Virginia Abrasive. VAC manufactures and distributes this product for the professional flooring and industrial flooring rental markets. This acquisition will help the company to drive the growth by expanding its product line. Brookstone Partners will accelerate the growth of VAC by acquiring additional businesses to meet changing customer needs.
Market Segmentation
By Source
By Product Type
Bonded
Coated
Super
Steel
Others


By Material
Aluminum Oxide
Silicon Carbide
Emery
Corundum
Boron Carbide
Others
By Application 
Machinery
Electrical & electronics equipment
Automotive
Metal fabrication
Aerospace
Others
By Geography
North America
Europe
Asia-Pacific
Latin America
Middle East & Africa (MEA)


Immediate Delivery Available | Buy this Premium Research Report@ https://www.precedenceresearch.com/checkout/2320
You can place an order or ask any questions, please feel free to contact at sales@precedenceresearch.com  | +1 9197 992 333
About Us
Precedence Research is a worldwide market research and consulting organization. We give unmatched nature of offering to our customers present all around the globe across industry verticals. Precedence Research has expertise in giving deep-dive market insight along with market intelligence to our customers spread crosswise over various undertakings. We are obliged to serve our different client base present over the enterprises of medicinal services, healthcare, innovation, next-gen technologies, semi-conductors, chemicals, automotive, and aerospace & defense, among different ventures present globally.
For Latest Update Follow Us:
https://www.linkedin.com/company/precedence-research/
https://www.facebook.com/precedenceresearch/
https://twitter.com/Precedence_R