Ottawa, Jan. 24, 2023 (GLOBE NEWSWIRE) -- The global immunoassay market size was accounted at USD 32.46 billion in 2022. The rising prevalence of infectious & chronic diseases, increasing awareness for early diagnosis, technological development in immunoassays, and growing usage of immunoassays in drug & alcohol testing are the key factors driving the immunoassay industry growth. Furthermore, incorporating microfluidics & biochemicals in immunoassays and increasing healthcare investments in emerging economies present significant growth opportunities for market participants.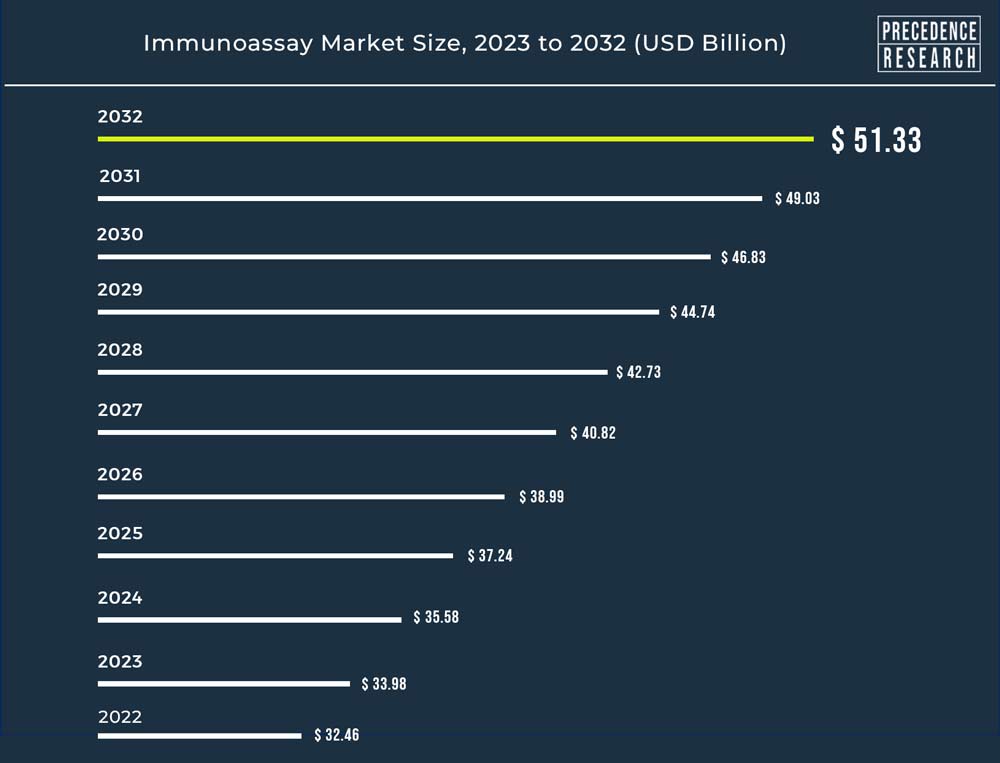 COVID-19 and immunoassay Market:
The emergence of the COVID-19 pandemic positively impacted the immunoassay market in 2020-2021 with an increase in diagnostic activities & treatment procedures. Moreover, a rise in R&D activities to develop diagnostics such as molecular tests, immunoassay reagents, and devices also drove the market growth. COVID-19 diagnostic procedures and products have created immense opportunities in the healthcare industry.
Ask here for sample copy of report@ https://www.precedenceresearch.com/sample/2557
The only effective strategy for limiting and managing the spread of illnesses and potential causalities in the absence of a vaccine or medication is to diagnose them through immunoassay reagents and instruments. Rapid testing has proven to be an effective, quick, and simple molecular test for broad-scale COVID-19 surveillance. Moreover, diagnostic manufacturers such as Thermo Fisher Scientific, Abbot, Roche, and Bio-Red have developed various technologies to improve the detection and treatment of COVID-19.
Key Takeaways:
North America market has accounted revenue share of 36% in 2022. 
Asia Pacific market is poised to grow at a fastest rate from 2023 to 2032. 
By product, kit and reagent segment has accounted revenue share of 61% in 2022. 
By product, the software and services segment is poised to grow at a CAGR of 5.68%.
By technology, the ELISA segment has accounted revenue share of 61% in 2022.
By application, the infectious disease segment has accounted revenue share of 31% in 2022.
By end user, the hospital & clinical segment has generated revenue share of 31% in 2022. 


Ask here for more customization study@ https://www.precedenceresearch.com/customization/2557
Scope of the Report
| | |
| --- | --- |
| Report Attributes | Details |
| Revenue Forecast by 2030 | USD 51.33 Billion |
| CAGR | 4.68% from 2023 to 2032 |
| North America Revenue Share | 36% in 2022 |
| Infectious Disease Revenue Share | 32% in 2022 |
| Base Year | 2022 |
| Forecast Year | 2023 to 2032 |
| Key Players | Demant A/S, Starkey Laboratories, Inc., Cochlear Ltd., RION Co., Ltd, Microson, GN Store Nord A/S, Sonova Group |
Market Drivers:
Infectious diseases boosting the market growth 
Globally, there has been an increase in infectious diseases due to rapid urbanization and climate change. According to the CDC, in 2018, the number of patient visits to ER for infectious or parasitic diseases was 3.2 million. In the same year, the number of patients visiting the physicians' office was 7.2. According to the WHO, contagious diseases kill over 17 million people yearly. Due to the increasing number of infectious disease cases, the market for immunoassays will rapidly grow and expand into more developing countries due to poor lifestyles, low health knowledge, and environmental factors.
Automated immunoassay booming the market
Many manufacturing processes are being automated nowadays, particularly in the medical field. Automating immunoassays is convenient, cost-effective, reduce variability, and, most importantly, eliminates the possibility of human error. The rapid increase of automation for immunoassays in labs and clinics worldwide provides more accurate test results. As a result of process automation, the market would continue to grow at a rapid pace. Automated immunoassay shows several benefits, such as avoiding time-consuming, easy washing steps, reducing reagent consumption, providing greater sensitivity, and facilitating improved performance.
Restrains:  
The uncertain regulatory environment hinders the market growth
Regulatory authorities provide regulatory guidelines for the manufacturing and commercialization of immunoassays. However, the time required to receive regulatory approval for immunoassays is still being determined, and investment in R&D may only succeed if the regulatory authority gives permission. 
On the other hand, stringent demands for the approval of immunoassay instruments and consumables, as well as technical challenges with immunoassay kits, are expected to impede the growth of the immunoassay reagents and devices market during the forecast period. Additionally, a lack of skilled professionals and an unsuitable reimbursement scenario may pose additional challenges to the market growth in the forecast period.
Opportunities:  
Microfluidics technology integration in immunoassays provides attractive growth opportunities.
Immunoassays are used in various applications, including pharmaceutical analysis, medical diagnostics, food testing environmental, and scientific investigations, due to their specificity and sensitivity. However, many immunoassays involve a series of labor-intensive and time-consuming washing, mixing, and incubation steps.
Immunoassay immune agents are more expensive, and the usage of immune agents can be reduced if the system is miniaturized. As a result, microfluidic systems, called lab chips or total micro analysis-system, have received attention due to advantages like integration, miniaturization, and automation.
Microfluidics is a new and diverse technology that uses fluids in microenvironments in a standardized manner, making them distinct from traditional nitrocellulose tests. They are the ultimate solution for miniaturizing biomarker immunoassays because they combine the benefits of simplified fluidics, fewer reagents, and much shorter assay times. These devices used various methods for antibody immobilization, including passive adsorption, which is familiar with plastic surfaces, and covalent binding, where salinization appears to be the foundation of most covalent binding techniques. And a combination of the two approaches, as well as some antibody-oriented methods, still need to be used.
Market Segmentation: 
By Product: 
Based on the product, the immunoassay market is categorized into kits, reagents, and analyzers. The reagents and kits segment dominated the immunoassay market with an 61% market share in 2022. The high demand for kits and reagents increases due to the growing number of home pregnancy tests and increased blood testing due to a rise in infectious diseases. 
By Technology: 
Rapid tests, ELISA, ELISpot, western blotting, and radioimmunoassay are the most commonly used technologies in the immunoassay market. Rapid tests dominated the market in 2022 with highest market share. Rapid tests detect HCV, HIV HBV, and HCG antibodies in donated blood. Rapid tests are preferred in point-of-care diagnosis in emergencies and during primary care. Rapid test use has increased since the pandemic as they are contactless and give almost immediate results.
By Specimen: 
The immunoassay market is classified into saliva, blood, urine, and other niche specimens. The blood specimens segment is expected to grow at the fastest rate in the forecast period, owing to an increase in infectious and chronic diseases. 
By Application: The global immunoassay market, based on the application, is categorized into infectious diseases, oncology, endocrinology, cardiology, and blood screening. The infectious diseases segment dominated the market with an 31% market share in 2022, whereas infectious diseases are expected to grow at a healthy CAGR of during the projected period. 
Additionally, the high share of infectious diseases can be attributed to rising rates of HIV, influenza, malaria, and new COVID-19 variants. New product launches in infectious disease testing are propelling the market forward.
By End-User: 
The global immunoassay market, based on end-users, is categorized into hospitals, pharmaceutical & biotech companies, clinical laboratories, and blood banks. The hospital segment dominated the market in 2022 with an 31% market share due to the increasing number of hospitals. With the ongoing changes in the healthcare industry, there is a greater need for hospitals with advanced facilities.
Blood banks are expected to expand during the forecast period due to an increase in the number of infectious diseases tested in these laboratories during the screening and processing of donated blood. Furthermore, because ELISA is simple to perform and requires few specialized instruments and equipment, it is widely used in blood banks.
Regional Landscape: 
Europe has held largest market share in 2022 due to the massive burden of COVID-19 cases in most countries and the emphasis on tests for controlling the spread of the infection. For Instance, according to (WHO), 15.2 million patients were registered in France as of 8th January 2022. 
Moreover, key players are working on research and development, and new product launches in the Europe region's significant players propelled the market's growth. For Instance, In Nov 2022, Getein Biotech Inc. introduced new POC solutions, including analyzers and rapid tests. Getein will debut the MAGICL 6000 at MEDICA 2022, a compact and innovative chemiluminescence immunoassay analyzer ideal for mid to high-workflow laboratories that requires a one-step chemiluminescence solution.
Related Reports
Get Our Latest Press Releases@ https://www.precedenceresearch.com/press-releases
Recent Developments in the Immunoassay market:
In 2021, Thermo Fisher Scientific inc. launched its fully automated analyzers, Thermo Scientific gallery enzyme master and thermos scientific gallery plus enzyme master, specially designed for enzyme assay applications.
In 2021, Beckman Coulter launched its fully automated and qualitative Covid 19 immunoassay, Access SARS-COV-2 lgG. The immunoassay is a fully quantitative lab-based immunoglobulin G (lgG) serology test intended to measure the number of antibodies against the virus that causes COVID -19 
2021, F. Hoffmann -LA Roche launched the SARS-Cov-2 Rapid Antigen test Nasal with the patient collection.


The key players operating in the immunoassay market
Abbott Laboratories
Danaher Corporation (Beckman Coulter)
Quidel Corporation
Ortho Clinical Diagnostics
Sysmex Corporation
Bio-Rad Laboratories, Inc.
Becton, Dickinson, and Company
F. Hoffmann-La Roche AG
Thermo Fisher Scientific, Inc.
Siemens Healthinners
Segments covered in the global immunoassay market:
By Product
Reagents & Kits

ELISA Reagents & Kits
Rapid Test Reagent & Kits
ELISpot Reagents & Kits
Western Blot Reagents & Kits
Other Reagents & Kits

Analyzer

By Type

Open-ended System
Closed-Ended System

By Purchased Mode

Rental Purchased
Outright Purchased


By Technology
ELISA

By generation

Third generation & Above
Second-generation & Below

Rapid Tests
ELISpot
Western Blotting
Radioimmunoassay
Other technologies


By Specimen
Blood
Saliva
Urine
Other Specimen
Immunoassay Market by Application
Infectious diseases
Endocrinology
Oncology
Bone and mineral disorders
Cardiology
Blood screening
Autoimmune Disorders
Allergy Diagnostics
Toxicology
Newborn Screening
Other Application


By End User:
Hospitals & Clinics
Clinical laboratories
Pharmaceutical & Biotechnology Companies and CRO
Blood Banks
Research & Academic Laboratories
Home care setting
By Region:
North America
Europe

UK
Germany
France
Italy
Rest of Europe

Asia Pacific

China
India
Japan
South Korea
Rest of Asia Pacific

LAMAEA
Immediate Delivery Available | Buy this Premium Research Report@ https://www.precedenceresearch.com/checkout/2557
You can place an order or ask any questions, please feel free to contact at sales@precedenceresearch.com  | +1 9197 992 333
About Us
Precedence Research is a worldwide market research and consulting organization. We give unmatched nature of offering to our customers present all around the globe across industry verticals. Precedence Research has expertise in giving deep-dive market insight along with market intelligence to our customers spread crosswise over various undertakings. We are obliged to serve our different client base present over the enterprises of medicinal services, healthcare, innovation, next-gen technologies, semi-conductors, chemicals, automotive, and aerospace & defense, among different ventures present globally.
For Latest Update Follow Us:
https://www.linkedin.com/company/precedence-research/
https://www.facebook.com/precedenceresearch/
https://twitter.com/Precedence_R