Tokyo, Jan. 24, 2023 (GLOBE NEWSWIRE) -- The global powder coating market size was estimated at USD 14.7 billion in 2022. In the automotive application segment, powder coatings held the largest market share in 2022 and are anticipated to keep that position throughout the study period. For metal parts and goods, powder coatings give an affordable, long-lasting, and high-quality surface. It has advantages including exceptional toughness, scratch resistance, gloss maintenance, and resistance to chalking. It is primarily applied on metal items that are exposed to severe weather. It follows AAMA guidelines and is an environmentally sustainable procedure. Given that they don't include solvents or volatile organic compounds, powder coating is inexpensive (VOCs). Additionally, excess powder coating that was sprayed on can be recovered and reused to cut costs.

Ask here for sample pages of report@ https://www.precedenceresearch.com/sample/1071
The thermoset and thermoplastic markets, as well as potential future growth, are the only ones that are specifically discussed in the research on the global powder coatings market. It concentrates on diverse powder coatings applications, such as furniture, appliances, automobiles, buildings, and agricultural, construction, and earthmoving equipment (ACE). It offers details on powder coating application techniques like electrostatic spray and fluidized bed.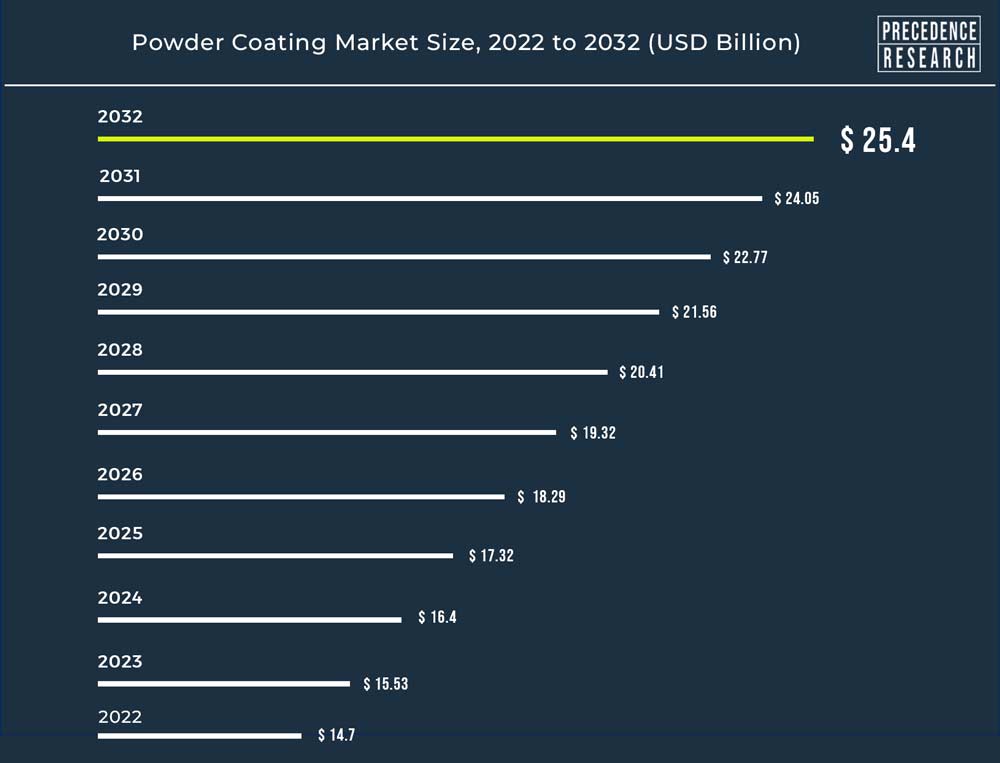 Key Insights
By resin, the polyester resin segment has held 30% revenue share in 2022.
By application, the consumer goods segment has captured revenue share of 28.6% in 2022.
Asia Pacific market has accounted revenue share of 40.5% in 2022.


Market Growth
Due to advancing technology and rising demand from many industries, such as the architectural, appliance, automotive, furniture, agriculture, construction, earthmoving equipment (ACE), general industrial, and others, powder coating demand has expanded. Given that it contains no solvents and is a volatile organic compound (VOC), this trend is anticipated to continue. Strict environmental restrictions also support the expansion of the powder coatings business.
The market has shown moderate growth over the past few years, and it is anticipated to experience revenue growth at a CAGR of 5.62% during the projected period. As they can withstand high temperatures, thermosets are used to cover appliances. Leading players in this powder coatings market have made significant investments in R&D operations to provide product customization in accordance with end-user industry needs. The increased use of powder coatings, particularly thermoset powder coatings, across end-user sectors during the projection period has been supported by supportive governmental regulations.
Regional Analysis
The powder coatings market was dominated by Asia Pacific in 2022. The expansion of China's and India's infrastructure is predicted to increase the need for powder coating in architectural applications such as kitchen windows, doorframes, building facades, and aluminum extrusions used in building facades and kitchens. However, during the course of the projection period, powder coating demand in architectural applications is likely to be constrained in Asia Pacific due to anodized aluminum extrusion's significant market advantage.
The U.S. automotive industry is predicted to expand, and worries about VOC emissions from coatings used in car manufacturing are expected to grow. Additionally, it is anticipated that increased powder coating use in Mexico's vehicle industry will result from rising automobile production there and a shift in manufacturing from the European Union.
Ask here for more customization study@ https://www.precedenceresearch.com/customization/1071
Scope of the Report
| | |
| --- | --- |
| Report Attributes | Details |
| Market Size in 2022 | USD 14.7 Billion |
| Revenue Forecast by 2032 | USD 25.4 Billion |
| CAGR | 5.62% from 2023 to 2032 |
| Asia Pacific Revenue Share | 40.5% in 2022 |
| Polyester Resin Revenue Share | 30% in 2022 |
| Consumer Goods Revenue Share | 28.6% in 2022 |
| Base Year | 2022 |
| Forecast Year | 2023 to 2032 |
| Key Players | Asian Paints, BASF, Kansai Paints, Axalta Coating System, Nippon Paint Co., Ltd., PPG Industries, AkzoNobel N.V., The Sherwin-Williams Company, RPM International, and Dulux Powder & Industrial Coating and Others |
Market Dynamics of the Powder Coating Market
Market Drivers
In addition to increasing consumer disposable income and spending, a growing population has increased demand for commodities including furniture, automobiles, electronics, and home and business appliances. The surfaces of pipes, fittings, engine parts and metal parts utilized in home appliances are all coated. Due to the expanding demand for finished goods, powder coatings are now used more frequently globally. Chassis and engine parts for automobile applications have been selectively coated using powder coatings. Currently, automakers employ the powder in a variety of parts including bumpers, radiators, coil springs, engine blocks, wheels, mirror frames, and shock absorbers.
The need for powder coatings in automotive applications has risen as a result. In countries like China, India, and Brazil, automobiles are sold in big numbers, and there is also a high demand for replacement and spare parts in these same countries. High demand and rising powder coating applications on various auto components are anticipated to boost the powder coating market throughout the anticipated period.
Market Restraints
The application of thin films close to these locations may impede film flow and leveling. The "Faraday's cage effect," which causes low film thickness in specific locations, may occur when powder coatings are applied inside corners. When electrically charged particles are drawn to the closest spot on the surface, it is known as the "Faraday's cage effect." The deep end of the surface has fewer powder lines, which causes the creation of thinner layers in this region of the substrate. When powder coating cannot be used to cover the edges, solvent coatings like paint are employed to coat the substrates instead. The market for powder coatings has suffered as a result of the market's slow expansion.
Market Opportunities
The architectural and construction industries are one of the powder coatings' fastest-growing areas, mostly because of their endurance. Additionally, the development of polyester resin technology, particularly stable, low-gloss formulae, created market opportunities for powder coatings in the architectural sector. Many construction companies are using powder coatings to give long-lasting exterior treatments for outdoor venues and public work projects because of the diversity of colors and finishes they offer.
The Morotai Special Economic Zone was created in April 2021 because of a partnership between PT Jababeka Morotai, a division of the Jababeka Group, and the OISCA International College Foundation (OISCA International) (KEK). In KEK, North Maluku Province, Indonesia, a World War II monument and supporting infrastructure will be built thanks to this collaboration.
Market Segmentations of the Powder Coating Market
Resin Insight
Due to the advantageous characteristics of polyester, including its quick drying time, chemical resistance, temperature resistance, abrasion resistance, and surface protection, this category accounted for 30% of the market share in 2022. Over the projection period, the segment's growth will be driven by an increase in product demand for applications such as door handles, radiator grills, wheel rims, bumpers, bicycles, and metallic structural components.
Due to their characteristics, including toughness, flexibility, weather resistance, and cheap cost in comparison to other coatings, epoxy-polyester (hybrid) resin types are predicted to see the quickest CAGR over the projection period. These compounds, which combine polyester and epoxy resins, are primarily utilized inside, such as in furniture coatings.
Application Insights
In 2022, the consumer goods application segment, which accounted for 28.6% of the total volume share, dominated the global market. Over the projection period, the segment is anticipated to experience significant expansion. The consumer goods sector is anticipated to be driven by rising spending power, high standards of living, and expanding urbanization, which will increase product demand over the projected period. Since powder coatings don't contain solvents, are more flexible than traditional liquid coatings, and adhere to environmental rules, they are frequently used on consumer goods. In addition, it is anticipated that in the upcoming years, product demand will increase due to the growing need for domestic appliances in countries like India, China, Vietnam, the Philippines, and Thailand.
Related Reports
Get Our Latest Press Releases@ https://www.precedenceresearch.com/press-releases
Recent Development of the Powder Coating Market
August 2022: PPG will spend USD 11 million to increase the factory's powder coatings production capacity in San Juan del Rio, Mexico. The expansion project is expected to be completed by the middle of 2023, allowing the factory to meet the forecasted demand for powder coatings in Mexico.
May 2022: For the North American market, specifically, AkzoNobel Powder Coatings created a variety of ready-to-ship (RTS) powder coatings. The new line, which comprises the powder coatings brands Resicoat and Interpon from AkzoNobel, is designed to meet the needs of time-sensitive coatings projects.
April 2022: A Milan, Italy-based industrial coatings company called Arsonsisi sold its powder coating division to PPG Industries. PPG will now have access to an Italian powder manufacturing facility that is highly automated and able to produce both small and large batches.



Market Segmentation
By Resin
Epoxy-Polyester
Epoxy
Acrylic
Polyester
Polyurethane
Others
By Application
Automotive
Consumer Goods
Architectural
Furniture
Oil and Gas
Pipeline
Others 


By Regional Outlook
North America
Europe
Asia Pacific

China
India
Japan
South Korea

Middle East & Africa
Latin America
Immediate Delivery Available | Buy this Premium Research Report@ https://www.precedenceresearch.com/checkout/1071
You can place an order or ask any questions, please feel free to contact at sales@precedenceresearch.com  | +1 9197 992 333
About Us
Precedence Research is a worldwide market research and consulting organization. We give unmatched nature of offering to our customers present all around the globe across industry verticals. Precedence Research has expertise in giving deep-dive market insight along with market intelligence to our customers spread crosswise over various undertakings. We are obliged to serve our different client base present over the enterprises of medicinal services, healthcare, innovation, next-gen technologies, semi-conductors, chemicals, automotive, and aerospace & defense, among different ventures present globally.
For Latest Update Follow Us:
https://www.linkedin.com/company/precedence-research/
https://www.facebook.com/precedenceresearch/
https://twitter.com/Precedence_R