Ottawa, Jan. 27, 2023 (GLOBE NEWSWIRE) -- Increasing prevalence of diabetes, cancer and cardiovascular diseases will lead bioreactors market. Research and development activities will also help in the development of novel therapies, which will be extremely important in treating cancer due to which the need for bioreactors is expected to grow in the coming years.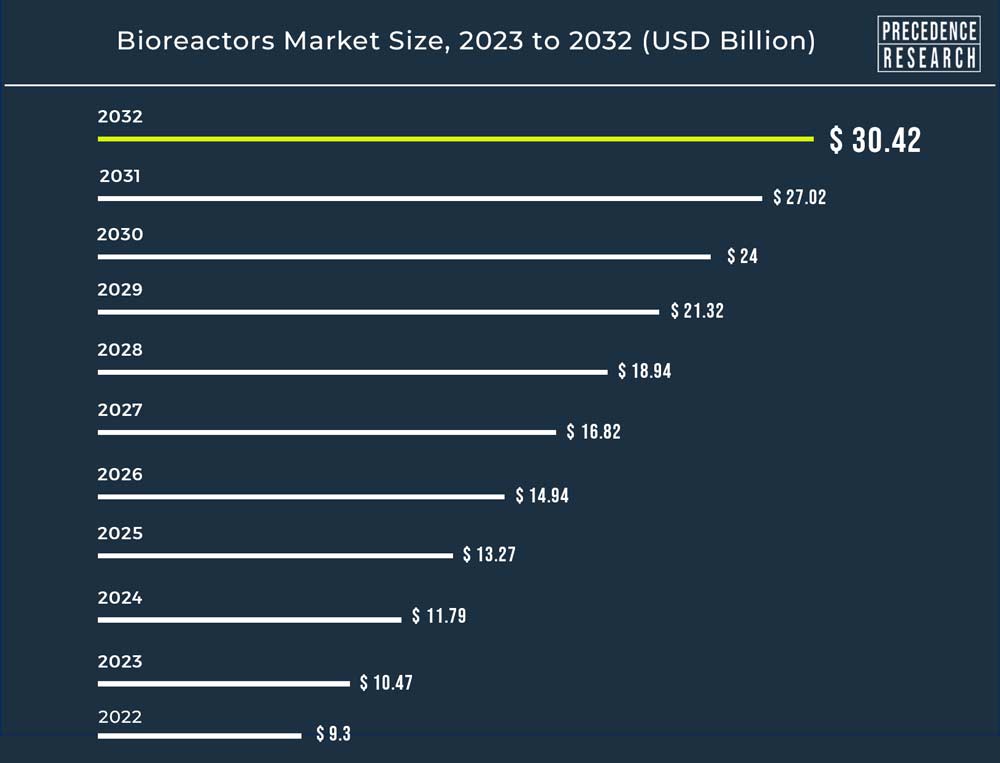 The demand for bioreactors has shown a certain growth in recent times due to the outbreak of the COVID-19 pandemic. A large number of pharmaceutical companies and the biopharmaceutical companies had increased their production capacities during this time.
Get the sample copy of report@ https://www.precedenceresearch.com/sample/2569
Regional snapshots
Bioreactors industry in the North American region will have a significant growth in the projected time frame. Most of the market players constantly focus on bringing innovation in their products for treating the chronic diseases of the people in the market. The amount of expenditure made for the research and development activities are also expected to grow in the North American region due to which the demand for bioreactors will grow subsequently. Academic institutes and research and development centers will have a greater rate of adopting bioreactors for various procedures. Government investments are likely to increase, and this will further accelerate market growth. The presence of key manufacturers of bioreactors is present in the North American region and these participants will implement various growth strategies that will help the organizations in strengthening their market position and it will also provide a competitive edge.
A faster compound annual growth rate will be registered in the Asia Pacific region during the coming times. A number of facilities which are engaged in bioprocessing are engaged in expanding their presence in various regions. In order to develop novel drugs, the demand for bioreactors the issue Pacific region will be more. The number of chronic disorders in the Asia Pacific region has also increased in recent times due to which the pharmaceutical industry will adopt a large number of bioreactors.
Ask here for more customization study@ https://www.precedenceresearch.com/customization/2569
Scope of the Report
| | |
| --- | --- |
| Report Attributes | Details |
| Revenue Forecast by 2032 | USD 30.42 Billion |
| CAGR | 12.58% from 2023 to 2032 |
| Reusable Bioreactors Segment Share | 76% in 2022 |
| Biopharmaceutical Manufacturers Segment Share | 43% in 2022 |
| Largest Market | North America |
| Base Year | 2022 |
| Forecast Year | 2023 to 2032 |
| Key Players | GE Healthcare, Eppendorf AG, Merck KGaA, Thermo Fisher Scientific Inc., Sartorius AG, BBI-Biotech GmbH, Danaher Corporation, Getinge, Infos HT, Bioengineering AG, Solaris Biotech Solutions and Others |
Market dynamics
Drivers
The use of bioreactors as apparatus for cultivation growth of organisms like bacteria, mammalian cells, animal cells and yeast cells are expected to increase due to which the market growth will be accelerated. Many pharmaceutical products make use of bioreactors in industrial procedures which aim at the production of monoclonal antibodies and vaccines. There are many other products that are manufactured with the help of bioreactors. Biologicals are produced in a commercial manner, and this also makes use of the bioreactors that help in manufacturing larger scales of products will also create more demand for such bioreactors.
Enhanced efficiency in gas transfer and air transfer is associated with the use of single use bioreactors due to which the market growth will proliferate. Growing demand for developing vaccines and the number of activities carried in the research and development field for treating infectious diseases will have a positive effect on the adoption of bioreactors.
Restraints
Even though there are many benefits associated with single use bioreactors, large scale production is not possible with the use of these bioreactors, and this will hamper the growth of the market. Reusable bioreactors are expensive, and installation is also expensive due to which the market growth will be hampered when the need for such bioreactors arises.
Opportunities
The features of the bioreactors and the processes are improved by new technological advancements. Most of the organizations are engaged in coming up with new technologies that will be cost effective. Such bioreactors will be used for manufacturing large scale products. Simplification and increased efficiency of such bioreactors will provide major opportunities for the growth of the market.
Challenges
Restricted capacity of single use bioreactors is a major challenge in the growth of the market and the extractability of these bioreactors will also hamper the growth of the market. The lack of skilled people will also hamper market growth. Developing nations face this challenge to a great extent.
Report Highlights
The reusable segment of bioreactors will have a greater adoption as well as preference. The healthcare industry has a greater demand for reusable bioreactors. As higher volumes of products can be generated with the use of reusable bioreactors the market growth will be accelerated.
The segment of mammalian cells will have a larger market share due to the use of these cells for the commercial production and development of vaccines. Tissue analogs can be generated with the use of these cells which are used for the production of regenerative medicines. Mammalian cells also have many different applications and research related applications.
On the basis of molecule, the vaccines segment has dominated the bioreactors market. The activities of vaccine development are extensive, and cases of chronic diseases are also increasing due to which the need for vaccines will grow.
The outbreak of the COVID-19 pandemic had increased the development activities to a great extent. Market growth will be stimulated due to various activities adopted for the development of vaccines. The use of bioreactors for preclinical trials as well as clinical trials is more. Drugs are produced for treating chronic diseases and rare diseases. Constant focus of the organizations on innovating the drugs used for treating various diseases will also lead to a higher adoption of bioreactors.
The biopharma manufacturers make extensive use of bioreactors. Complex manufacturing procedures can be simplified with the help of advanced technologies. Complex molecules can be easily manufactured and developed with the help of bioreactors. Manufacturing and development of proteins and nucleic acids is simplified due to the use of bioreactors.
Many intensive procedures will be supported by the innovative bioreactors and thereby lead to an increased adoption of this product in the healthcare sector.
Related Reports
Get Our Latest Press Releases@ https://www.precedenceresearch.com/press-releases
Recent developments
In the year 2021 as the demand for the bioreactors from the pharmaceutical companies had increased drastically HyPerforma DynaDrive single-use bioreactors were launched by Thermo Fisher Scientific, and these bioreactors were of the capacity 3000 liters and 5000 liters.


Market Segmentation
By Product Type
By Cell
Mammalian Cells
Bacterial Cells
Yeast Cells
Others
By Molecule
Monoclonal Antibodies
Vaccines
Recombinant Proteins
Stem Cells
Gene Therapy
Others
By Usage
Developmental, Preclinical & Clinical
Commercial Production
By End-Use
Research and Development (R&D) Organizations
Biopharmaceutical (biopharma) Manufacturers
Contract Manufacturing Organizations (CMOS)


By Geography
North America
Europe
Asia-Pacific
Latin America
The Middle East and Africa


Immediate Delivery Available | Buy this Premium Research Report@ https://www.precedenceresearch.com/checkout/2569
You can place an order or ask any questions, please feel free to contact at sales@precedenceresearch.com  | +1 9197 992 333
About Us
Precedence Research is a worldwide market research and consulting organization. We give unmatched nature of offering to our customers present all around the globe across industry verticals. Precedence Research has expertise in giving deep-dive market insight along with market intelligence to our customers spread crosswise over various undertakings. We are obliged to serve our different client base present over the enterprises of medicinal services, healthcare, innovation, next-gen technologies, semi-conductors, chemicals, automotive, and aerospace & defense, among different ventures present globally.
For Latest Update Follow Us:
https://www.linkedin.com/company/precedence-research/
https://www.facebook.com/precedenceresearch/
https://twitter.com/Precedence_R