Ottawa, Feb. 23, 2023 (GLOBE NEWSWIRE) -- The global advanced aerial mobility market size was valued at USD 8.93 billion in 2022. The next-generation commuting option is the hovering automobile, which can serve as a personal vehicle and a means of air travel. In addition, because of operational and infrastructural demands in urban commuting systems, the preponderance of self-driving cars is anticipated to include horizontal takeoff and landing technologies. Self-driving cars are anticipated to be employed on both a personal and professional scale to accommodate shifting commuting needs, particularly in urban regions. Compared to other types of transport, flying vehicles and cargo drones have higher testing and development expenses since they call for the fusion of numerous advanced technologies.

Get the sample pages of report @ https://www.precedenceresearch.com/sample/2110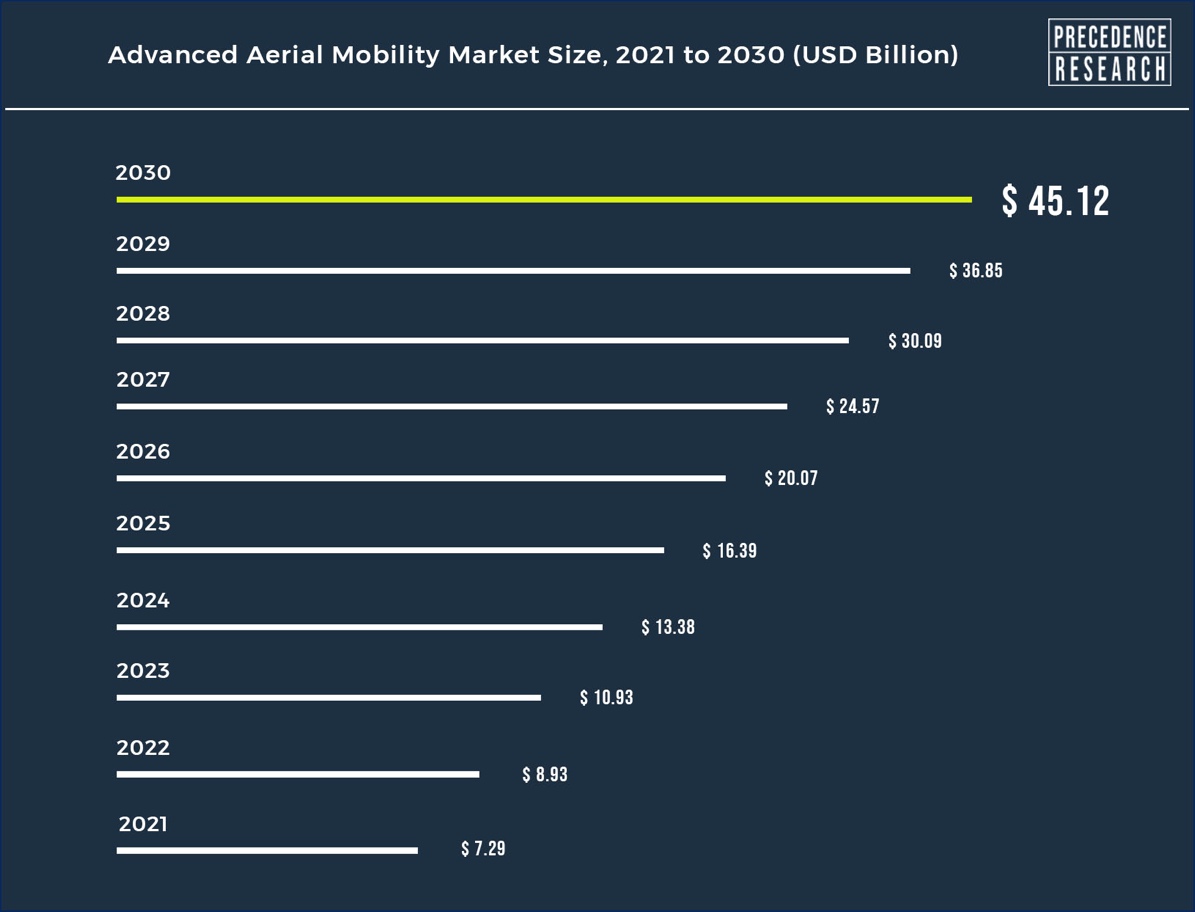 Report highlights:
In 2030, the piloted category is estimated to hold more than double the consumer base, and it is anticipated that this share will hold sway throughout the forecast period. But in the approaching years, the automated segment is anticipated to have the highest CAGR.
By 2030, the cargo segment is forecast to contribute over two-thirds of the global market for sophisticated aerial transportation, and it is anticipated that this segment will maintain its lead throughout the anticipated timeframe. However, it is expected that the passenger segment would grow at the highest CAGR in the future years.
By end user, the cargo segment has accounted revenue share of 58% in 2022.
The passenger segment has captured revenue share of 42% in 2022.
By propulsion type, the electric segment has generated revenue share of 49% in 2022.
North America region was generated revenue share of 39% in 2022.
Regional snapshots:
The nation that builds its internal resources and is among the first to produce cutting-edge AAM goods that are safe, secure, and widely accessible may become the world's leading nation. The Us will build and scale its local AAM industry to be the first in the marketplace to attain and maintain the position of global dominance and effectively realize national security and economic objectives. Even with proper planning, it should be ready to enter and dominate a sizable international export industry. North America stays foreseen to hold the largest market share for sophisticated aerial transportation globally during the projection timeframe. The market is growing in this sector due to the acceptability of expensive aviation in both urban and rural environments as well as the development of disruptive aviation technology.
On the other hand, it is projected that the Asia-Pacific area will expand more swiftly and offer a wide range of opportunities for market growth. The market is expanding in this sector due to factors including the development of drone technology and an increase in the use of commercial air travel.
Ask here for customization study@ https://www.precedenceresearch.com/customization/2110
Report Scope
Report Coverage
Details
Market Size by 2032
USD 45.12 Billion
CAGR
22.45% from 2023 to 2032
North America Revenue Share
39% in 2022
Asia Pacific Revenue Share
29% in 2022
By Mode of Operation
By End Use
By Propulsion Type

Parallel Hybrid
Turboshaft
Electric
Turboelectric 

By Region

North America
Europe
Asia-Pacific
Latin America
Middle East & Africa (MEA)

Key Players

AeroMobil
Airbus S.A.S.
Flytrex
Hyundai Motor Company
Lilium
Matternet
PAL-V International B.V.
The Boeing Company
Volocopter GmbH
Zipline
Market dynamics:
Drivers:
The International Air Transportation Association (IATA) estimates that 8.4 billion people will fly globally by the year 2036. Conferring in the direction of the UN, 69% of people will live in cities by 2050. The claim for substitute methods of carriage is rising as a result of the numerous accessibility and congestion issues that the growing number of vehicles in cities is causing. In this esteem, VTOL, eVTOL, and STOL aircraft had shown themselves to be formidable rivals. Some VTOL aircraft was best suited for short-haul flights over densely populated areas to evade road traffic. These benefits suggest that the need for AAM in advanced mobility applications will upsurge in the future years.
Restraints:
The reactions of individuals to the advanced aerial mobility proposal range from neutral to enthusiastic, conferring to a NASA Appropriate application market Analysis Possible Institutional Challenges of Air Speed report. Men, older responders, and responses received from affluent backgrounds exhibited greater enthusiasm for the idea. However, in the wiliness scenario, neither of the municipal zones showed any relevance. Another emotional obstacle is the widespread belief that widespread job losses will follow from the increased usage of new airplanes for purposes such as commercial flights, freight delivery, air ambulance, and the last delivery. In addition, passengers are worried about security checkpoints and only choose UAM for lengthier journeys. Airlines and governmental agencies are working to raise public knowledge of these obstacles and encourage people to accept airplanes as a novel transportation option.
Opportunities:
The second-most polluting industry is the energy-intensive transportation sector. The noteworthy greenhouse productions from such industries hurt the environment. The use of autonomous unmanned landing and take-off aircraft in advanced aerial mobility may provide a practical solution to these problems. Unmanned aircraft systems' adoption by cities as the next mode of transportation is projected to create enticing growth possibilities for this sector. One of the IATA's objectives is for the aviation industry to have zero carbon emissions by 2050. Such power and hydrogen would be produced using cutting-edge new combustion technology and sustainable alternative biofuels. Rendering to the TATA, novel engine technology, which includes hydrogen, may account for 13% of the sector, with efficient developments accounting for the remaining 3%.
Challenges:
Due to the requirement of enhanced aerial mobility on technology, security may be a severe drawback. A few of the cybersecurity challenges that improved aerial transportation faces include threats to board systems and software, intrusions into vehicles controlling traffic satellite uplinks, and insertion of hostile or improper information used for protection judgments and/or computer vision. The vulnerability of enhanced aerial mobility would depend on the maneuver of additional composite working organization technologies like GPS, ATC, and various common communication networks. Network security strategies that take modeling and engineering security into account are required for urban air transportation to thrive. To advance novel strategies to defend autonomous aircraft against hacking attempts, R&D is necessary. The same mindset shifts that have pushed for safety assurance also apply to computer security.
Recent developments:
To produce sides for City Airbus, NextGen, Spirit Aero-Systems, and Airbus Acubed, a division of Boeing, signed a contract in March 2022. Airbus will be able to explore cutting-edge aerospace through this partnership while maintaining the highest standards.
EHang and AEROTREE, the country's premier aviation firm, entered into a strategic agreement in March 2022 to co-develop Organizations willing in Malaysia. AEROTREE has ordered 60 units of commuter automated autonomous drones (AAVs).
A Memorandum of Agreement was signed in March 2022 by Lilium N.V., NetJets Inc., and FlightSafety Worldwide, the industry leader in commercial aviation. More than 150 Lilium aircraft would be available for purchase through the partnership, providing NetJets stockholders more options to supplement their present flight schedules.
In March 2022, Joby partnered with CAE, a global leader in commercial aviation, to develop and certify flight dynamics training equipment that would be used to instruct young pilots of the revolutionary all-electric airplane.
In January 2022, Vertical and Leonardo started collaborating to build the VX4 electric and hybrid fuselage. The agreement is for an additional six certifying aircraft to complete Vertical's business that existed before booking, but it may enhance the capacity to mass produce 2,000 VX4s annually.


Immediate Delivery Available | Buy This Premium Research Report@ https://www.precedenceresearch.com/checkout/2110
You can place an order or ask any questions, please feel free to contact at sales@precedenceresearch.com  | +1 9197 992 333
About Us
Precedence Research is a worldwide market research and consulting organization. We give unmatched nature of offering to our customers present all around the globe across industry verticals. Precedence Research has expertise in giving deep-dive market insight along with market intelligence to our customers spread crosswise over various undertakings. We are obliged to serve our different client base present over the enterprises of medicinal services, healthcare, innovation, next-gen technologies, semi-conductors, chemicals, automotive, and aerospace & defense, among different ventures present globally.
For Latest Update Follow Us:
https://www.linkedin.com/company/precedence-research/
https://www.facebook.com/precedenceresearch/
https://twitter.com/Precedence_R