Tokyo, Feb. 23, 2023 (GLOBE NEWSWIRE) -- The automotive exhaust systems market size was accounted at USD 78.53 billion in 2022. The purpose of the modern automotive system is to collect exhaust air from of the cylinder, eliminate dangerous materials and contaminants, minimize noise, and release the cleansed exhaust. Dependent on the engine, the exhaust pipe has one or two streams, and the flowing impedance is chosen to ensure that exhaust differential pressure doesn't impair engine performance. The main parts of the exhaust system also include the exhaust system, muffler, outlet pipe, exhaust pipe, and tailpipes. The vehicle exhaust system is primarily designed to improve motor efficiency and decrease the discharge of dangerous gases into the atmosphere.

Get the sample pages of report@ https://www.precedenceresearch.com/sample/2102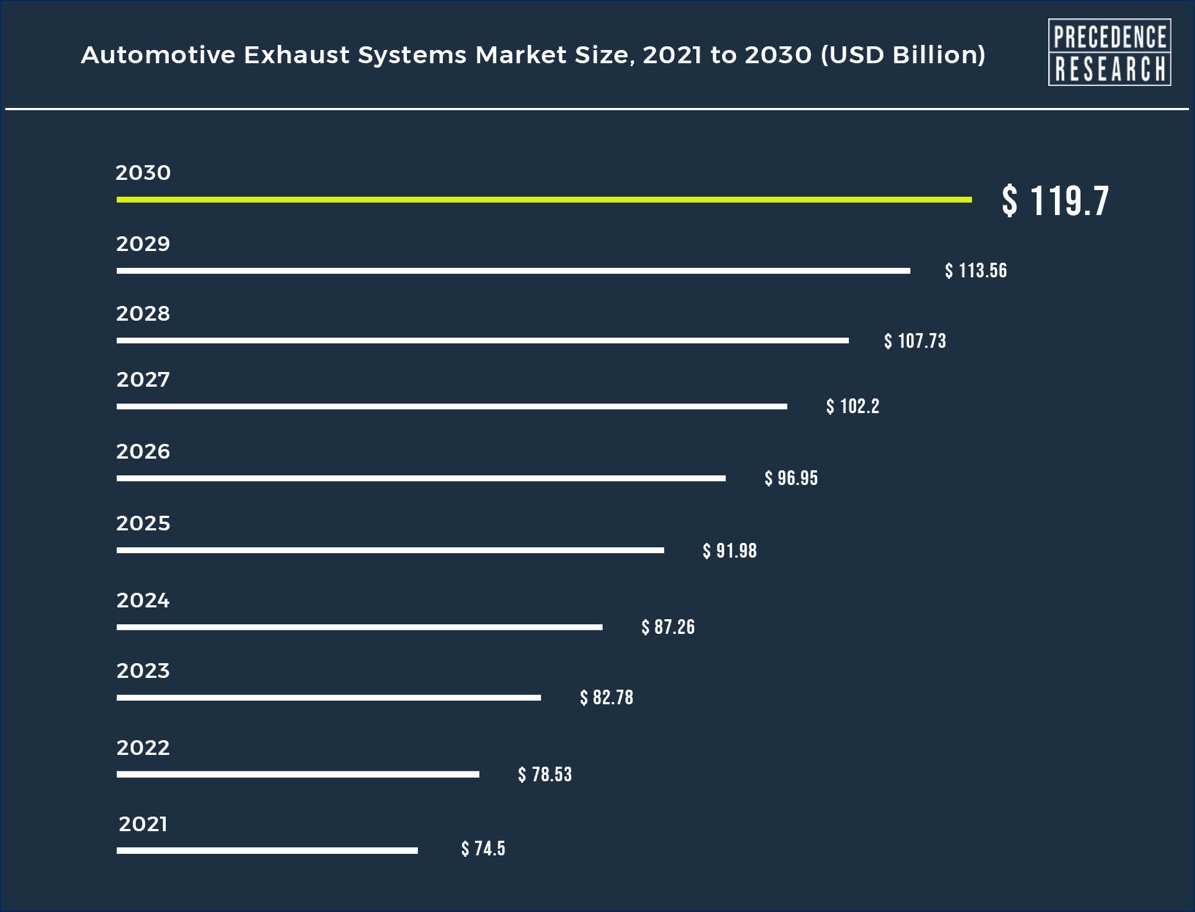 Key Insights:
Based on component, the exhaust manifold segment has held revenue share of 40% in 2021.
The muffler component segment is growing at a CAGR of 7.2% between 2022 to 2030.
Based on fuel type, the gasoline segment has captured revenue share of 82% in 2021.
Based on vehicle, the passenger car segment has accounted revenue share of 71% in 2021 with a CAGR of 5.6%.
The commercial vehicles segment is growing at a CAGR of 8.3% from 2022 to 2030.
In 2021, Asia Pacific region has accounted revenue share of 62% and it is growing at a CAGR of 7.1% between 2022 to 2030.
Latin American region is growing at a CAGR of 6.9% between 2022 to 2030.


Regional snapshots:
Asia-Pacific is anticipated to account for the bulk of the global market for automobile exhausts throughout the forecast timeframe. Rising urbanization, increasing GDP, and rising personal discretionary cash all contribute to the expansion of this sector. Several businesses are establishing production plants in this location due to the lower cost of labor and resources, and it is anticipated that this development would hasten the expansion of the local market.
Europe, the industry's second-largest area, is anticipated to have strong growth during the projection timeframe. The country's stringent environmental regulations are forcing automakers to develop innovative exhaust systems. This, in addition to the region's growing utilization of low-emission vehicles, are factors that are anticipated to drive the industry's expansion.
Get the sample pages of report@ https://www.precedenceresearch.com/customization/2102
Report Scope
| | |
| --- | --- |
| Report Coverage | Details |
| Market Size by 2030 | USD 119.7 Billion |
| CAGR | 5.41% from 2022 to 2030 |
| Largest Market | Asia Pacific |
| Fastest Growing Market | North America |
|  Key Players | BASF SE, Benteler International AG, Bosal International N.V., Continental AG, Futaba Industrial Co. Ltd., Harbin Airui Automotive Exhaust Systems Co. Ltd., Johnson Matthey, Sango Co., Ltd., Sejong Industrial Co., Ltd., Tenneco, Inc., Umicore, Yutaka Giken Company Limited. |
Market dynamics:
Drivers:
As worldwide emission requirements become more stringent on an annual basis, there is a growing need for a reduction in exhaust stream emissions specifics and quantities. Thanks to a variety of after-treatment systems, auto OEMs and performance exhaust manufacturers can regulate vehicle emissions to stay within legal limitations. The most common after-treatment equipment pairings include SCR and PDF. Together, they remove more than 70% of all gaseous and particle pollutants. The SCR converts NOx to N2 and liquid in the presence of a reduction agent, while the DPF screens out particles. These mixes consequently stimulate the market for exhaust systems, including aftermarket equipment.
Government pollution rules have led to rapid advancement in particulate filter technology, including exhaust stream regeneration (EGR) processes and emission after-treatment options. These techniques should accelerate industry growth. To comply with upcoming vehicle quality regulations, automakers are developing technology that reduces NOx emissions from gasoline exhaust gases. It is anticipated that all of these aspects of the development and improvement of the automobile catalytic converter would lead to a growth in the use of improved particle filters for automobiles.
Restraints:
CNG, BEVs, and Liquefied petroleum cars are examples of automobiles. The rising demand for low-emission internal combustion engines is driving sales up of CNG and Liquefied petroleum automobiles. The running costs of CNG and Liquefied petroleum automobiles are significantly lower than those of petroleum-based automobiles, making these automobiles cost-effective. Purchases of BEVs, the most popular type of clean car, are soaring because of numerous government requirements and other successful initiatives like tax subsidies to encourage the use of powered mobility.
Clean automobiles now have little effect on the market for exhaust systems. They are anticipated to have a significant influence in the future, nevertheless. Therefore, during the projection timeframe, the industry expansion is anticipated to be constrained by the rising sales of cleaner automobiles.
Opportunities:
There is a growing demand for automobiles to be lighter to comply with tight pollution and gasoline economy requirements and avoid paying hefty fines levied by governmental agencies. Lighter cars consume less gasoline and produce fewer greenhouse gases because they require less energy to move because there is less friction to contend with. Industry experts claim that a 10% weight reduction in a car can increase mileage and fuel efficiency by 6% to 8%. Automobile manufacturers are concentrating on elements including new, lighter components, aerodynamic shape, and drivetrain component performance to reduce the overall weight of the vehicle. The emission system and its components in conventional particulate filters are made of, among other things, stainless steel, cast iron, mild steel, and carbon fiber.
Challenges:
Realistic Traveling Emissions Test measures harmful pollutants from engine exhaust, such as NOx, generated by cars while they are driving on the highway with the help of a transportable emissions measurement instrument. RDE is crucial to minimizing the disparity between approved vehicular emission values and actual results. The difference between authorized laboratory test findings and real car efficiency has grown unabatedly from 9 percent in 2001 to 28 percent in 2012 and 42 percent in 2015, according to the European Federation for Transportation and Environmental AISBL. RDE regulations are therefore projected to have a positive impact on the quality of the environment in European nations by demanding that car manufacturers integrate pollution control systems with their engines and take additional actions to achieve the best possible carbon reduction while operating.
Report highlights:
The passenger car segment, which currently commands the biggest market share, will maintain its dominance. As commercial vehicle sales increase in developing countries, this industry sector is expected to grow. The market for both heavy and light commercial trucks is expected to grow positively during the projection timeframe. This business segment is anticipated to grow during the projected period as a consequence of advancements made by automakers to the ventilation systems of internal combustion engines to reduce small particulates and NOx emissions.
The industry for automobile particulate filters is anticipated to have significant expansion in the alternate energy type segment throughout the projection timeframe. The main factor promoting the expansion of this market sector is the fuel's capacity to be pure and emission-free.
The industry for fossil diesel type is anticipated to grow consistently throughout the forecast timeframe. Governmental emission regulations that are too severe and the increasing pollution from diesel engines are impeding the development of such a market sector.
The connection, exhaust system, and manifold element types sections of the vehicle exhaust equipment market are expected to grow significantly throughout the projected period. As passenger vehicle sales & manufacturing increase, these target markets are anticipated to grow.
Related Reports
Browse our latest press releases@ https://www.precedenceresearch.com/press-releases
Recent developments:
In May 2021, Futaba Industrial Co., Ltd. announced that it would exhibit its products at the Department of Mechanical Engineering Exhibition 2021 Online. For the Sustainable Development Goals, the company will offer emissions and systems in the body components that will reduce the thumbprint of pollutants released, improve fuel efficiency, and lighten automobiles.
In April 2021, Faurecia announced that the Koriyama Factory in Koriyama Municipal, Fukushima Prefecture, will start operations in the second quarter of 2021 as the primary manufacturing facility for its Clean Transportation Department. The automaker to which it supplied components briefly limited manufacturing due to the coronavirus outbreak, which caused the Koriyama Factory to be delayed from opening around September 2020. (COVID-19).
In March 2021, Eberspaecher announced that exhaust-emission conversion tunnel series production had started for both passenger and commercial cars. The mixer guarantees the most effective mixing and evaporation of the watery urea solutions and exhaust gas.
In March 2021, Tenneco's Air Quality trade association worked with Eaton's Vehicles Department to develop a comprehensive effluent temperature control system that would enable manufacturers of commercial vehicles & lightweight cars to comply with upcoming pollution laws.
Eberspaecher and Sharda Motors Manufacturing Ltd. signed a collaboration agreement for a 50:50 ownership split in February 2019. The new cooperation will design, manufacture, and market emissions after-treatment equipment for Indian commercial vehicle manufacturers to achieve the harshest emissions criteria, Bharat Stage VI.


Market Segmentation
By Vehicle Type
Passenger Cars
Commercial Vehicle
By Fuel Type
By After-treatment Device
By Component
Exhaust Manifold
Muffler
Catalytic Converter
Oxygen Sensor
Exhaust Pipes


By Technology
Diesel Oxidation Catalyst (DOC)
Diesel Particulate Filter (DPF)
Selective catalytic reduction (SCR)
Exhaust gas recirculation (EGR)
Gasoline Particulate Filter (GPF)
Others
By Geography
North America
Europe
Asia-Pacific
Latin America
Middle East & Africa (MEA)


Immediate Delivery Available | Buy This Premium Research Report@ https://www.precedenceresearch.com/checkout/2102
You can place an order or ask any questions, please feel free to contact at sales@precedenceresearch.com  | +1 9197 992 333
About Us
Precedence Research is a worldwide market research and consulting organization. We give unmatched nature of offering to our customers present all around the globe across industry verticals. Precedence Research has expertise in giving deep-dive market insight along with market intelligence to our customers spread crosswise over various undertakings. We are obliged to serve our different client base present over the enterprises of medicinal services, healthcare, innovation, next-gen technologies, semi-conductors, chemicals, automotive, and aerospace & defense, among different ventures present globally.
For Latest Update Follow Us:
https://www.linkedin.com/company/precedence-research/
https://www.facebook.com/precedenceresearch/
https://twitter.com/Precedence_R