Ottawa, Feb. 24, 2023 (GLOBE NEWSWIRE) -- The global logistics market size was accounted at USD 10.68 trillion in 2022. The thriving e-commerce industry, in addition to the increasing availability of high-speed network connectivity, is two key factors positively influencing the market. As the e-commerce industry expands, so does the demand for efficient logistics services.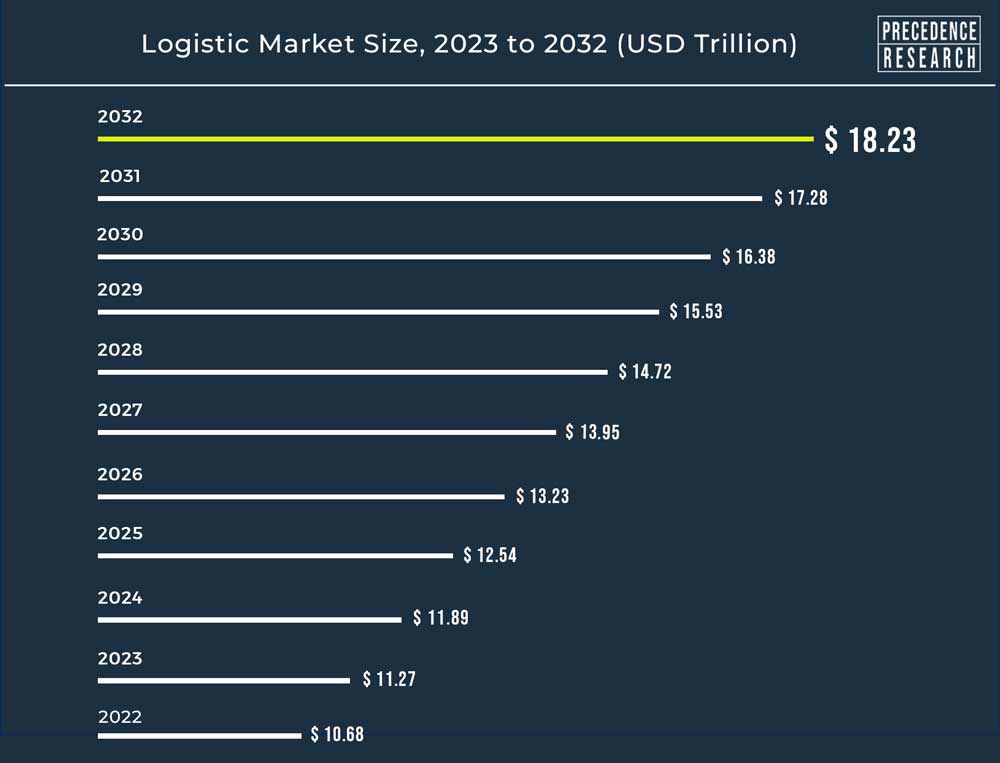 Furthermore, a shift in consumer preference toward online purchases is driving the market. Aside from that, manufacturers are focusing on green logistics solutions to minimize environmental impact and improve the green credentials of their businesses.
Get the sample pages of report@ https://www.precedenceresearch.com/sample/2630
Recent developments:
A strategic agreement was established between C.H. Robinson & Waymo Via in April 2022 to accelerate the development of autonomous trucks for supply networks.
Yusen Logistics inaugurated a new 60,000-square-foot distribution center in Surrey, British Columbia, in August 2022 as part of an expansion of its business.
Regional landscape in the global generative
North America's market value in 2021 was USD 4,33,251.42 million, and it is anticipated to expand at a significant CAGR during the observation period. The existence of a fully advanced infrastructure in terms of rail and road connectivity can be attributed to the region's growth. For instance, Walt Disney announced in March 2021 that it closed approximately 60 Disney Stores across North America. The company stated that it focuses more on e-commerce while minimizing the number of distribution centers. This expansion of e-commerce has led to growth in the logistics industry in North America.
From 2023 to 2032, the Asia-Pacific Logistics Market is predicted to expand at the fastest CAGR. This is attributed to the development of trade networks and the transfer of industrial output to Asian nations. For instance, the quantity of container trade within Asia, which was 41.5 million TEUs in 2021, surpassed all other trade lanes combined. Furthermore, China's logistics market had the highest market share, while India's logistics market was the fastest-growing in the Asia-Pacific region.  For instance, the Indian logistics market is growing at the fastest rate in the industry, with the logistics sector accounting for around USD 160 billion and employing over 22 million people. Moreover, India is well-known for its recent infrastructure boom and emphasis on development initiatives. Furthermore, the country is enduring a digital transformation, which is projected to alter the Indian market's outlook. For instance, real-time vehicle detection in logistics allowed shippers to cut the turnaround time by 50% to 70%. As a result, Asia-Pacific is anticipated to grow at the fastest rate during the projected period of 2023-2032.
Ask here for customization study@ https://www.precedenceresearch.com/customization/2630
Report Coverage
Details
Market Size by 2032
USD 18.23 Trillion
CAGR
5.48% from 2023 to 2032
Roadway Segment Share
43% in 2022
By Transportation Type

Airways
Waterways
Railways
Roadways

By Logistics Type 

First Party
Second Party
Third Party

By End User 

Industrial and Manufacturing
Retail
Healthcare
Oil & Gas

By Region

North America
Europe
Asia-Pacific
Latin America
The Middle East and Africa

Key Players
United Parcel Service Inc. (UPS), MOLLER – MAERSK, DSV (DSV Panalpina), Robinson Worldwide Inc., FEDEX, Kuehne+Nagel, GEODIS, Nippon Express and Others
Transportation Type Landscape
In 2022, the roadways segment controlled the majority of the logistics market, accounting for approximately 43% of total revenue. This is because there is a greater demand for roadway vehicles to transport retail products over long distances. Roadways connect most tier 2 and tier 3 cities, allowing retail logistics companies to deliver and pick up products.
The railway sector is growing at a rapid pace. Massive budget allocations for the development of robust railway infrastructure facilities enhance market rail logistics sector trends. A significant increase in industrial and mining activities opens new growth opportunities for the global market in the coming years. The increased requirement for rail logistics as a result of growing trade is significantly propelling the rail logistics sector's growth. Less traffic overcrowding compared to highways, increased efficacy of railway transport over the road, and the expansion of intermodal transportation are the major factors driving global trade through rail. The rise in the allocation of funds for railway development and the rise in demand for secure, safer, and more efficient transportation systems are driving the growth of the rail logistics sector.
Logistic Type Landscape
The third-party logistics ruled the market in 2022 and is anticipated to grow at the fastest rate between 2023 and 2032. As major logistics and transportation services are widely used in retail, telecommunications, automotive, construction, e-commerce, manufacturing, food and beverage (F&B), and hospitality industries, there is a growing demand for them.
The first-party logistics sector is expanding at a steady pace. When a person or company stores their goods and transports them to the end user, this is referred to as first-party logistics. The 1PL is most used by small production companies with local distribution. Therefore, these businesses are completely self-sufficient in terms of logistics. It is primarily composed of two parties which are the manufacturer or supplier, along with the purchaser. There are no other middlemen in the entire process.
Application Landscape
The industrial and manufacturing segment led the market in 2022 and is expected to grow at the fastest rate between 2022 and 2030. The segment's expected growth is due to a rise in demand for industrial manufacturing services. To maintain cost-effective manufacturing, many manufacturers had already shifted to local suppliers. Nevertheless, while attempting to reduce production costs, quality and consumer satisfaction remains a priority. In addition to cost reduction, logistics management is necessary to maintain optimal inventory levels for rapid production rates. 
The retail sector is growing at a rapid pace. Last-mile delivery strategies in the retail e-commerce market are expected to improve the retail logistics industry. Customers compare products based on delivery time, prices, features, specs, and compatibility requirements from multiple online sources, which is a drawback for brick-and-mortar firms or distributors. These benefits over physical stores are impelling the retail e-commerce business forward, and this development is anticipated to persist in the coming years. The COVID-19 pandemic had a significant impact on retail logistics firms. The industry experienced a temporary drop owing to a lack of supply chain and manpower disruptions during the COVID-19 early stages. Furthermore, as consumers shifted away from in-store purchases in favor of online shopping, the increase in online products boosted the retail logistics companies' logistical services and distribution.
Market Dynamics
Drivers
High-quality transportation infrastructure is essential for driving global logistics market growth.
The efficiency of logistics services and the quality of transportation infrastructure promote economic development. Trade between nations has always played an important role in increasing wealth among the world's population. Over 80% of all trade is now carried out by the sea. WTO economists now predict that global merchandise trade volumes grow by 3.5% in 2022, up from 3.0% in April. However, they predict a 1.0% increase in 2023, a significant decrease from the previous estimate of 3.4%. Improving the quality of port infrastructure and logistics performance would have the greatest impact on a country's economy.
Restraint
High capital investment
Few businesses have the financial resources necessary to invest in automation, which may take a long time to pay off. The recovery period may just be too long for businesses facing immediate pressure, which would discourage them from making investments. Automation in the logistics installation and management process is quite expensive. Most companies are unable to spend a significant amount of money on replacing their current logistical systems. As a result, businesses with limited financial resources are unable to choose automation technologies.
The logistics automation market growth is hindered. The most important components of automated logistics procedures are autonomous cars and drones. Significant advancements in driverless vehicle technologies have been made by the Tesla and Google organizations. Large autonomous trucks that help with the delivery of goods to distribution centers will be a part of logistics in the future. Packages will be unloaded by autonomous forklifts using a system of robot arms and conveyor belts.
Immediate Delivery Available | Buy This Premium Research Report@ https://www.precedenceresearch.com/checkout/2630
You can place an order or ask any questions, please feel free to contact at sales@precedenceresearch.com  | +1 9197 992 333
About Us
Precedence Research is a worldwide market research and consulting organization. We give unmatched nature of offering to our customers present all around the globe across industry verticals. Precedence Research has expertise in giving deep-dive market insight along with market intelligence to our customers spread crosswise over various undertakings. We are obliged to serve our different client base present over the enterprises of medicinal services, healthcare, innovation, next-gen technologies, semi-conductors, chemicals, automotive, and aerospace & defense, among different ventures present globally.
For Latest Update Follow Us:
https://www.linkedin.com/company/precedence-research/
https://www.facebook.com/precedenceresearch/
https://twitter.com/Precedence_R