Ottawa, Feb. 28, 2023 (GLOBE NEWSWIRE) -- Hydrogen is seen as one of the most promising sources of energy for the future. It can be produced through a variety of methods and has the potential to revolutionize many industries. In this article, we'll take a look at the global hydrogen generation market and what it could mean for our energy future.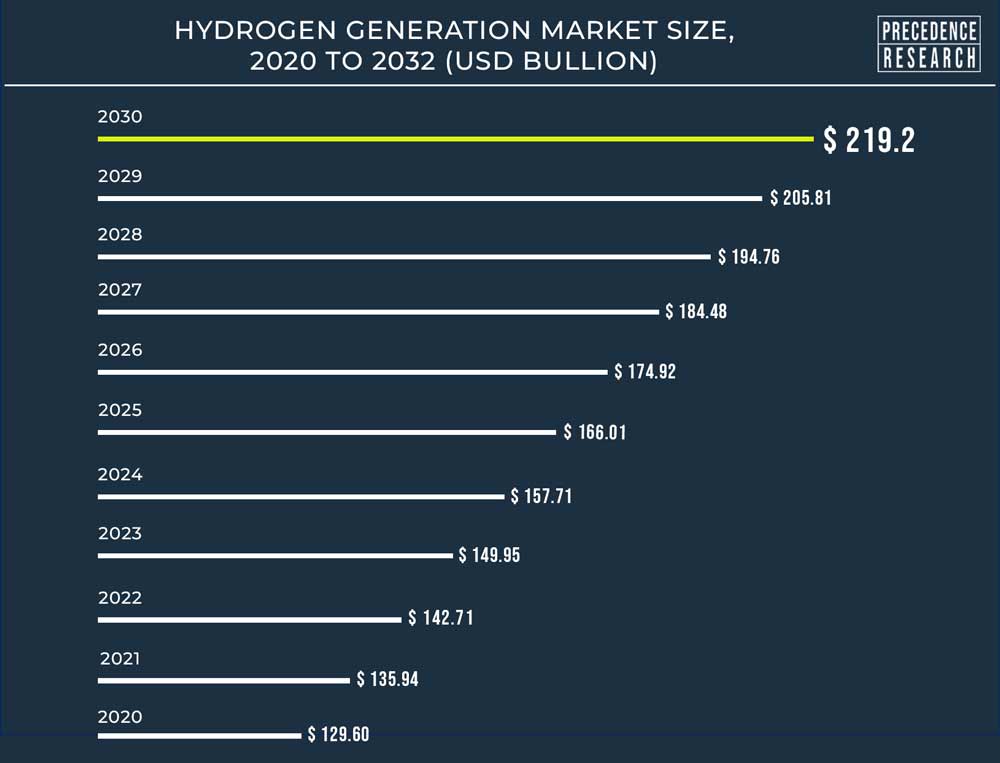 The hydrogen generation market is growing faster, owing to the increasing penetration towards clean fuel. Strengthening of automobile and aerospace industry along with rising electric vehicle is driving the growth of the industry. Transportation sector is experiencing rapid growth along with surging shift towards hydrogen fuel cell electric vehicle is one of the key factor propelling the demand of the market. Hydrogen is a dense, storable, light source of energy and produces no direct emission or greenhouses. It is being widely used in light electric vehicle such as bicycles. Moreover, increasing government efforts and surging investment to shift towards cleaner fuel is adding to the development of the industry.
Immediate Delivery Available | Get the sample pages of report@ https://www.precedenceresearch.com/sample/1316
Hydrogen is produced with a variety of methods including fossil fuel reforming and electrolysis. Fossil fuel reforming method is not beneficial for the environment and led to the production of CO2. Furthermore, electrolysis method is preferred to produce green hydrogen. This method utilizes electricity to split water into hydrogen and oxygen. The electrolysis is an environment friendly method of produces hydrogen as it gives out zero carbon emission. Growing penetration towards the reduction of carbon emission along with adoption of cleaner fuel is also adding to the market Growth.
Hydrogen Generation Market Scope and trends
Rising adoption of fuel cell electric vehicles in heavy automobiles is driving the demand in the market. Rising government initiatives to increase the number of FCEV on road owing to reduce to carbon emission is proliferating the market growth.
For instance, in June 2020, according to the International Energy Agency, South Korea aims to deploy nearly 2.9 million vehicles by 2040. Moreover, rising urbanization and industrialization along with increasing population is driving the need to adopt various power generation methods to meet the growing demand is one of the major driver in hydrogen generation market growth. Rising need to adopt sustainable energy sources and reduce the dependent on fossil fuel is adding to the growth of the industry.
High cost is restraining the Market Growth
High energy consumption to produce the hydrogen is expected to hinder the market growth. Moreover, high cost associated with electrolysis owing to the need for additional electricity in order to break the water molecule into hydrogen and oxygen is also restraining the market growth. During the process of hydrogen production chemical energy is converted from electric energy that involves loss of energy further hampering the development of the market.
Ask here for customization study@ https://www.precedenceresearch.com/customization/1316
Gray hydrogen is expected to acquire the largest growth
Based on source, the hydrogen market is segmented into gray hydrogen, blue hydrogen and green hydrogen. The gray hydrogen is anticipated to acquire the most share of the overall industry during the upcoming years on account of low cost associated with it.
Application insights:
Transportation sector will likely grow significantly
Among application, transportation segment is anticipated to grow immensely during the forecast period owing to increasing focus towards reducing the carbon emission and surging adoption of fuel cell hydrogen vehicles. The Global market for the Transportation was valued at USD 7.8 billion in 2020 and is expected to reach USD 15.9 billion by 2030, growing at a CAGR of 7.38% from 2021 to 2030.
Hydrogen has long been known as a potential low-carbon transport fuel, but establishing it in the transport fuel mix has been difficult. Presently, hydrogen use in the sector has been limited to less than 0.01% of energy consumed, and in 2020 fuel cell electric vehicles (FCEVs) made up a very small share of the global stock of total vehicles (<0.01%) and of electric vehicles (0.3%). However, the FCEV market is beginning to take off, catalysed by developments in Asia and the United States.
More than 40,000 FCEVs were on the road globally by the end of June 2021. The percentage of FCEVs grew at an average 70% annually from 2017 to 2020, but in 2020 the growth fell to only 40% and new fuel cell car registrations decreased by 15%, mirroring the contraction of the car market overall due to the Covid-19 pandemic. However, 2021 is expected to be a new record year, with more than 8,000 FCEVs sold in the first half of 2021, and record-high monthly sales recorded in California (759 in March) and Korea (1 265 in April). Hence, the exponential growth of FCEVs across different parts of the world expected to drive the global hydrogen generation market in the coming years.
Ammonia Production
Ammonia application for hydrogen generation accounted for nearly 65% of the total industrial application of hydrogen in the year 2020. Out of total industrial application for hydrogen only 0.3 million tons of hydrogen demand was met with low-carbon hydrogen that was nearly 20% more than the year 2019. Among these renewable hydrogen generation, most of the demand was met through large-scale CCUS plants and small electrolysis units in the chemical subsector.
The future analysis for clean hydrogen demand for the ammonia production expected to rise exponentially owing to current pipeline projects in the sector that suggested to meet the 18% of overall hydrogen demand in the sector by the year 2030. Further, actions aim to meet projected Net Zero Emissions by 2050 Scenario for the ammonia production industry sector hydrogen demand.
Hydrogen Generation Market Revenue, By Application (USD Billion)
Technology
2017
2020
2030
CAGR (2020-2030)
Methanol Production
14.7
16.4
29.3
5.96
%
Ammonia Production
37.7
42.6
73.2
5.56
%
Petroleum Refinery
48
53
84.1
4.74
%
Transportation
6.6
7.8
15.9
7.38
%
Power Generation
3.3
4
8.3
7.58
%
Others
5.2
5.8
8.9
4.37
%
Electrolysis is expected to be the fastest growing segment
By technology is bifurcated into Steam methane reformin, Partial oxidation, Coal gasification and electrolysis. Among all these, the electrolysis segment is anticipated to account the fastest growing as it does not emit any by product. Moreover, it is the simplest method as it involves transformation of water into molecules of hydrogen and oxygen by placing two electrodes.
Coal Gasification Insights
The Global market for the Coal Gasification was valued at USD 28.2 billion in 2020 and is expected to reach USD 52.0 billion by 2030, growing at a CAGR of 6.29% from 2021 to 2030.
Coal gasification is the second largest as well as second fastest growing technology for hydrogen generation. Coal gasification uses coal as a raw material for producing hydrogen, has been in practice for nearly two centuries. Moreover, it is recognized as a mature technology like steam methane reforming for hydrogen generation. Further, the coal gasification technology cost more compared to steam methanol reforming technology with less efficiency of nearly 60%.
The hydrogen produced using coal gasification is commonly termed as brown hydrogen. Due to the production of carbon dioxide and carbon monoxide, the production process is relatively polluting. Most of the hydrogen produced by China (currently the world's largest hydrogen producer) is produced in the form of brown hydrogen.
Hydrogen Generation Market Revenue, By Technology (USD Billion)
Technology
2017
2020
2030
CAGR (2020-2030)
Coal Gasification
24.5
28.2
52
6.29
%
Steam Methane Reforming
82.6
92.1
150.6
5.05
%
Others
8
9.3
17.2
6.33
%
System Insights
Merchant
The Global market for the Merchant was valued at USD 96.1 billion in 2020 and is expected to reach USD 161.3 billion by 2030, growing at a CAGR of 5.32% from 2021 to 2030.
Merchant is the leading segment on the basis of system in the global hydrogen generation market that accounted for nearly 74% of the total market revenue in the year 2020. Merchant generation of hydrogen means hydrogen is produced at a central production facility and is transported and sold to a consumer by a bulk tank, cylinder truck, or pipeline. In many countries such as the U.S., Canada, and Russia, there is an extensive existing natural gas pipeline network that could be used to transport and distribute hydrogen. In emerging economies of the Asia Pacific region, new infrastructure is being developed, with dedicated pipeline and shipping networks potentially allowing large-scale overseas hydrogen transport.
Hydrogen Generation Market Revenue, By System (USD Billion)
System
2017
2020
2030
CAGR (2020-2030)
Merchant
85.6
96.1
161.3
5.32
%
Captive
29.5
33.5
58.4
5.72
%
Total
115.1
129.6
219.8
5.42
%
Captive
The Global market for the Captive was valued at USD 33.5 billion in 2020 and is expected to reach USD 58.4 billion by 2030, growing at a CAGR of 5.72% from 2021 to 2030.
The captive segment is expected to expand at the highest CAGR in terms of revenue, during the forecast period. Socio-economically developing regions, particularly North America and Europe, have a large-scale penetration of this technology, given the ease of adoption. Captive generation of hydrogen is defined as on-site generation that abolishes several problems linked to the conveyance and distribution of hydrogen, and therefore the market is expected to grow substantially. For small-scale industries, on-site generation of hydrogen has gained popularity owing to new technologies being offered at reasonable costs in comparison to delivered distributed channels.
Asia Pacific is expected to dominate the overall market
Asia Pacific is anticipated to dominate the overall market growth owing to the increasing adoption of fuel cell hydrogen vehicle in the region along with surging government efforts. The largest and fastest-growing market for hydrogen production is China. The nation's manufacturing and oil and gas sectors have grown significantly in recent years.
By 2025, China intends to produce 100,000–200,000 metric tonnes of green hydrogen yearly from renewable sources, cutting CO2 emissions by 1-2 million metric tonnes annually, according to the National Development and Reform Commission (NDRC) and energy regulator National Energy Administration (NEA).
The growing focus to adopt the sustainable source of power generation and move towards the cleaner fuel is anticipated to proliferate the demand in North American Region. Moreover, adoption of research and development programs by the region will likely stimulate the market demand. For instance, the Hydrogen and fuel cell technologies office has launched the hydrogen program in order to support hydrogen production across various sectors.
Europe is investing heavily to boost the hydrogen production and reduce the carbon emission. Rising adoption of hydrogen powered vehicle in the region is propelling the growth of the market. In September 2020, the government of France unveiled its national hydrogen strategy to create an investment of about EUR 7.2 billion by 2030.
Hydrogen Generation Market Size (USD Billion) By Region (2020-2030)
Region
2020
2025
2030
CAGR (2020-2030)
North America
29.5
36.4
47.8
4.95
%
Europe
22.8
28.0
36.6
4.84
%
Asia Pacific
58.9
79.5
114.3
6.85
%
Latin America
6.3
6.6
7.5
1.73
%
MEA
12.1
13
13.6
1.21
%
Presence of major key players is driving the industry growth
Due to the vast number of market participants on both a regional and worldwide level, the market for hydrogen generation is highly fragmented. The analysis of hydrogen energy's potential use as a renewable energy source and the development of green hydrogen generation have broadened the market's potential and opportunities. By implementing a variety of inorganic growth strategies, including merger & acquisition, strategic alliance, collaboration, joint venture, geographical expansion, and product development, some firms are making significant investments in strengthening their position on a worldwide scale.
After examining the huge expansion of hydrogen in power production and transportation, a considerable number of players also believe in partnering with electric car manufacturers or with power distribution businesses to safeguard their future growth possibilities. Vehicles using hydrogen fuel cells are a newer technology that have gained popularity in both developing and industrialized nations, including China, Japan, Germany, the United States, the United Kingdom, and many more. As a result, the market for hydrogen generation is extremely competitive and fragmented, providing many potential for industry participants to experience future growth.
Due to the presence of numerous local businesses, the market is moderately fragmented. These market participants are pursuing methods like investments, collaborations, acquisitions, and mergers in an effort to increase their market share.
Hydrogen Generation Market Revenue (USD Billion) Analysis by Manufacturers (2020)
| | |
| --- | --- |
| Manufacturers | Revenue |
| Linde Plc | 2,502.9 |
| Air Liquide International S.A. | 2,752.6 |
| Hydrogenics | 45.1 |
| Inox | 1,175.1 |
| Messer Group GmbH | 1,180.6 |
| Air Products and Chemicals, Inc. | 3,985.2 |
| Weldstar, Inc. | 26.2 |
Some of the major players in the global hydrogen generation market include:
Linde plc
Air Liquide International S.A.
Hydrogenics
Inox
Messer Group GmbH
Air Products and Chemicals, Inc.
Weldstar, Inc.
Praxair, Inc.
McPhy
LNI Swissgas
Recent Developments
A green hydrogen plant was put into operation by Larsen & Toubro (L&T) in August 2022 at its AM Naik Heavy Engineering Complex in Hazira, Gujarat, India. The facility would probably produce 45 kg of green hydrogen every day, which will be used exclusively in the company's Hazira manufacturing site for captive consumption.
Masdar and Hassan Allam agreed to build green hydrogen production facilities with a 4 gigawatt (GW) electrolyzer capacity and 480,000 tonnes of green hydrogen annually by 2030 in Egypt's Suez Canal Economic Zone and along the Mediterranean coast.
Market Segmentation
By Technology
Coal Gasification
Steam Methane Reforming
Partial Oxidation (POX)
Electrolysis
Others


By Application
Methanol Production
Ammonia Production
Petroleum Refinery
Transportation
Power Generation
Others
By Type
Blue Hydrogen
Gray Hydrogen
Green Hydrogen


By System Type
By Source
Natural Gas
Coal
Biomass
Water
By Geography
North America
Europe
Asia-Pacific

China
India
Japan
South Korea
Malaysia
Philippines

Latin America

Brazil
Rest of Latin America

Middle East & Africa (MEA)

GCC
North Africa
South Africa
Rest of the Middle East & Africa
Immediate Delivery Available | Buy this Premium Research Report@ https://www.precedenceresearch.com/checkout/1316
You can place an order or ask any questions, please feel free to contact at sales@precedenceresearch.com  | +1 9197 992 333
About Us
Precedence Research is a worldwide market research and consulting organization. We give unmatched nature of offering to our customers present all around the globe across industry verticals. Precedence Research has expertise in giving deep-dive market insight along with market intelligence to our customers spread crosswise over various undertakings. We are obliged to serve our different client base present over the enterprises of medicinal services, healthcare, innovation, next-gen technologies, semi-conductors, chemicals, automotive, and aerospace & defense, among different ventures present globally.
For Latest Update Follow Us:
https://www.linkedin.com/company/precedence-research/
https://www.facebook.com/precedenceresearch/
https://twitter.com/Precedence_R