Ottawa, March 01, 2023 (GLOBE NEWSWIRE) -- The global cancer biological therapy market size was accounted at USD 98.73 billion in 2022. Due to the large patient pool, the worldwide cancer biological therapy industry is expected to grow significantly. Other factors driving market growth include the increasing prevalence of several cancers, the growing impact of biosimilars, the continuous patent expiration of cancer drugs, and the increasing demands for biological and targeted drug therapy. To treat a specific disease, biological therapy involves using a living organism substance derived from living organisms or lab variants of the substances. Interleukins, interferons, monoclonal antibodies, vaccines, and other biological therapies are examples.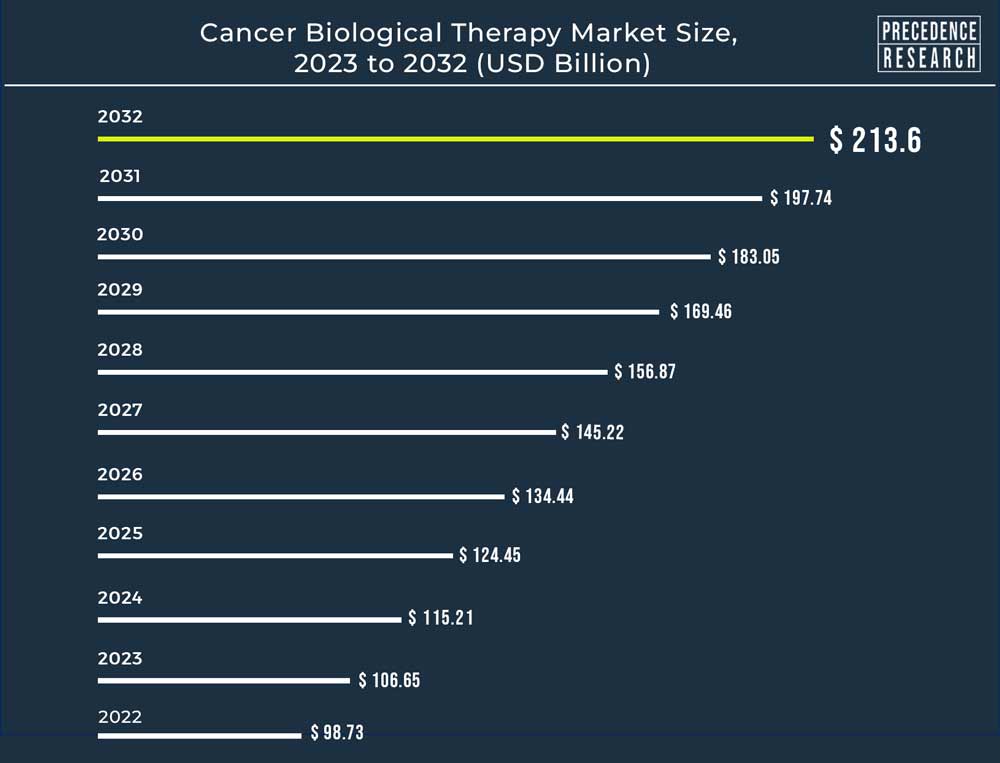 Key Takeaway:
By product, the monoclonal antibodies segment has captured revenue share of 31% in 2022.
By route of administration, the injectable segment has held 39.5% revenue share in 2022.
Oral segment has accounted revenue share of over 60.5% in 2022 and it is growing at a CAGR of 6.7% from 2023 to 2032.


Get the sample pages of report@ https://www.precedenceresearch.com/sample/2623
Phase Landscape
There are three phases to clinical trials: phase I, II, and III. In general, clinical trial success rates rise from phase I to II and ultimately to phase III, and thus phase III is expected to dominate the cancer biological therapy market. Phase 3 clinical trials also include a large number of candidates to ensure the accuracy of the results.
Phase I clinical trial is used to determine a safe dose. It evaluates how the novel therapy should be administered (by mouth, in a vein, etc.). It is also used to analyze how the novel treatment influences the human body and the fight against cancer. 15-30 people are expected to participate in this trial. The success rate of phase I is 35%.
Type landscape in the global Cancer Biological Therapy Market
Antibodies are predicted to increase significantly soon because of their capacity to specifically target proteins on the cell surface, resulting in higher use in cancer therapy. The segment will grow significantly as people prefer advanced cancer biological treatments to reduce the risks associated with anti-cancer drugs.
Cytokines are also useful in cancer therapy. They could control the immune response, inflammatory responses, and hematopoiesis. Interferon (INF), and interleukin (I.L.), are two types of cytokines that are commonly used. The most common INF used in cancer treatment is INF-alpha. It is a known N.K. cell and dendritic cell activator. Other cytokines, which include GM-CSF or GCSF, are applied as adjuvants in cancer therapy to enhance hematopoiesis following chemotherapy or radiation.
Ask here for customization study@ https://www.precedenceresearch.com/customization/2623
Scope of the Cancer Biological Therapy Market
| | |
| --- | --- |
| Report Coverage | Details |
| Market Size by 2032 | USD 213.6 Billion |
| CAGR | 8.02% from 2023 to 2032 |
| Monoclonal Antibodies Segment Share | 31% in 2022 |
| Oral Segment Share | 69.5% in 2022 |
Distribution Channel Landscape
The cancer biological therapy industry is dominated by specialized cancer treatment centers. The number of cancer research centers and laboratories is growing rapidly due to significant funding from governments and private companies worldwide. The segment's growth is being driven by increased treatment options and the number of cancer centers in some emerging markets. 
Also, due to their increasing prevalence in developing countries and the availability of a wide range of medical equipment for diagnosis and surgery, hospitals and clinics are the fastest-growing sectors of the global industry.
Regional Landscape
North America is anticipated to expand the highest over the forecast period. The market for cancer biological therapy in the United States has grown significantly. Affordable health insurance policies for life-threatening chronic conditions encourage people to seek treatment, which boosts market value. The Cancer Institute, Inc., a value-based oncology organization in the United States, announced an extended collaboration agreement with McKesson Corporation, which is anticipated to expand the market growth in this region.
Asia Pacific is anticipated to expand at a steady pace between 2023 to 2032. The key reasons for the APAC market's rapid growth include an increase in various cancer cases, government initiatives to raise awareness, and the number of patient assistance programs (PAPs). Due to the increasing incidence of ovarian cancer among women, there has been an increase in the demand for ovarian cancer biological therapy. The regions aging population, along with increased pollution and unhealthy eating habits, appear to be the leading causes of cancer, boosting demand for cancer biological therapy.
Market Dynamics
Drivers
The expiration of patents encourages new product launches
The patent expiration from several previous firms may open up new opportunities for new market participants. The widespread use of combination therapies is a significant factor driving the growth of the cancer biological therapy market. Furthermore, R&D funding is an addition to the market.
Diversified Treatment Development

Cancer biological therapy researchers primarily focus on using nanotechnology to provide advanced treatment to patients. Nanotechnology has enormous potential to aid in cancer diagnosis. Furthermore, advances in protein engineering and materials science are anticipated to assist medical professionals in targeting cancerous cells more precisely. This is expected to offer cancer patients new hope.
Market Restraint
A scarcity of highly skilled people
Over the predicted period, the worldwide cancer biological therapy industry is hampered by a lack of qualified professionals aware of the disease's treatment methods. To perform cancer therapy high knowledge and understanding regarding all the procedures are important. Skilled professionals are also used to create a treatment strategy customized to specific needs, lifestyles, as well as cancer stage and type.
To overcome this, commercial firms, industry organizations, and academics have launched programs to address the shortage of trained and skilled workers, including training courses, guidance programs, and opportunities for workers to gain professional experience.
Treatment Costs Are Increasing
The high cost of treatment methods undoubtedly hinders market expansion. Many therapies for this disease are expensive, making it difficult for many people, particularly those living in rural areas. The rising price of tumor drugs is due to a variety of factors such as the expenses of drug development, technically advanced equipment, etc. The cost of drug development is high in the biological therapy sector. Preclinical research involves identifying a compound or designing a drug, describing its mode of action, and generating preclinical data. Preclinical research takes many years and costs millions of dollars. As a result, this can be a major hurdle to the market.
Recent Developments:
The Food and Drug Administration authorized a novel targeted therapy for difficult-to-treat advanced tumors on January 27, 2023.
Zenocutuzumab is a humanised BsAb accepted by the FDA in 2021.
The United Kingdom received $11.4 million in funding for cancer research in May 2022.
Enhertu was approved in the United States in May 2022 for patients with HER2-positive advanced breast cancer who have been treated previously with an anti-HER2-based regimen.
Key Market Players
Incyte
ELI Lilly
Merck
Sanofi
Bayer
Novartis International
Roche
Pfizer
Bristol-Myers Squibb
Amgen
Seattle Genetics
Takeda Pharmaceuticals
Spectrum Pharmaceuticals
GlaxoSmithKline
Celgene Corporation
Otsuka
AstraZeneca, Plc.
Abbvie
Eisai


Segments Covered in the Report
By Type
Monoclonal Antibodies
Vaccines
Cancer Growth Blockers
Cytokines
others


By Phases
Phase I
Phases II
Phases III


By Distribution Channel
Specialized cancer treatment centers
Hospitals & clinics
Retail Pharmacies


By Geography
· U.S. 
· Rest of North America
· U.K. 
· Germany 
· France 
· Italy 
· Rest of Europe 
· China 
· India 
· Japan 
· South Korea 
· Rest of Asia Pacific 
Immediate Delivery Available | Buy this Premium Research Report@ https://www.precedenceresearch.com/checkout/2623
You can place an order or ask any questions, please feel free to contact at sales@precedenceresearch.com  | +1 9197 992 333
About Us
Precedence Research is a worldwide market research and consulting organization. We give unmatched nature of offering to our customers present all around the globe across industry verticals. Precedence Research has expertise in giving deep-dive market insight along with market intelligence to our customers spread crosswise over various undertakings. We are obliged to serve our different client base present over the enterprises of medicinal services, healthcare, innovation, next-gen technologies, semi-conductors, chemicals, automotive, and aerospace & defense, among different ventures present globally.
For Latest Update Follow Us:
https://www.linkedin.com/company/precedence-research/
https://www.facebook.com/precedenceresearch/
https://twitter.com/Precedence_R