Ottawa, March 02, 2023 (GLOBE NEWSWIRE) -- The protein market size was accounted at USD 25.5 billion in 2022. The global protein market refers to the need for various forms of protein, including animal-derived protein (such as meat, poultry, fish, and dairy products) and plant-based protein (such as grains, legumes, nuts, and seeds). The market is driven by the demand for protein-rich diets, which are believed to be essential for maintaining good health and supporting physical activity. The market size is determined by the volume of protein products sold and the prices at which they are sold. Factors that can influence the market include population growth, trends in dietary preferences, changes in consumer incomes, and the availability and cost of raw materials.

Get the sample pages of report@ https://www.precedenceresearch.com/sample/2541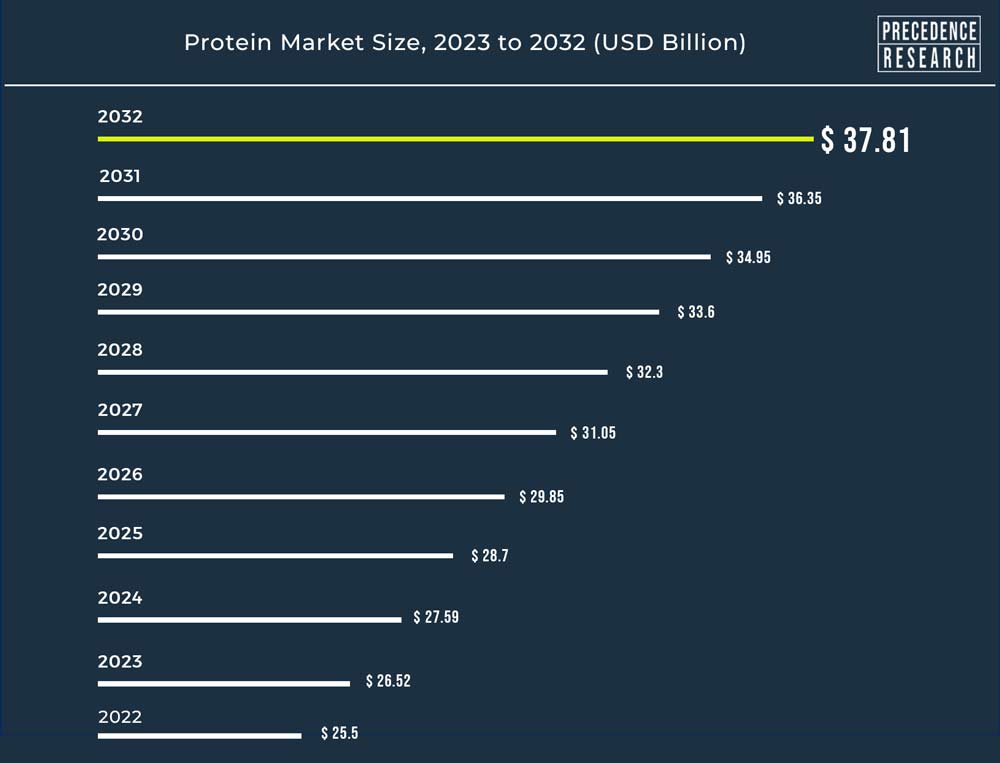 Trends like the emergence of fortified and functional protein products, the prevalence of plant-based protein, and the rising need for high-quality, sustainable protein sources have recently pushed the protein market.
In recent years, the market in the United States has seen a massive surge in the consumption of goods made from animals. The nation's animal protein intake will likely increase in the coming years. Due to the substantial domestic need for these products manufactured from animal sources, the market for U.S. products will probably increase. Due to supply chain initiatives by firms producing ingredients to enhance product distribution, the market will likely expand throughout the forecast period.
Plant-based materials are produced using wheat, soy, canola, and pea. Soy protein has been growing at a particular rate and has held the most significant share in the plant-based category. It will likely expand at a quick annual compound growth rate during the anticipated time frame. The Food and Drug Administration (FDA) also authorized a health claim for lessening LDL cholesterol with the help of dietary suggestions, which suggested consuming four servings of soy per day to aid in a 10% decrease in the body's LDL cholesterol level.
Technology developments and product innovations will likely significantly contribute to the market's growth throughout the projected period. Protein components are increasingly being employed in various applications; for instance, isolates are frequently used in dairy applications because of their excellent dispersibility and small particle size. Consumer belief in these products' health benefits has been the main driver of this market over the past few years, and this trend will likely continue over the projection period.
Report Highlights
By source, the plant protein market is expected to grow significantly. Due to its low price and high quality, soy protein became the most popular. The supplements market has shown a need for microbial proteins, particularly protein from algae. This segment will likely be driven by ongoing innovation and new competitors.
By end-use, food and beverage remained the most significant end-user segment in 2022 in terms of volume and value. Dairy and meat substitutes were the primary demand drivers, and customers wanted more plant-based protein-rich substitutes. The combined market share of meat and dairy substitutes in 2022 was 31% by volume.
By region, North America is driving the market's expansion with a more significant volume market share of 32%. A CAGR of 3.4% by volume is likely for the forecast period. The demand for sustainable and natural ingredients will likely expand quickly in the Middle East.


Ask here for customization study@ https://www.precedenceresearch.com/customization/2541
| | |
| --- | --- |
| Report Coverage | Details |
| Market Size in 2032 | USD 37.81 Billion |
| CAGR | 4.02% from 2023 to 2032 |
| North America Revenue Share | 32% in 2022 |
| Key Players | DuPont de Nemours Inc., Kerry Group PLC, Archer Daniels Midland Company, Fonterra Co-operative Group Limited, Royal FrieslandCampina NV and Others |
Regional Snapshot
With a larger volume market share of 32%, North America is the region driving the market's growth. In addition, a volume CAGR of 3.4% is anticipated over the forecast period. There is an immense opportunity for market expansion in the region because more than 57% of households choose meals with a high protein content, which is essential when customers buy food for their families. The flexitarian population is growing, and so is the sector's customer base. Americans reported consuming plant-based meat in 23 percent of cases, while 37 percent of users who don't presently eat it are open to the notion. As a result, there is a vast opportunity for meat alternatives, and the protein market is increasing.
The demand for natural and sustainable components will probably rise the fastest in the Middle East due to the region's rising health consciousness. The area will likely have a total CAGR of 4.33% during the forecast period.
Market Dynamics
Market Drivers
The market is experiencing strong demand and is expanding as a result of the increasing preference of consumers for foods made with protein ingredients, such as cold cuts, margarine, bakery goods, spreads, yogurt, and milk sausages. The market is growing since senior and health-conscious consumers are using these goods.
Customer belief in Health Based Products
Over the past several years, this market has been primarily driven by consumer conviction in the health benefits of these goods, and this trend will likely continue during the forecast period.
Market Opportunities
There will likely be tremendous opportunities for the market as more proteins are developed by manufacturers that contain various amino acids and serve specific purposes, such as satiety, weight loss, muscle repair, and energy balancing.
Competitive Analysis
The top five companies control 21.36% of the market in the segmented global protein market. The leading players in this industry are Kerry Group PLC, Archer Daniels Midland Company, Fonterra Co-operative Group Limited, DuPont de Nemours Inc., and Royal FrieslandCampina NV.
Related Reports
Browse our latest press releases@ https://www.precedenceresearch.com/press-releases
Recent Developments
October 2021: Lcprodan BLG-100, a pure BLG ingredient with a specific nutritional profile, was started by Arla Foods Ingredients. It provides 45% more leucine, the crucial amino acid for muscle growth, than protein separates that are currently available thanks to patented revolutionary separation technology.
August 2021: As part of developing its existing production facility, Darling Ingredients introduced the first unit devoted to poultry conversion in Nebraska. This larger production plant could facilitate protein conversion.
August 2021: Arla Foods Ingredients released a micellar casein isolate on the market under the name MicelPureTM. At least 87% of the native protein is present in the unique micellar casein isolate, which is minimal in fat and lactose and has no discernible flavor. Its primary uses are RTD beverages, high-protein beverages, and powder shakes.


Market Segmentation
By Source
Animal 

Casein and Caseinates
Collagen
Egg Protein
Gelatin
Insect Protein
Milk Protein
Whey Protein
Other Animal Protein
Microbial
Algae Protein
Mycoprotein

Plant 

Hemp Protein
Oat Protein
Pea Protein
Rice Protein
Potato Protein
Wheat Protein
Soy Protein
Other Plant Protein


By End-User
Animal Feed
Personal Care and Cosmetics
Food and Beverages
Bakery
Beverages
Breakfast Cereals
Condiments/Sauces
Confectionery
Dairy and Dairy Alternative Products
Meat/Poultry/Seafood and Alternative Meat Products
RTE/RTC Food Products
Snacks
Supplements
Baby Food and Infant Formula
Elderly Nutrition and Medical Nutrition
Sport/Performance Nutrition
By Geography
North America
Europe
Asia-Pacific
Latin America
The Middle East and Africa


Immediate Delivery Available | Buy this Premium Research Report@ https://www.precedenceresearch.com/checkout/2541
You can place an order or ask any questions, please feel free to contact at sales@precedenceresearch.com  | +1 9197 992 333
About Us
Precedence Research is a worldwide market research and consulting organization. We give unmatched nature of offering to our customers present all around the globe across industry verticals. Precedence Research has expertise in giving deep-dive market insight along with market intelligence to our customers spread crosswise over various undertakings. We are obliged to serve our different client base present over the enterprises of medicinal services, healthcare, innovation, next-gen technologies, semi-conductors, chemicals, automotive, and aerospace & defense, among different ventures present globally.
For Latest Update Follow Us:
https://www.linkedin.com/company/precedence-research/
https://www.facebook.com/precedenceresearch/
https://twitter.com/Precedence_R