Ottawa, March 16, 2023 (GLOBE NEWSWIRE) -- The cancer supportive care drugs market is expanding at a CAGR of 2.09% from 2023 to 2032. Rising cases of breast and lung cancer along with increasing geriatric population are directly linked with the development of cancer supportive care drugs market.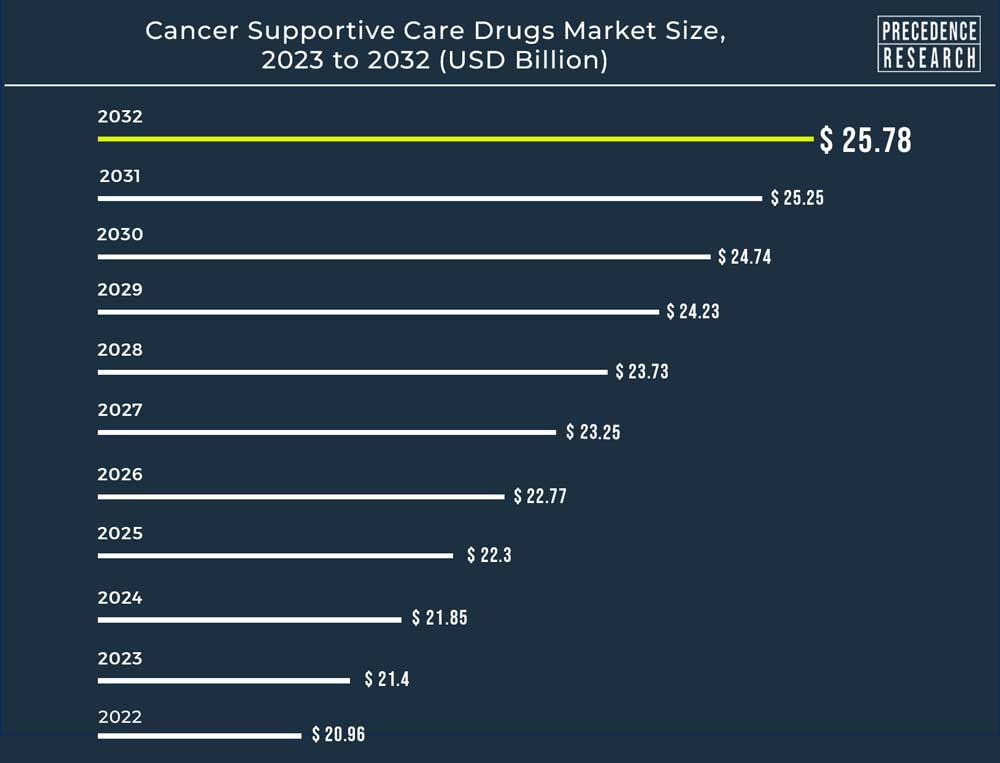 Key Insights
Asia-Pacific region has generated revenue share of over 24.8% in 2022.
U.S. market has generated 44.3% revenue share in 2022.
The lung cancer and breast cancer has generated revenue share of 14.9% and 13.8% respectively in 2022.
The granulocyte colony-stimulating factors (GCSFs) segment has captured revenue share of over 27% in 2022.
Get the sample pages of report@ https://www.precedenceresearch.com/sample/2665
Market overview:
Cancer supportive care drugs can refer to pain management drugs or medicines offered to cancer patients that have poorly responded to chemotherapy. The supportive care drugs for cancer patients can be delivered at every stage of cancer; the drugs or medication follow cancer patients throughout the treatment, particularly helping them to manage the adverse effects caused during the chemo sessions. In recent years, the healthcare administration has started offering cancer supportive care medicines or drugs to seriously ill patients at the beginning of cancer treatment; this avoids the risks of adverse experiences in the future. The recent advancements in the oncology sector have significantly improved the clinical outcomes of cancer supportive care drugs. Factors such as advancements in drug development methods, rising demand for generic drugs, increasing awareness of self-health care and a growing number of cancer diagnoses are expected to supplement the growth of the global cancer supportive care drugs market.
Report Highlights:
By therapeutic class, being the primary treatment for supportive care, the Granulocyte Colony Stimulating Factors (GCSFs) segment dominates the market. GCSFs are widely utilized to manage neutropenia in cancer patients. Moreover, the antiemetics segment is anticipated to grow at a significant rate due to the rising demand for supportive care drugs for managing short-term side effects of chemotherapy, such as headache, vomiting and nausea.  
By application, the breast cancer segment is expected to hold a dominating share of the market during the period analyzed, owing to the rising prevalence of breast cancer across the globe. The treatment required for breast cancer is prolonged and tends to give long-term side effects, including hair loss, skin infections and infertility. Moreover, the rising concerns of anemia or bleeding caused by lung cancer treatment will increase the demand for supportive care drugs for lung cancer patients.
By distribution channel, the hospital pharmacy segment dominates the market with a significant share. The preferences for cancer supportive care drugs from hospital pharmacies are rising due to the presence of professionals to make drug-based decisions for hospitalized cancer patients. The rising number of in-home healthcare settings is projected to boost the growth of the online pharmacy segment during the forecast period.


Ask here for customization study@ https://www.precedenceresearch.com/customization/2665
Scope of this report
Report Coverage
Details
Market Size in 2032
USD 25.78 Billion
By Therapeutic Class

ESA (Erythropoiesis Stimulating Agents)
G-CSFs (Granulocyte Colony Stimulating Factors)
Antiemetics
Bisphosphonates
Opioids
NSAIDs (Non-Steroidal Auto Inflammatory Drugs)

By Application

Breast Cancer
Stomach Cancer
Colorectal Cancer
Liver Cancer
Prostate Cancer

By Distribution Channel

Drug pharmacies/ Retail pharmacies
Hospital Pharmacies
Online Pharmacies

By Region

North America
Europe
Asia-Pacific
Latin America
The Middle East and Africa

Key Players
Merck & Co., F. Hoffman-La Roche AG, Johnson & Johnson, Novartis AG, GlaxoSmithKline Plc, Helsin Healthcare SA, Baxter International Inc and Others
Regional snapshot:
North America dominates the global cancer supportive care drugs market owing to the rising demand for advanced and innovative treatment for cancer patients in the region. The presence of major key players, including Amgen Inc., Merck & Co Inc., Johnson & Johnson Services and Heron Therapeutics, has contributed to the development of the cancer supportive care drugs market in North America. Moreover, the research and development (R&D) activities in the oncology sector in North America have been supplementing the growth of the market lately. Cancer remains the second most reason for deaths in the United States; the rising cancer cases in the country have forced the government and private sectors to enhance the budget for oncology research; this is another vital factor in boosting the growth of the cancer supportive care drugs market.
During the forecast period, Asia Pacific is expected to witness significant growth in the cancer supportive care drugs market. The improving healthcare infrastructure and rising biotechnology industry in developing countries of Asia Pacific are observed as powerful drivers for the growth of the market. According to the National Institutes of Health, as of 2022, the estimated number of cancer cases in India was 14,61 427. The rising prevalence of cancer in the country has forced the healthcare system to bring systematic supportive care methodologies for cancer patients. Along with India, China's rising population and increasing geriatric population in Japan are observed to boost the requirement for cancer supportive care drugs in Asia Pacific.
The well-established healthcare infrastructure in Europe highlights the growth of the cancer supportive care drugs market. Moreover, leading market players, including Helsinn Healthcare SA, F. Hoffmann-La Roche Ltd., and GlaxoSmithKline Plc., are headquartered in Europe; this factor is considered to support the market development in the region. Moreover, advanced facilities for supportive and palliative care in economically established countries such as Germany, France and the UK are propelling the growth of the cancer supportive care drugs market in Europe.
Market dynamics:
Driver:
Rising prevalence of cancer in geriatric population
The risk of cancer increases with rising age. According to the National Institute of Cancer, more than one thousand per one lakh people develop cancer at the age of 60 or older. The rising cases of colorectal, lung and stomach cancer in the geriatric population are observed to boost the demand for cancer supportive care drugs. Due to the increasing number of damaged cells and reduced immunity, the geriatric population (people over 65) are more vulnerable to chronic diseases, including cancer. Cancer treatment can be complex and challenging for older people, as the body responds less to the therapy; complicated cancer treatments can be unbearable for older people. Thus, cancer supportive care drugs, along with palliative care, are highly recommended for the senior population as compared to the younger population.
Restraint:
Rising deployment of targeted therapies in cancer treatment
Targeted therapy is an advanced cancer treatment that targets cancer cell growth. The therapy or treatment is deployed all over owing to its unmatched benefits for cancer patients. In recent years, with proper clinical trials, the oncology sector has found multiple advantages of targeted therapies. Unlike chemotherapy, targeted therapy can quickly locate cancer cells and destroy them without harming healthy cells and tissues. Moreover, this therapy is less painful and causes comparatively fewer side effects. The rising clinical trials and deployment of targeted therapies for cancer patients will significantly lessen the chemotherapy practices across the globe, which is observed to harm the growth of the cancer supportive care drugs market during the forecast period.
Opportunity:
Technological advancements in oncology research sector
The rising demand for advanced cancer treatments with an increasing burden on the healthcare industry has forced the oncology research sector to rapidly adopt technological advancements to boost the speed of research and development. CRISPR, a gene editing technology; artificial intelligence, to improve the diagnosis; Infinium assay, a genotyping technique and numerous other technologies have helped researchers visualize ways to find better cancer treatments. Such technological advancements are intended to enhance the pace of research to bring more innovative cancer drugs to the market; this accelerates the market's growth by providing lucrative opportunities to market players.
Challenge:
Stringent FDA regulations for approving drugs
Every pharmaceutical company and the newly developed drug must undergo the Food and Drug Administration regulations before commercializing the product. FDA monitors newly developed drugs' efficacy and side effects before it goes to the market. The drug approval process of the FDA includes multiple stages such as drug safety monitoring, drug review, preclinical research, clinical research and post-market drug monitoring. The process for approval of new drugs is time-consuming and may cost a hefty amount to the pharmaceutical or biotech company; such rigorous process of FDA approval stretches the commercialization of the drug by creating a challenge for the market's growth.
Recent Developments:
In February 2023, the National Comprehensive Cancer Network announced a new strategic collaboration with the Institute of Hematology and Transfusion Medicine in Poland to improve cancer care by implementing evidence-based and advanced supportive care platforms.
In February 2023, a leading biotechnology company, Moderna Inc and Merck, announced that mRNA-4157/C940, combined with KEYTRUDA, has received Breakthrough Therapy Designation (BDT) from the United States Food and Drug Administration. MRNA-4157/C940 is an investigational personalized cancer vaccine developed for patients with a high risk of melanoma.
In March 2022, Australia-based, Imugene announced a new collaboration with Merck & Co. This collaboration aims to start clinical trials to evaluate the efficacy of HER-Vaxx, B-cell activating immunotherapy in combination with KEYTRUDA for patients with HER-2 positive gastric cancer.


Immediate Delivery Available | Buy This Premium Research Report@ https://www.precedenceresearch.com/checkout/2665
You can place an order or ask any questions, please feel free to contact at sales@precedenceresearch.com  | +1 9197 992 333
About Us
Precedence Research is a worldwide market research and consulting organization. We give unmatched nature of offering to our customers present all around the globe across industry verticals. Precedence Research has expertise in giving deep-dive market insight along with market intelligence to our customers spread crosswise over various undertakings. We are obliged to serve our different client base present over the enterprises of medicinal services, healthcare, innovation, next-gen technologies, semi-conductors, chemicals, automotive, and aerospace & defense, among different ventures present globally.
For Latest Update Follow Us:
https://www.linkedin.com/company/precedence-research/
https://www.facebook.com/precedenceresearch/
https://twitter.com/Precedence_R