Ottawa, March 20, 2023 (GLOBE NEWSWIRE) -- Due to COVID-19, a substantial decrease in the consumption of polypropylene has been noted. A significant slowdown was seen in the building and automobile industries, where polypropylene is in great demand. It had a considerable recovery in 2022 due to the start-up of activities in large end-user sectors. The main short-term market drivers are the increasing use of plastics to lighten vehicles and improve fuel efficiency, as well as the rising need for flexible packaging.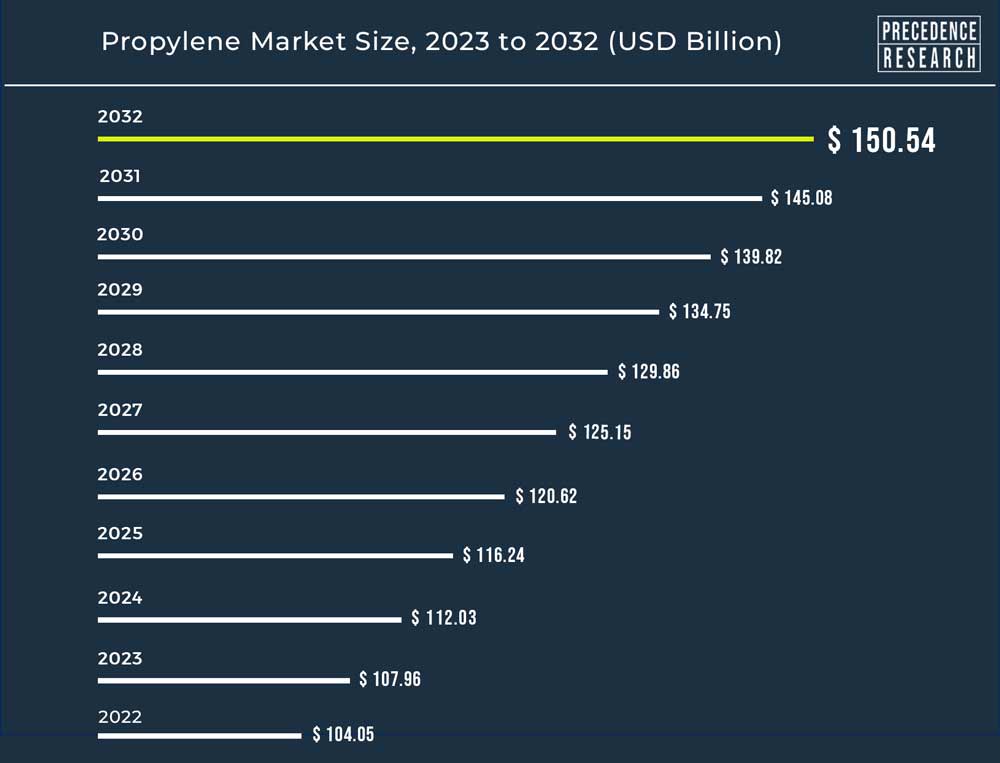 On the other hand, a significant aspect that target industry during the forecast period is the availability of many replacement items in the market. Market opportunities may arise due to the rising trends in recycled polypropylene.
Get the sample pages of report@ https://www.precedenceresearch.com/sample/2689
Market Overview
In the petrochemical industry, propylene is the second-most important beginning product after ethylene. Propylene is a by-product of the procedure used to refine natural gas and oil. Propylene is an alkene with three double-bonded carbon atoms in its chemical structure, and it serves as the foundation for a wide range of goods. Over two-thirds of the world's production is consumed by polypropylene, a propylene-based polymer. End users of propylene include the packaging, film, fiber, container, and cap industries. Important compounds, including cumene, propylene oxide, acrylonitrile, butyraldehyde, and acrylic acid, are also produced using propylene.
Regional Insights
Asian countries like India and China fuel rapid growth in the Asia-Pacific propylene market. The demand for polypropylene is anticipated to expand quickly over the forecast period due to substantial expansion in these industries and government backing. The world's largest automobile market is China, which will remain so as measured by yearly sales and manufacturing output. By 2025, domestic production is predicted to exceed 35 million vehicles. Also, according to the OICA, Chinese automakers produced 26,082,220 automobiles in 2021, a 3% increase from 2020.
According to PIAI, the industry in India is predicted to develop by 22% to 25% annually and reach USD 204.81 billion by 2025. Through its exports and imports, the Indian packaging industry earned a name for itself, spurring the development of technology and innovation while enhancing the many industrial sectors.
The packaging sector is functioning as a catalyst to encourage India's polypropylene market's rapid expansion. Also, the nation has been showing a sizable demand for packaged goods over the last several years. This trend is anticipated to continue throughout the projection period, driving up demand for the market under study.
According to the National Investment Promotion & Facilitation Agency, the car sector accounts for 49% of India's manufactured GDP and 7.1% of the country's overall GDP. The market for propylene in the Asia-Pacific region is anticipated to develop over the projected period due to this expansion in several sectors.
Ask here for customization study@ https://www.precedenceresearch.com/customization/2689
Scope of this report
Report Coverage
Details
Market Size in 2032
USD 150.54 Billion
By Derivatives

Polypropylene
Propylene Oxide
Cumene/Phenol
Acrylonitrile
Acrylic Acid
Oligomers
Alcohols
Acrylates
Others

By Application

Injection Molding
Film & Sheet
Raffia
Fiber
Blow Molding

By Type
By End User

Packaging
Electronics
Medical
Consumer Goods
Automotive
Construction
Textile
Agriculture
Other

By Region

North America
Europe
Asia-Pacific
Latin America
The Middle East and Africa

Key Players
BASF SE, Repsol, MOL Group, Beaulieu International Group, LyondellBasell Industries N.V., Borouge, Borealis AG, ExxonMobil Chemical, China National Petroleum Corporation, INEOS, China Petroleum & Chemical Corporation, Reliance Industries Limited, Formosa Plastic Group, Total S.A., SABIC, Ducor Petrochemicals, Braskem and Others
Report Highlights
By derivatives, During the forecast period, the acrylonitrile sector is predicted to be the fastest. The growth of this segment is due to the several different elastomeric fibres and polymers employ this material. It is utilized for acrylic fibres in clothing, such as sweaters, socks, beds, carpets, sportswear, pillows, and blankets.
By type, in 2022, Copolymer is used in many industries, including the pharmaceutical sector, to manufacture injection molds and medication bottles. Moreover, it manufactures various vehicle components, including dashboards and bumpers. Also, the usage of this type of PP in the infrastructure, building, and consumer goods/lifestyle sectors is encouraging the expansion of this market. Over the projected period, all of these factors are anticipated to further boost market revenue.
By end-user, the medical segment had the significant revenue share in 2022. This is due to the non-corrosive properties and chemical resistance, which would further extend the shelf life of medicines, PP is now more in demand from the healthcare and pharmaceutical applications for surgical equipment and other medical items.
By application, in 2022, the Injection Molding sector is predicted to expand at the fastest rate. In the world's injection moulding industry, polypropylene makes up 35–40% of the production, followed by ABS (25%), polyethene (15%), and polystyrene (%). This information comes from HUBS, a prominent manufacturer of materials on a global scale. Injection moulding is anticipated to benefit from the rapid global expansion of the packaging and chemical processing sectors. The geographic advantage of distribution to the Asia-Pacific area, which is rapidly developing, may cause the consumption of injection-moulded pallets to rise significantly.
Market Dynamics
Drivers
Rising Demand for Polypropylene from Various End-Use Industries
Due to the escalating demand from the packaging sector, the pp market is expanding quickly. The rising consumption of packaged foods and beverages contributes to this increased demand. The ability of PP to act as a moisture barrier enhances its capacity to offer efficient packaging solutions for the food and beverage sector. Also, it assists in lowering the likelihood of food degradation and quality loss. Moreover, the substance is utilized to make doors, seat assemblies, and safety subsystems, among other interior and external car elements. It allows for simple processing, efficient sealing, and rigidity. Also, its ease of moulding, excellent durability, and flexibility, polypropene is also utilized in the production of toys, clothing, sports equipment, and other items. Due to these characteristics, the agriculture sector of the industry is anticipated to have a bright future. The rising demand for agricultural equipment such as drippers, microtubes, and nozzles will fuel growth.
Because of its high stiffness, PP is increasingly used in industrial settings, particularly for electrical packaging components and replacement parts. Also, it improves the package material's clarity and looks for unobstructed product visibility. It is anticipated that PP will become more widespread across a range of end-use sectors due to its versatile and practical qualities.
Restraint
The availability of substitutes and fluctuating crude oil prices would limit the growth of the polypropylene market
Propylene gas, which is generated from crude petroleum, is converted into polypropylene by polymerization. Due to unstable political conditions in the Middle East and other oil-producing nations, the availability and price of crude oil have fluctuated. The cost structure of the finished product is impacted by fluctuations in crude oil pricing, which may hinder market expansion. The expansion of the PP market is further threatened by the availability of alternatives like polyethene and polyethene terephthalate, which have features comparable to PP.
Challenges
Lack of universal directives pertaining to propylene
The absence of universal regulations governing the global propylene market's applications is anticipated to impede market expansion during the projected period. The laws governing the usage and applications of propylene vary in every nation. Major businesses need help to comply with such national legislation, discouraging investment in the propylene sector and restraining market expansion.
Related Reports
Recent Developments: 
In April 2022, Shell plc, a subsidiary of Shell plc, signed the Production Sharing Contract to formally acquire a 25 percent stake of the Atapu field. Shell paid US$ 1.1 billion to Petrobras for the increased stake in the field. With the contract now signed, Shell plc will start receiving its additional share of oil from the field.
In August 2021, BASF and SINOPEC made joint venture to expand their Verbund site operated by BASF-YPC Co., Ltd. This is a 50-50 joint venture of both companies in Nanjing, China. It includes the capacity expansion of several downstream chemical plants, including a new tert-butyl acrylate plant to support the growing Chinese market.
In November 2020, NESTE signed an agreement with Borealis to supply renewable propane, which will be used to produce polypropylene. This agreement has helped both companies to expand their businesses.


Immediate Delivery Available | Buy This Premium Research Report@ https://www.precedenceresearch.com/checkout/2689
You can place an order or ask any questions, please feel free to contact at sales@precedenceresearch.com  | +1 9197 992 333
Ask here for our latest blogs@ https://www.towardshealthcare.com/
About Us
Precedence Research is a worldwide market research and consulting organization. We give unmatched nature of offering to our customers present all around the globe across industry verticals. Precedence Research has expertise in giving deep-dive market insight along with market intelligence to our customers spread crosswise over various undertakings. We are obliged to serve our different client base present over the enterprises of medicinal services, healthcare, innovation, next-gen technologies, semi-conductors, chemicals, automotive, and aerospace & defense, among different ventures present globally.
For Latest Update Follow Us:
https://www.linkedin.com/company/precedence-research/
https://www.facebook.com/precedenceresearch/
https://twitter.com/Precedence_R