Ottawa, March 21, 2023 (GLOBE NEWSWIRE) -- The global specialty generics market size was accounted for USD 75.12 billion in 2022. The term "specialty generics" is used to denote affordable, complicated, or high-end generic versions of pharmaceuticals. To control it, significant service engagement is needed. Biologics and biosimilars are included in this specialized generic, however they follow different regulatory processes. The majority of specialty drugs are used to treat multiple sclerosis, rheumatoid arthritis, and different types of cancer.

Get the sample page of report@ https://www.precedenceresearch.com/sample/2708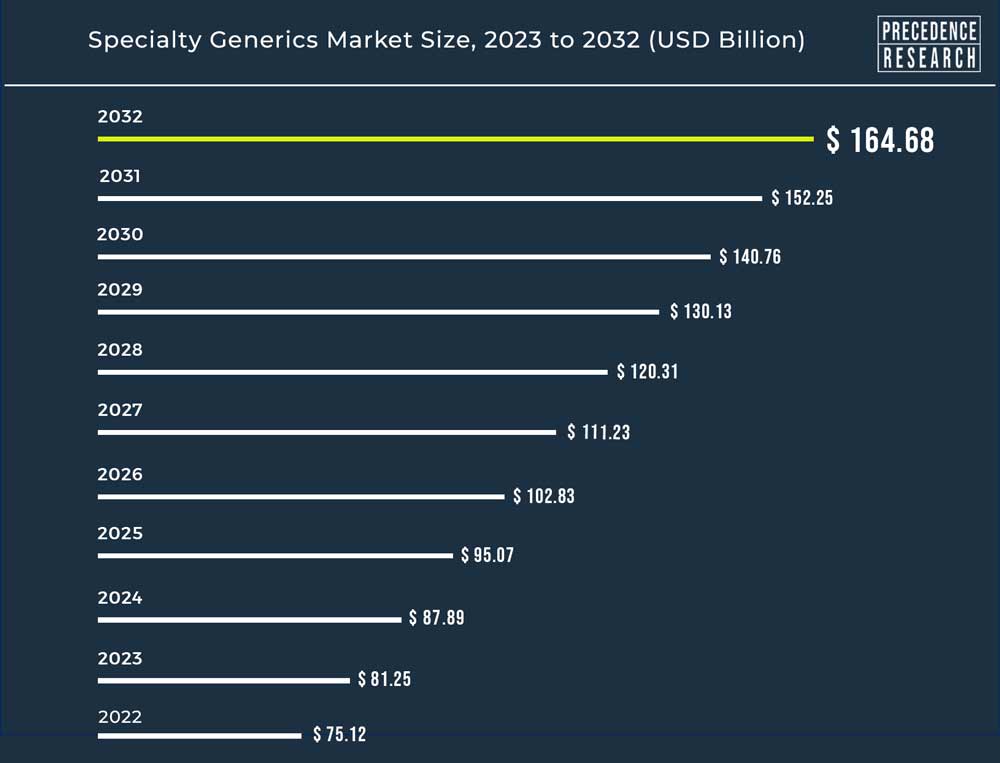 Injectables, oral administration, and other methods of administration are the primary modes of administration for specialized generics. For a variety of medication delivery methods, including intravenous, subcutaneous, intradermal, intraperitoneal, intramuscular, and others, specialty generic injectables are used to treat ailments ranging from cancer to autoimmune disorders. During drug injection, a chemical is injected into the bloodstream using a hollow hypodermic needle. Oncology, autoimmune disorders, infectious illnesses, and other indications are treated using specialty generics, which are sold through a variety of channels, including retail pharmacies, specialty pharmacies, and hospital pharmacies.
Specialty generics are less expensive than their branded counterparts since they don't need to incur high research and marketing expenses. Due to their sophisticated production needs, greater capital expenditures, and generally lower quantities as a result of a smaller patient population, specialist generics have a more competitive market than regular generics. This leads in better profits than standard generics and a lesser price drop relative to the branded medicine. Specialty generic drugs typically need prior authorization to be ordered, specific handling, administration, and monitoring. Several factors, including the aging of the population, the patent expiration of a number of branded specialty drugs, the rising prevalence of various life-threatening diseases like cancer, multiple sclerosis, HIV, etc., cost containment initiatives by healthcare providers, the expansion of emerging markets, etc., are currently driving the global market for specialty generics.
Key Insights:
North America market has accounted 37% of the revenue share in 2022.
By type, the injectables segment has generated 61% of revenue share in 2022.
By application, the inflammatory conditions segment has held revenue share of 28% in 2022.
By end-use, the specialty pharmacy segment has captured revenue share of 77% in 2022.
Report Highlights
In 2022, the injectable category led the market in terms of kind. Due to its high prescription rate, which is a result of its long-lasting effects and fast absorption compared to oral medications, it is predicted to retain its dominance over the projected period.
Due to the rising incidence of cancer, the oncology application category is anticipated to have considerable growth throughout the forecast period. Within the next 20 years, Globocan predicts that there will be 28.4 million new instances of cancer worldwide.
The specialty pharmacy category led the market in 2022 based on end-use because to characteristics including prompt delivery, improved patient access, and efficient distribution management.
In terms of geography, North America dominated the market in 2022 as a result of the region's favorable legislative framework for the endorsement of novel goods. To expedite the approval of new generic medications, the U.S. FDA implemented the Generic Drug User Fee Amendments (GDUFA) under the Hatch-Waxman act.
Regional Snapshots
Due to supportive government healthcare initiatives and a weak healthcare infrastructure in this area, North America led the business with the highest share.
Additionally, healthcare organizations like the World Health Organization (WHO) play a significant role in formulating laws like the National Cancer Control Programs, which are expected to spur further development in this area. During the projection period, Asia Pacific is expected to dominate the worldwide industry.
Chronic illness incidence is on the rise, and there is a significant market need for affordable generic medications. Additionally, a rise in per-capita income enhances the likelihood that specialty generics would be used, and ongoing healthcare infrastructure improvements are expected to offer the market possibilities for worldwide expansion throughout the course of the projection period.


Ask here for customization study@ https://www.precedenceresearch.com/customization/2708
Scope of this report
Report Coverage
Details
Market Size in 2032
USD 164.68 Billion
CAGR
8.17% from 2023 to 2032
By Type

Injectables
Oral drugs
Others

By Application

Oncology
Inflammatory Conditions
Multiple Sclerosis
Hepatitis C
Others

By End User

Specialty Pharmacy
Retail Pharmacy
Hospital Pharmacy

By Region

North America
Europe
Asia-Pacific
Latin America
The Middle East and Africa

Key Players
Teva Pharmaceuticals Industries Ltd., Novartis AG (Sandoz International GmbH), Viatris Inc., Mallinckrodt, Bausch Health Companies Inc. (Valeant Pharmaceuticals International, Inc.), Hikma Pharmaceuticals PLC, Dr. Reddy's Laboratories Ltd., Endo Pharmaceuticals Inc., Apotex Corp., Sun Pharmaceutical Industries Ltd., Fresenius Kabi Brasil Ltd., STADA Arzneimittel AG and Others
Market dynamics
Drivers
The support policies and laws put in place by the governments of numerous nations to aid in the manufacturing of specialty generics are what drive the worldwide market for these drugs. Additionally, because they do not need to undergo any clinical trials or approval before being introduced to the market, specialty generic pharmaceuticals are less expensive to create and manufacture than recently patented drugs. In contrast to freshly patented pharmaceuticals, which typically need three to four years for product development and approval, these goods provide little risk and large profitability.
The firm benefits from increased research and development (R&D) efforts to create unique formulations that provide more affordable and effective options compared to their branded equivalents. Additionally, a lot of businesses are growing their capacity as a result of mergers and acquisitions (M&A). For instance, the pharmaceutical business Alvogen purchased County Line Pharmaceuticals, a business dedicated to the development of specialty generics.
Restraints
The high price of specialty generics may prevent people from using them. The inability to draw consumers to pharmaceuticals, the marketing rights firms have obtained for off-patent medications with no generic competition, and the tiny target patient base all lead to an increase in product pricing. The average monthly cost of a specialty generic prescription is over USD 4,500 per person, compared to USD 17 to USD 22 for a generic prescription, according to the University of Michigan Prescription Drug Plan Formulary research.
Opportunities
The increase in the prevalence of chronic illnesses is mostly driving the market's expansion. According to the World Health Organization, cancer accounted for 8.8 million deaths globally in 2015 and was the leading cause of illness and mortality. Furthermore, according to WHO, by 2030, there will be a projected 70% increase in the number of new cancer cases. Additionally, there is a rise in HIV/AIDS incidence, which is anticipated to fuel the specialty generics market's expansion throughout the course of the projected year.
Additionally, a lot of specialized pharmaceuticals are close to losing their patent protection, which has a big influence on the pharmaceutical business. Since generic medications have been shown to be effective in terms of patent expirations, demand for them is increasing, which accelerates market expansion. Additionally, the cost of healthcare is increasing as a result of payer demands for lower product pricing and pricey branded drugs. Therefore, having a specialty generic that is cost-effective can meet payer demand, which would further support market expansion.
Challenge
Brand recognition and loyalty, the intricate structure of specialty generic medicines, and limited profitability are just a few of the key entry barriers that prevent new companies from entering the market and causing prescription costs to rise. For instance, when MS sufferers purchased COPAXONE for their therapy, Teva Pharmaceutical Industries Ltd. provided them smart co-pay cards. Holders with eligible cards receive medications at no cost. Such initiatives draw customers' attention to their branded goods, which has a detrimental effect on the sales of specialist generic items.
Recent developments
In October 2021, BioCena purchased a Pfizer-owned medication therapy manufacturing facility in Australia. Additionally, BioCena finalized the acquisition of Hospira Adelaide-owned Pfizer Inc. in 2020. It is the nation's top provider of 200 specialty generic dermal fillers.
Patients with Multiple Sclerosis (MS) were given smart co-pay cards by Teva Pharmaceutical Industries Ltd. when they purchased COPAXONE for their therapy. Holders with eligible cards receive medications for free.
In July 2020, Sol-Gel Technologies, Ltd., a clinical-stage dermatology company that focuses on finding, developing, and commercializing branded and generic topical drug products for the treatment of skin diseases, launched TWYNEO, a topical cream for the treatment of acne vulgaris in adults and pediatric patients nine years of age and older. The combination of both medications into one product with a gradual release onto the skin is made possible by the patented microencapsulation technology in TWYNEO Cream, which separates and encases the active ingredients in silica core shells (microcapsules). This safeguards tretinoin from the oxidizing effects of BPO. TWYNEO contains a fixed-dose combination of tretinoin 0.1%, and benzoyl peroxide (BPO), 3%.


Immediate Delivery Available | Buy This Premium Research Report@ https://www.precedenceresearch.com/checkout/2708
You can place an order or ask any questions, please feel free to contact at sales@precedenceresearch.com  | +1 9197 992 333
About Us
Precedence Research is a worldwide market research and consulting organization. We give unmatched nature of offering to our customers present all around the globe across industry verticals. Precedence Research has expertise in giving deep-dive market insight along with market intelligence to our customers spread crosswise over various undertakings. We are obliged to serve our different client base present over the enterprises of medicinal services, healthcare, innovation, next-gen technologies, semi-conductors, chemicals, automotive, and aerospace & defense, among different ventures present globally.
For Latest Update Follow Us:
https://www.linkedin.com/company/precedence-research/
https://www.facebook.com/precedenceresearch/
https://twitter.com/Precedence_R