SAN ANTONIO, Texas, March 28, 2023 (GLOBE NEWSWIRE) -- CURE®, the industry-leading multimedia platform devoted to cancer updates and research that reaches more than 1 million patients, survivors and caregivers, today announced the finalists for the 2023 Extraordinary Healer® award. This award honors oncology nurses whose compassion and expertise improve the lives of their patients. The award presentations and winner announcement will be held on April 26 at the San Antonio Marriott Rivercenter and will be live streamed on curetoday.com.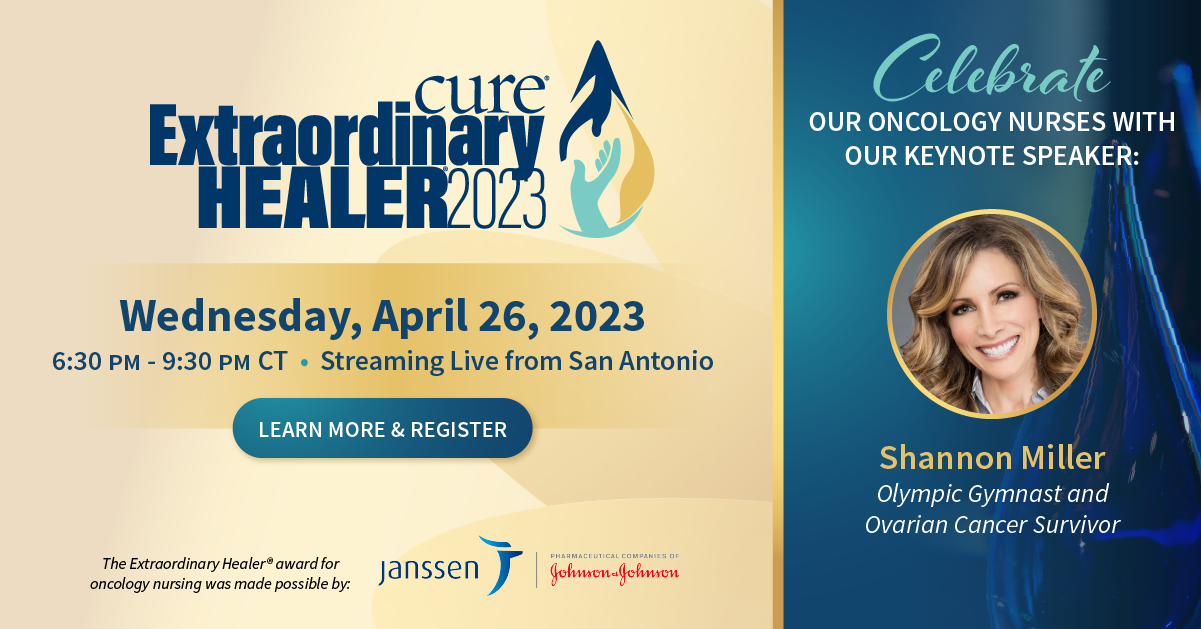 "We are honored to celebrate these inspiring oncology nurses for dedicating themselves to improving the lives of their patients and for their outstanding contributions to oncology care," said Mike Hennessy Jr., president and CEO of MJH Life Sciences®, the parent company of CURE Media Group. "These individuals are truly remarkable, and we express our gratitude for their unwavering devotion to their patients and for positively impacting the lives of numerous people."
The finalists for the 2023 Extraordinary Healer® award are:
Mary Colasuonno, B.S.N., RN, BMTCN. Colasuonno is a registered nurse at City of Hope National Medical Center in Duarte, California. Her first career goal was to become a commercial artist, which led her to move to California at the age of 20 to seek a place with a vibrant art scene. After realizing she needed more income, she remembered her mom's unfulfilled dream of being a nurse. Colasuonno decided to take it upon herself to pick up that dream where her mother had left off. She started her associate's degree from Citrus College in Glendora, California, and later finished her education at Pasadena City College, graduating in 1989. Colasuonno earned her oncology nursing certification in 1993. In 2001, Colasuonno left her job to be a stay-at-home mom, but seven years later, she called City of Hope and returned to her career as a nurse and went back to school for her bachelor's degree.
Abbey Kaler, M.S., APRN, FNP-C, CMSRN. Kaler is an advanced registered nurse practitioner navigator at the Advanced Breast Cancer Clinic at The University of Texas MD Anderson Cancer Center in Houston. She was inspired to enter the nursing field after her own experience with juvenile pilocytic astrocytoma, a rare brain tumor, when she was nine years old. In fact, she now works at the institution where she received care as a child. Kaler is in her second year of a doctorate program while working full time at MD Anderson.
Kerry O'Neil, B.S.N., RN, OCN. O'Neil is a nursing manager at City of Hope in Newport Beach, California. After graduating with a bachelor's degree from Fitchburg State University in Massachusetts and taking her nursing boards, O'Neil wanted to work on the oncology floor after realizing that her most difficult class in college was oncology. A few years later, she started working as an inpatient nurse, eventually moving to the outpatient setting when cancer treatment shifted to outpatient clinics. She particularly enjoys being a patient educator, especially for those with a new diagnosis, since it is crucial to have someone explain aspects of care to patients.

CURE's Extraordinary Healer® award celebration will feature a keynote address by Shannon Miller, seven-time Olympic medalist, mother of two and cancer survivor. She is the first U.S. gymnast to win two back-to-back world all-around titles and led the "Magnificent Seven" to the first gold medal for the U.S. women's team at the 1996 Olympic games.
In 2011, Miller was diagnosed with a rare form of ovarian cancer. She underwent surgery and chemotherapy and is now cancer-free. Miller has made it her mission to empower women to make their health a priority and is an advocate for early detection, awareness and research.
For more information on the 2023 Extraordinary Healer® event, click here.
This event is supported by the Janssen Pharmaceutical Companies of Johnson & Johnson.
About CURE Media Group
CURE Media Group is the leading resource for cancer updates, research, and education. CURE® has become the most widely distributed and read consumer publication in the United States for patients with cancer, survivors and their caregivers. The platform includes its industry-leading website curetoday.com; innovative video programs; a series of educational and inspirational events; and CURE® magazine, which reaches more than 1 million readers. CURE Media Group is a brand of MJH Life Sciences®, the largest privately held, independent, full-service medical media company in North America dedicated to delivering trusted health care news across multiple channels.
About the Janssen Pharmaceutical Companies of Johnson & Johnson
At Janssen, we are creating a future where the disease is a thing of the past. We're the Pharmaceutical Companies of Johnson & Johnson, working tirelessly to make that future a reality for patients everywhere by fighting sickness with science, improving access with ingenuity, and healing hopelessness with heart. We focus on areas of medicine where we can make the biggest difference: Cardiovascular & Metabolism, Immunology, Infectious Diseases & Vaccines, Neuroscience, Oncology, and Pulmonary Hypertension.
Media Contact:
Lauren Garafola
MJH Life Sciences
lgarafola@mjhlifesciences.com
A photo accompanying this announcement is available at https://www.globenewswire.com/NewsRoom/AttachmentNg/5264b088-176c-443d-81f0-48c47600d677