BRUSSELS, BELGIUM, May 02, 2023 (GLOBE NEWSWIRE) --

Hernia repair devices provide a permanent reinforcement to the repaired hernia and support damaged tissue around it as it heals.
Growing Adoption of Hernia Mesh Products for Hernia Repair Fuels the Global Market Demand
Hernia mesh is a biomaterials-based implant class that has been successfully translated to clinical applications. They are generally divided into two categories: synthetic mesh and biologic/biological mesh. The use of hernia mesh products for surgical repair or reconstruction of anatomical defects has been widely adopted. According to the FDA, hernia mesh is used in about 90% of hernia repair surgeries. For instance,
In March 2023, TELA Bio, Inc announced that they have received the U.S. Food and Drug Administration 510(k) clearance for the Company's OviTex PRS Long-Term Resorbable product.

Robotic Surgeries Opens Up New Growth Opportunities in the Hernia Repair Devices Market
Hernia repair is one of the most common surgical procedures performed globally. The number of procedures has been increasing and it is expected to rise further due to several risk factors such as obesity and prior abdominal surgeries. Robotic surgery has emerged as a newer technique for treating smaller hernias or weak areas and reconstructing the abdominal wall. Robotic surgery also allows the surgeon to easily use stitches to sew tissue and meshes inside the abdomen. Advantages of robotic surgery include three-dimensional images of the inside of the abdomen, smaller scars, and less pain.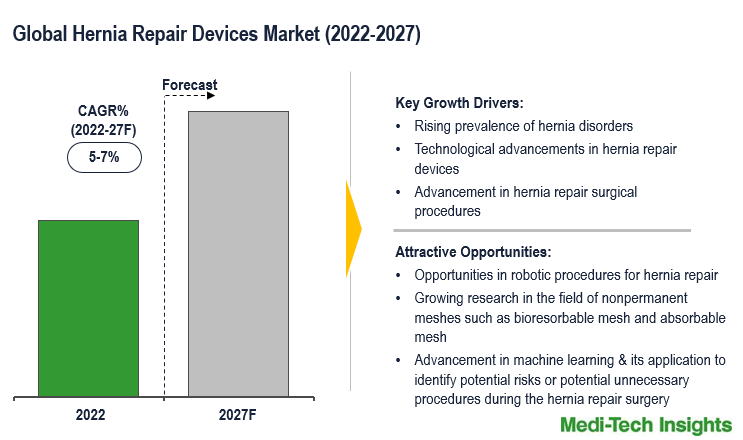 Growing Prevalence of Inguinal Hernia Drives the Global Hernia Repair Devices Market
Inguinal hernias account for 75% of all abdominal wall hernias, with a lifetime risk of 27-43% in men and 3-6% in women. The risk factors for inguinal hernia (IH) include family history, previous contra-lateral hernia, male gender, age, abnormal collagen metabolism, prostatectomy, and low body mass index. The rising burden of inguinal cases among the growing population and aging society is likely to increase the demand for hernia repair devices.
Upcoming Market Challenges: Hernia Repair Devices Market
The high costs of the hernia repair procedures and the risk & complications associated with hernia repairs such as pain, infection, hernia recurrence, adhesion, and bowel obstruction are likely to hamper the growth of the hernia repair devices market in the upcoming years.
North America is Expected to Hold a Larger Share in the Hernia Repair Devices Market
From a geographical perspective, North America is expected to hold a larger market share in the global hernia repair devices market. This can be mainly attributed to the growing cases of hernia disorders, higher adoption of new and advanced hernia repair devices, and recent advancements in hernia repair surgery technology, in the region.
Competitive Landscape Analysis: Hernia Repair Devices Market
Some of the top and established players operating in the global hernia repair devices market are Medtronic, B Braun, Cook Medical, Baxter, and TELA Bio, among others.
Organic and Inorganic Growth Strategies Adopted by the Leading Market Players to Establish Their Foothold in the Hernia Repair Devices Market
Leading players operating in the global hernia repair devices market are adopting both organic and inorganic growth strategies such as collaborations, acquisitions, and new product launches to garner a higher market share.
For instance,
In February 2023, TELA Bio, Inc announced the launch of two additional configurations of its OviTex LPR device. The new configurations are 15 x 20 cm and 15 x 25 cm ellipses designed for ventral and incisional hernias.
In December 2022, Deep Blue Medical Advances announced that they have received an additional 510(k) clearance from the US FDA for its T-Line Hernia Mesh for the subway technique in open hernia surgery.
Explore Detailed Insights on Hernia Repair Devices Market Report @ https://meditechinsights.com/hernia-repair-devices-market/
About Medi-Tech Insights:
Medi-Tech Insights is a healthcare-focused business research & insights firm. Our clients include Fortune 500 companies, blue-chip investors & hyper-growth start-ups. We have completed 100+ projects in Digital Health, Healthcare IT, Medical Technology, Medical Devices & Pharma Services.
Contact Us:
Ruta Halde
Associate, Medi-Tech Insights
+32 498 86 80 79
info@meditechinsights.com
Attachment