Zefiro recently gained plugging and abandonment capabilities in New York, Pennsylvania, Ohio, and West Virginia through the acquisition of an operator that was established in 1970. On May 24, 2023, one of the world's largest carbon registries published the first-ever methodology allowing carbon credits to be earned from plugging orphaned oil and gas wells. As a result, Zefiro now plans to accelerate its well-plugging operations to reduce methane emissions, which the Company can capitalize on by originating carbon credits as an additional revenue source.
VANCOUVER, British Columbia, May 30, 2023 (GLOBE NEWSWIRE) -- ZEFIRO METHANE CORP. (the "Company", "Zefiro", or "ZEFI") is pleased to announce that a first-of-its-kind methodology has been published by the American Carbon Registry ("ACR") allowing carbon credits to be created from the reduction of methane emissions by plugging orphaned oil and gas wells in Canada and the United States. The ACR was founded in 1996 as the first private voluntary greenhouse gas registry in the world and has issued over 100 million metric tons of carbon offset credits, which is the equivalent of removing over 21 million cars from the world's highways for one year1. In a press release dated May 19, 2023, Zefiro announced its acquisition of a majority ownership stake in Plants & Goodwin, Inc. ("P&G"), a third-generation family business with more than 100 employees that specializes in oil and gas plugging and abandonment operations in four U.S. states. By having an established well-plugging operation under the Zefiro umbrella, the Company is now positioned to originate carbon credits through the new ACR methodology, which can contribute to addressing the funding gap for plugging orphaned oil and gas wells, a deficit that is presently estimated to be in the tens of billions of U.S. dollars2.
In a press release dated May 24, 2023, ACR announced that it has officially approved and published Methodology for the Quantification, Monitoring, Reporting and Verification of Greenhouse Gas Emission Reductions from the Plugging of Orphaned Oil and Gas (OOG) Wells. A well is considered "orphaned" when it is inactive (i.e., not producing oil or gas in any meaningful quantity), is left unplugged, and has no solvent owner of record. Many such wells in the United States have fallen into a state of disrepair and are now leaking methane (one of the most harmful greenhouse gases, over 25 times more potent than carbon), which can cause damage to the earth's atmosphere and potentially harm those residing nearby. Although approximately USD $4.7 billion in funding was made available through the REGROW Act2 to plug orphaned oil and gas wells, a Columbia University report estimates that to plug just 500,000 wells could cost as much as USD $24 billion2.
ACR is a Rockefeller family institution under Winrock International. More information about the organization can be found on its website at the following link: https://americancarbonregistry.org/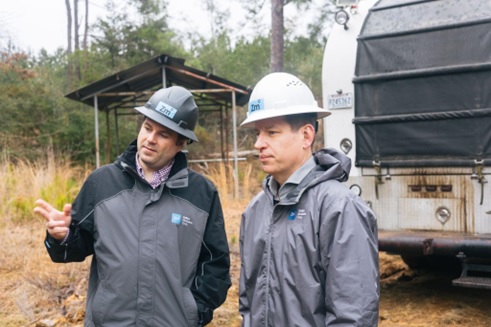 Zefiro Head of Operations Matt Brooks (left) and Chief Executive Officer Curt Hopkins (right) are pictured at the site of a well-plugging project in February 2023. Under the ACR's new methodology published on May 24, 2023, Zefiro will be able to originate carbon credits from plugging wells using its existing resources and capabilities. A photo accompanying this announcement is available at https://www.globenewswire.com/NewsRoom/AttachmentNg/0bd710fb-2828-46d0-9cf8-08ffe2168650.
Readers using news aggregation services may be unable to view the media above. Please access the Investors section of the Company's website for a version of this press release containing all published media.
Zefiro Chief Commercial Officer Tina Reine noted, "ACR has shown commitment in the launch of this methodology. It moves the market forward with a much-needed framework for addressing methane emissions from leaking orphaned wells. Many of these leaks contribute to additional environmental problems including groundwater contamination. Additionally, the new methodology addresses the need for more avenues to create high-quality offsets within the voluntary carbon market. This methodology can scale emission reductions in a sector that seeks environmental solutions."
Zefiro Chief Executive Officer Curt Hopkins commented, "We have long anticipated that a major carbon registry such as ACR would put out a methodology allowing carbon credits to be generated by decommissioning orphaned wells that are leaking methane, and we are excited about capitalizing on this opportunity. In the United States, there are currently fairly limited resources for plugging orphaned oil and gas wells in terms of labour, equipment, and expertise, which makes our recent acquisition of P&G all the more meaningful in the context of this development. With P&G now being a subsidiary of Zefiro that has more than 100 employees, an arsenal of heavy-duty equipment, and a legacy of more than 50 years and three generations of family operations in the Marcellus and Utica basins, I believe that we are very favourably positioned to establish a leading position in the emerging market segment of originating carbon credits by plugging orphaned wells. Zefiro's management team consists of some of the earliest players in the carbon markets, including founding team members of J.P. Morgan's carbon trading desk in 2008. By leveraging these combined capabilities, I believe we have an unprecedented opportunity to help institutions and corporations achieve Net Zero, as we work towards building a greener and more sustainable future."
Sources
1 - Winrock About Us Handout (Winrock International) August 2022
2 - ACR Approves First-of-a-Kind Carbon Crediting Methodology for Plugging Orphaned Oil and Gas (OOG) Wells (American Carbon Registry) May 24, 2023
On behalf of the Board of Directors of the Company,
ZEFIRO METHANE CORP.
"Curt Hopkins"
Curt Hopkins, CEO
For further information, please contact:
Zefiro Investor Relations
1-800-274-ZEFI (1-800-274-9334)
investor@zefiromethane.com
About Zefiro Methane Corp.
Zefiro develops methodologies to reduce methane emissions by plugging orphaned and abandoned oil/gas wells, while originating carbon credits. Under executive leadership to include the former carbon market team at J.P. Morgan, Zefiro actively deploys crews to decommission wells throughout the United States. With unprecedented global demand for carbon offsets as corporations and institutions work towards net-zero targets, Zefiro is strategically aligning with industry leaders for a greener future.
Forward-Looking Statements
This press release contains "forward-looking information" within the meaning of applicable Canadian securities legislation. Forward-looking information is often, but not always, identified by the use of words such as "seeks", "believes", "plans", "expects", "intends", "estimates", "anticipates" and statements that an event or result "may", "will", "should", "could" or "might" occur or be achieved and other similar expressions. Forward-looking information in this press release includes statements regarding the Company, the Company's business, the industry in which the Company operates, the Company's opportunities, strategies, competition, expected activities and expenditures as the Company pursues its business plan, the adequacy of the Company's available cash resources and other statements about future events or results. The forward-looking information reflects management's current expectations based on information currently available and are subject to a number of risks and uncertainties that may cause outcomes to differ materially from those discussed in the forward-looking information. Although the Company believes that the assumptions and factors used in preparing the forward-looking information are reasonable, undue reliance should not be placed on such information and no assurance can be given that such events will occur in the disclosed timeframes or at all. Factors that could cause actual results or events to differ materially from current expectations include: (i) adverse general market and economic conditions; (ii) changes to and price and volume volatility in the carbon market; (iii) changes to the regulatory landscape and global policies applicable to the Company's business; and (iv) other factors beyond the control of the Company. The Company operates in a rapidly evolving environment where technologies are in the early stage of adoption. New risk factors emerge from time to time, and it is impossible for the Company's management to predict all risk factors, nor can the Company assess the impact of all factors on Company's business or the extent to which any factor, or combination of factors, may cause actual results to differ from those contained in any forward-looking information. The forward-looking information is based on a number of assumptions, including assumptions regarding general market conditions, the availability of financing for proposed transactions and programs on reasonable terms, and the ability of outside service providers to deliver services in a satisfactory and timely manner. The forward-looking information included in this press release are made as of the date of this press release and the Company expressly disclaims any intention or obligation to update or revise any forward-looking information whether as a result of new information, future events or otherwise, except as required by applicable law.