New York, July 24, 2023 (GLOBE NEWSWIRE) -- The global additive manufacturing market market size is projected to expand at ~21% CAGR between 2023 and 2035. The market is expected to garner a revenue of USD 100 billion by the end of 2035, up from a revenue of ~USD 14 billion in the year 2022.  The growth of the market is majorly driven by the growing need for fuel-efficient vehicles for reducing fuel consumption which increases the need for lightweight vehicles. In the world, around 1.4 billion vehicles are discarded instead of this, new lightweight vehicles will be introduced. Additive manufacturing enables the creation of complex geometrics and optimized structures that can reduce the weight of automobile components. Alloys, steel aluminum, and polymer composites are some materials that are used in building automobiles and are known to reduce the vehicle's weight by 50%.
Request Free Sample Copy of this Report @ https://www.researchnester.com/sample-request-5009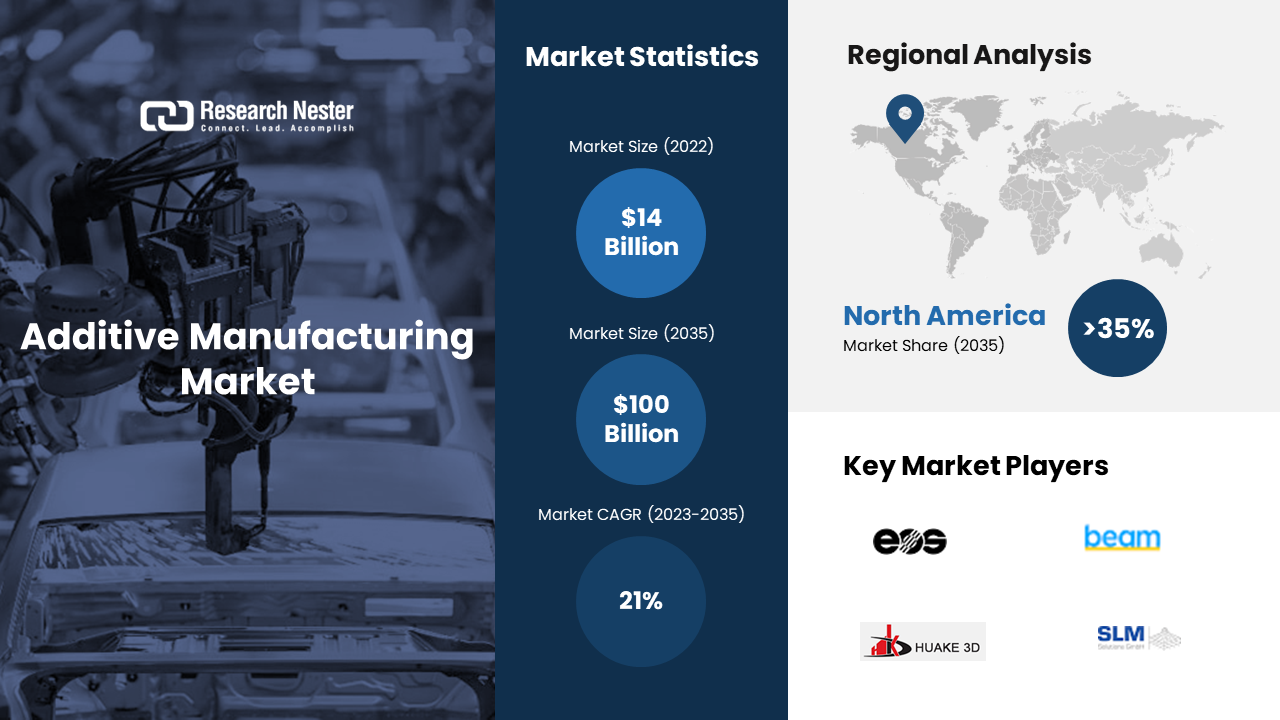 Additive Manufacturing Market: Key Takeaways
Market in North America to propel the highest growth
The industrial 3D printer segment to garner the highest growth
Market in Asia Pacific to grow at the highest rate
Growing Adoption of Additive Manufacturing is to Boost the Growth of the Market
The government recognizes that 3D printing is a transformative technology with the potential to drive innovation and economic growth. By supporting the adoption of this technology, governments hope to stimulate local manufacturing capabilities, boost domestic production, and created skilled jobs in the additive manufacturing sector. Therefore, the government is proactively working to adopt 3D printing to boost market growth. The Additive Manufacturing Forward Programme was started by the Biden administration in 2022. It is an informal partnership between large corporations to help its smaller US-based manufacturers grow their use of additive manufacturing, popularly known as 3D printing.  Besides this, with the help of 3D printing, individual preferences, personalized fits, or unique functional requirements can be accommodated by adjusting the design and quality specifications. This flexibility with additive manufacturing can further boost market growth.
Additive Manufacturing Market: Regional Overview
The global additive manufacturing market is segmented into five major regions including North America, Europe, Asia Pacific, Latin America, and the Middle East and Africa region.
Higher Investment in 3D Printing to Raise the Market's Growth in the North America region
The market share of additive manufacturing in North America is expected to be the greatest among all regions of 35 percent by the end of 2035. In North America, the additive manufacturing market is attracting huge investment for its expansion. Moreover, the collaboration among private companies is also driving market growth in the region. Besides this, the aerospace and defense sectors are growing in North America and have been early adopters of additive manufacturing technologies for prototyping new equipment and aircraft. As of 2021, there were over 14,000 aircraft in the inventory of the defense sectors in the United States. Furthermore, under the partnership of Air India and Boeing, the latter provided nearly 200 American-made aircraft. Further in the defense sector, the United States Air Force is expected to add 115 bombers and 222 tankers by 2024.
Request Free Sample Copy of this Report @ https://www.researchnester.com/sample-request-5009
Surging Investment in the Medical Devices to Elevate Market Growth in Asia-Pacific
The Asia Pacific additive manufacturing market is expected to be the second largest by the end of 2035. Rising expenditure on medical devices is likely to drive market expansion in the area. This will increase medical device manufacturing and consequently stimulate the demand for additive manufacturing for the prototyping of these devices. In India, 26 projects with a total committed investment of USD 16 million have been sanctioned under the Public Linked Incentive (PLI) program for manufacturing new medical devices.  Besides this, the trade of 3D printers has significantly increased in the region which further boosts the market growth in the Asia Pacific region. In 2021, China shipped approximately 3 million 3D printers, a 13% increase over 2020. Moreover, around 1 million units of 3D printers were exported in just the first quarter of 2022 and the overall annual sale was nearly 25% more than done in 2021.
Additive Manufacturing Segmentation by Technology
Stereolithography (SLA)
Fused Deposition Modelling (FDM)
Laser Sintering (LS)
EBM
Binder Jetting Printing
Laminated Object Manufacturing (LOM)
Polyjet Printing
Additive Manufacturing Segmentation by Material Type
Additive Manufacturing Segmentation by Printer Type
Industrial 3D Printer
Desktop 3D Printer
On the basis of printer types, the industrial 3D printer segment is expected to gain the highest market revenue of more than 60 percent over the forecasted period. The growing use of industrial printers for prototyping is expected to drive the segment's growth. This shortens the product development cycle and allows for quicker time-to-market for new items. Approximately 52 percent of those surveyed people use 3D printing because of its quick product iteration, and 41% value its mass customization options. Additionally, over 68% of 3D printing, customers utilize it for prototype and pre-series manufacturing. Industrial 3D printers allow for rapid iteration and design refinement. Designers and engineers can quickly produce physical prototypes of their concepts, test them, and make necessary modifications. This iterative process enables faster development cycles and reduces the time and cost associated with traditional prototyping methods.
Purchase Copy of this Report @  https://www.researchnester.com/purchage/purchase_product.php?token=5009
Additive Manufacturing Segmentation by End User
Healthcare
Automotive
Aerospace
Industrial
Consumer Goods
Construction
Defense
Out of all, the automotive segment is expected to dominate the market growth. As the need for electric vehicles grows, so does the utilization of additive manufacturing or 3D printing in the automotive sector. It is expected that by 2030, there will be more than 250 million electric vehicles across the world, and EVs will hold a share of 35% of total automobiles. 3D printing enables the rapid production of prototypes for various EV components, such as battery housings, motor mounts, and interior components. By 3D printing these parts, manufacturers can quickly validate the design, fit, and functionality, allowing for iterative improvements before moving to mass production.
A few of the well-known market leaders in the global additive manufacturing market that are profiled by Research Nester are EOS GmbH, BeAM Up Ltd., Wuhan Huake 3D Technology Co., Ltd, SLM Solutions, 3D Systems Corporation, Trumpf SE + Co. KG, Ford Motor Company, DMG Mori Co., Ltd., Farsoon Technologies, Stratasys Ltd, and other key market players.
Recent Developments in the Market
March 2022, Ford Motor Company, revealed the use of a 3D printer in the advanced production center with Javier. The mobile robot has been used to operate the 3D printer automatically. This has allowed the 3D printer to run without human intervention, substantially lowering the cost of custom-printed objects.
April 2023, Stratasys Ltd., has announced the completion of the acquirement of Covestro AG, the leading manufacturer of 3D printer materials. The purchase will contribute to the development and research in additive manufacturing as well as sales of almost 60 additive manufacturing materials in the United States, Europe, and Asia.
About Research Nester
Research Nester is a one-stop service provider with a client base in more than 50 countries, leading in strategic market research and consulting with an unbiased and unparalleled approach towards helping global industrial players, conglomerates and executives for their future investment while avoiding forthcoming uncertainties. With an out-of-the-box mindset to produce statistical and analytical market research reports, we provide strategic consulting so that our clients can make wise business decisions with clarity while strategizing and planning for their forthcoming needs and succeed in achieving their future endeavors. We believe every business can expand to its new horizon, provided a right guidance at a right time is available through strategic minds.