New York, Sept. 07, 2023 (GLOBE NEWSWIRE) -- The global optical waveguide market size is predicted to grow at a CAGR of over ~5% from 2023 to 2035. The market is projected to garner a revenue of USD 12 billion by the end of 2035, up from a revenue of ~USD 7 billion in the year 2022.The growing number of data centers is the major factor driving the market growth. There are approximately 8,000 data centers around the globe. Moreover, nearly 33% of these data centers are situated in the United States. Optical waveguides are used to transmit data signals in the form of light pulses. These cables consist of a core surrounded by a cladding layer, which guides the light through total internal reflection.
Request Free Sample Copy of this Report @ https://www.researchnester.com/sample-request-5067
Besides this, the surging use of electronic devices has increased the usage of optical waveguides. Smartphones are the most popular of the several sorts of mobile phones. They are held by 96.6% of the customers all across the world. The proliferation of electronic devices, such as smartphones, tablets, laptops, and IoT devices has led to huge transmissions of data. Optical waveguides enable efficient transmission of large volumes of data.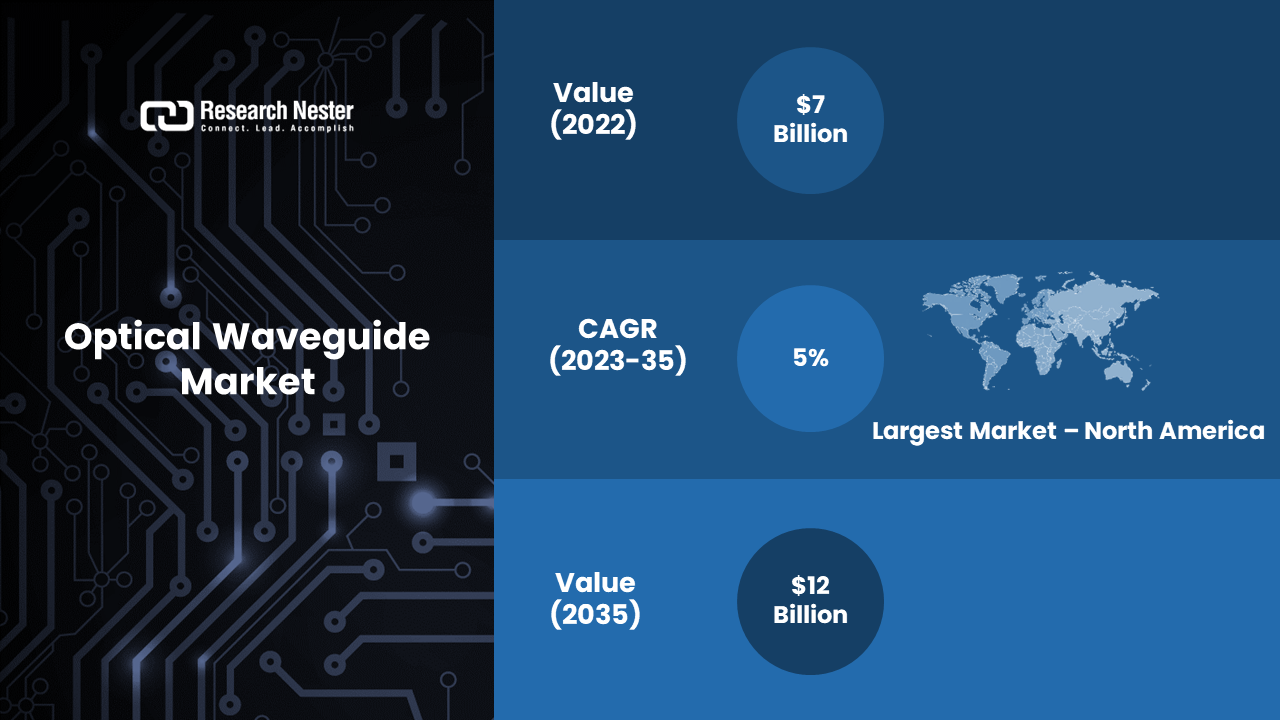 Optical Waveguide Market: Key Takeaways
Market in North America to propel highest growth
The channel segment to garner the highest growth
Market in Asia Pacific to grow at the highest rate
Increasing Advancement in Photonic Integrated Circuits across the Globe to Boost Market Growth
Tower Semiconductor's open silicon photonics foundry platform with embedded lasers was used by Open Light to create and test these wafers. Photonic integrated circuits allow the integration of various optical components, such as lasers, modulators, detectors, and waveguides. The advancement of PICs will bring new opportunities for the market. For instance, Open Light unveiled the release of their first 800G DR8 PIC design for the interconnection of data centers. Bandwidth consumption around the world frequently climbs by around 50% every year. At present, the typical home around the globe receives 5 to 10 Mbps of bandwidth. Nevertheless, it is expected to increase to 40 Mbps in the next five years and to almost triple to 300 Mbps in the following ten years. Optical waveguides, in the form of fiber optical cables, are the backbone of high-bandwidth communication networks.
Optical Waveguide Market: Regional Overview
The market is segmented into five major regions including North America, Europe, Asia Pacific, Latin America, and the Middle East and Africa region.    
Increased Demand for Medical Devices and Imaging to Drive the Market Growth in North America Region
The optical waveguide market in the North American region is estimated to garner the largest revenue by the end of 2035. Optical waveguides are also used in medical devices and imaging systems for their ability to transmit light signals with precision. The growth of the healthcare sector, including telemedicine and medical imaging, is driving the demand for optical waveguides. The American Telemedicine Association reported a significant increase in telemedicine adoption in North America, with virtual healthcare visits projected to exceed one billion by the end of 2020. Technological advancements in fiber optics and waveguide materials have led to improved performance, reduced signal loss, and increased reliability of optical waveguide systems. These advancements contribute to the adoption of optical waveguides in various applications. The proliferation of IoT devices, which require seamless and efficient communication, is driving the demand for optical waveguides. These devices often need to transmit data over short distances at high speeds.
Make an Inquiry Before Buying this Report @ https://www.researchnester.com/inquiries-before-buying-5067
Rapid Expansion of 5G Networks to Propel Growth in the Asia Pacific Region
The Asia Pacific optical waveguide market is estimated to garner the highest CAGR by the end of 2035. The Asia Pacific region has been at the forefront of 5G network deployment. Optical waveguides are vital components in supporting the high-speed and high-capacity requirements of 5G technology. It is estimated that the Asia Pacific region will have over 1.1 billion 5G connections by 2025. The region has witnessed a significant increase in internet penetration, driven by expanding economies and rising digital adoption. This growth necessitates robust communication infrastructure, where optical waveguides play a crucial role. The Asia Pacific region is experiencing a surge in demand for high-bandwidth applications such as video streaming, online gaming, and cloud services. Optical waveguides facilitate the seamless transmission of large amounts of data required for these applications. E-commerce and digital payment platforms are flourishing in the Asia Pacific region. These sectors rely heavily on fast and secure data transmission, creating a need for robust optical communication infrastructure.
Optical Waveguide, Segmentation by Type
Amongst these segments, the channel segment is anticipated to hold the largest share over the forecast period. The channel segment is expected to hold a 60% share of the global optical waveguide market during the forecasted period. The growing adoption of the bi-lateral transverse optical confidence property enables the delivery of both high bandwidth and high speed. Moreover, there are various components of a channel waveguide, such as active optical cables, fiber cables, optical fibers, and others. These components can be customized as per the need. On the other hand, the growing use of Fiber to the Building (FTTB) or Fiber to the Home (FTTH)is likely to drive the segment's growth.
Optical Waveguide, Segmentation by Propagation
Amongst these segments, the single-mode segment is anticipated to hold a significant share over the forecast period. In the year 2035, the single-mode segment in the optical waveguide market is predicted to have a considerable share of roughly 46%. The growing development of 5 G infrastructure and higher use of 5G services and next-generation wireless network will drive the demand for single-mode propagation of optical waveguides. Single mode is of much more compact size than multiple mode which is of around 9 micron-unit. Moreover, they enable us to carry high-speed signals over much longer distances in comparison to multi-mode. From the end of 2021 to the end of 2022, global 5G wireless connections climbed by 76%, reaching 1.05 billion. By 2025, 5G networks will be projected to cover one-third of the world's population.
Request for Customization of this Report @ https://www.researchnester.com/customized-reports-5067
Optical Waveguide, Segmentation by Material
Glass
Semiconductor
Polymer
Silicon
Optical Waveguide, Segmentation by Application
Inspection Devices
Tablet PC
Aircraft & Automotive
Medical Equipment
Printers
High-Performance Server
Super High Vision
Few of the well-known industry leaders in the optical waveguide market that are profiled by Research Nester are Penn Engineering, Jupiter Microwave Components Inc, Quantic Electronics, Cobham Advanced Electronic Solutions, Ducommun Incorporated, Smith's Interconnect, DigiLens, Inc., Global Invacom, Flann Microwave Ltd., Corning Incorporated., and other key market players.
Recent Development in the Market
DigiLens Inc. announced the launch of the next generation of its optical technology, that enables the production of smart glass consumer electronics category. The full-color Crystal30 2nd generation waveguide is constructed with DigiLens' volume bragg gratings (VBG) technology.
Corning Incorporated has announced the release of a novel glass composition to aid in the development of diffractive waveguides for augmented and mixed reality (AR/MR) wearable devices.The glass's optical advances take the augmented reality experience to an entirely new dimension by providing interesting and interactive user experiences.
About Research Nester
Research Nester is a one-stop service provider with a client base in more than 50 countries, leading in strategic market research and consulting with an unbiased and unparalleled approach towards helping global industrial players, conglomerates and executives for their future investment while avoiding forthcoming uncertainties. With an out-of-the-box mindset to produce statistical and analytical market research reports, we provide strategic consulting so that our clients can make wise business decisions with clarity while strategizing and planning for their forthcoming needs and succeed in achieving their future endeavors. We believe every business can expand to its new horizon, provided a right guidance at a right time is available through strategic minds.