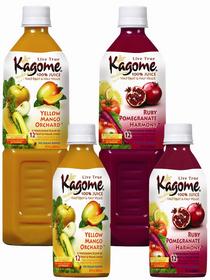 Beets, spinach and asparagus never tasted as good as they
do in Kagome's latest 100-percent (half fruit, half vegetable)
juice creations. Kagome juices can be found in natural food
stores nationwide or have Kagome shipped to your home by
ordering them online at http://www.kagome.us.
FOSTER CITY, CA -- (MARKET WIRE) -- April 10, 2007 -- Move over mom, the government wants you to eat your fruits and veggies, or at least wants 75 percent of us to do so by 2010. So why aren't Americans lining up at the produce stand? The rate of fruit and vegetable consumption has remained stagnant for the past 13 years, and the latest statistics from the Centers for Disease Control and Prevention show less than one third of Americans eat the recommended daily amount (three servings of vegetables and two servings of fruit). Adults eating the fewest vegetables fall between the ages of 18 and 24, while those eating the fewest fruits fall between the ages of 35 and 44. And while more education may be important to getting Americans on board with the benefits, getting more creative may be what's needed for the "Happy Meal" generation. Japanese company Kagome has taken a creative approach to the fruit and veggie health challenge in the United States with its 100-percent natural juices containing a precise mix of half fruits, half vegetables in every bottle. Kagome mixes up unique combinations of fruits and veggies that pack a powerful phytonutrient punch and provide a full serving of fruits and vegetables in an 8-oz. glass. Each of their blended varieties contain 12 fruits and veggies, in different combinations from the more exotic mango, pomegranate, purple carrot and black grapes, to the less popular beets, sweet bell peppers, spinach and asparagus. This year Kagome is adding two more blends to their juice line: Ruby Pomegranate Harmony and Yellow Mango Orchard. Their goal is to get Americans eating a more balanced array of colors when it comes to fruits and vegetables. Kagome's color wheel is a reminder about the important health benefits that come from a variety of fruits and vegetables. Phytonutrients influence the color pigments in fruits and vegetables and point to the health benefits. Reds are rich in lycopene (heart health, circulation), yellow and oranges are packed with beta-carotene (vision, immune system), purple and blues are loaded with anthocyanin (memory function, urinary tract), greens have chlorophyll and lutein (strong bones and teeth, vision) and whites contain allicin and flavonol (cholesterol and heart health). The blended juices not only provide balance and variety to your fruit and veggie intake, but also convenience. And if you think you don't like beets, spinach and pomegranates, try Kagome's new Ruby Pomegranate Harmony and you may be surprised how tasty it can be. Learn more at http://www.kagome.us.

Contact Information: Media Contact: Amy Summers 727-848-1618 ext. 202 Email Contact Pitch, Inc.