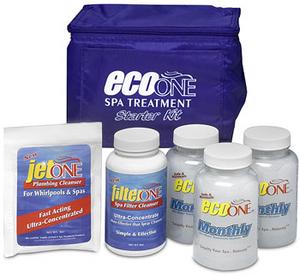 Simple, safe, effective, and environmentally friendly,
the ecoONE Spa Treatment System is available
at hundreds of professional spa dealers
world-wide and is recommended and
distributed by three US spa manufacturers.
RACINE, WI--(Marketwire - June 6, 2007) - Pacific Sands, Inc.(OTCBB: PFSD) is pleased to announce that Splash Spas, Ltd, a UK based European master distributor of spas and spa systems, including water care products, has been certified as the first international ecoONE® preferred distributor. Qualified ecoONE hot tub spa manufacturers and distributors enjoy simplified logistics, a responsive and agile supply chain, and premier access to Pacific Sands' renowned technical support services for use in consulting with customers on water chemistry issues and needs. Splash Spas has integrated ecoONE products into their web portal, www.splashspas.co.uk, and is actively soliciting UK and European based dealers for ecoONE to extend their efforts as part of a broad channel covering European country markets. "We are thrilled to have a strong, successful partner with Splash Spas driving our expanding distribution-based sales model in Europe," commented Michael Michie, VP of Sales for Pacific Sands. "They have dedicated a premier position for the ecoONE line in their marketing materials and sales efforts. SplashSpas will play a prominent role in the global expansion of our market saturation strategy." Andre Knight, President of Splash Spas, commented on ecoONE's competitive advantage in the United Kingdom market: "The increasing numbers of hot tub owners in the UK means more and more people becoming frustrated and tired of the daily 'grind' of adding more environmentally harmful chemicals in order to enjoy their tub. Combine this with the fact that the traditional chlorine based hot tub sanitizers have a tendency to dry out the skin and increase the chance of skin allergies occurring, means that hot tub owners are constantly on the look out for a better way of caring for their water. We think ecoONE fits the bill perfectly -- our customers have given us very positive feedback on the product, and keep coming back for more." The range of ecoONE products is now available in the UK from Splash Spas' hot tub showroom in Hampshire or via their on-line shop at www.splashspas.co.uk. Splash Spas website not only lists over 500 different products including filters, chemicals, and accessories for mail order but also provides extensive, easy to read reference information to help prospective customers and hot tub owners understand how to choose, install and maintain a tub and appreciate the many health benefits.
Andre Knight
Splash Spas
Telephone: 01420 520030
Email:
About Pacific Sands Pacific Sands is publicly traded on the NASDAQ OTCBB. The company's core ecoONE® pool, spa and household cleaning product lines are nontoxic and deliver earth, health and kid-safe alternatives. More information available at www.pacificsands.biz. Safe Harbor Act Disclaimer The statements contained in this release and statements that the company may make orally in connection with this release that are not historical facts are forward-looking statements within the meaning of the Private Securities Litigation Reform Act of 1995. Actual results may differ materially from those projected in the forward-looking statements, since these forward-looking statements involve risks and uncertainties that could significantly and adversely impact the company's business. Therefore, actual outcomes and results may differ materially from those made in forward-looking statements.

Contact Information: Contact: Investor Relations Andrew Barwicki 516-662-9461