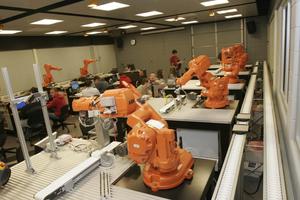 The lab contains 10 integrated workstations that include industrial quality robots, programmable logic controllers, Rexroth VarioFlow conveyors, machine vision systems, a computer network, and pneumatic material handling devices.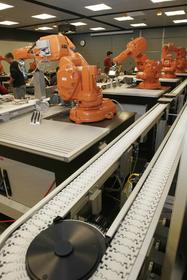 Bosch Rexroth provided VarioFlow chain conveyors and aluminum structural framing to help outfit the ISU automation lab.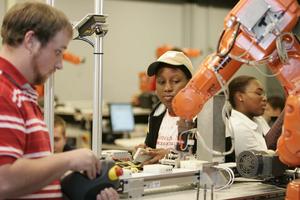 The systems in the teaching laboratory give students hands-on experience using the same types of manufacturing equipment found in high-tech industrial settings.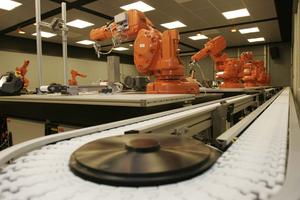 To download the entire application story, visit www.boschrexroth-us.com/success_stories and select Stories by Company in the upper right-hand navigation. Click on Illinois State University.
NORMAL, IL--(Marketwire - August 10, 2007) -
Note to Readers: To download the entire application story, visit www.boschrexroth-us.com/success_stories and select "Stories by Company" in the upper right-hand navigation. Click on "Illinois State University." www.boschrexroth-us.com The Illinois State University Department of Technology (ISU - www.tec.ilstu.edu ) recently selected Bosch Rexroth to provide an industrial conveyor system and aluminum structural framing components for the university's new Integrated Manufacturing Lab. Named as the Caterpillar Integrated Manufacturing Laboratory (CAT-IML), the advanced learning facility with robotic technology was made possible by a $1.2 million gift from the Caterpillar Corporation. The lab contains 10 integrated workstations that include industrial quality robots, programmable logic controllers, Rexroth VarioFlow conveyors, machine vision systems, a computer network, and pneumatic material handling devices. The systems in the teaching laboratory give students hands-on experience using the same types of manufacturing equipment found in high-tech industrial settings. Bosch Rexroth provided the aluminum structural framing for each workstation, allowing students to build their own fixtures with easy-to-assemble brackets and other components and accessories on the slotted tabletop. The easy assembly also permits students to perform configuration changes themselves so they can mount new components, electronic sensors and other devices without the need for special tools or training. Additionally, two Rexroth VarioFlow flexible conveyors enable students to integrate the individual workstations with one another for multi-step assembly tasks. The modular chain conveyors form a backbone linking the workstations. "In nearly every assembly line we visited while conducting our research for this project, we found Rexroth aluminum structural framing and conveyor components being used to construct the workstations and assembly lines," said Technology Professor David Kennell. "Therefore, when it came time to choose products for our lab we decided to go with Rexroth." Much of the equipment in the CAT-IML was paid for with money from the Caterpillar gift, but that equipment needed to be specially adapted for use in the lab. Students and faculty members collaborated to design and build the individual workstations for the integrated manufacturing systems, as well as specialized parts for the programmable robots. "The ISU lab presented a unique opportunity for Bosch Rexroth to help provide students with hands-on manufacturing training using the best our industry has to offer," said Rexroth's Tony Babich, who served as an advisory board member to help the University design and build the lab. "Industrial manufacturers demand professionals who can work with multiple automation systems for mass production and small batch and custom orders. Our products give students the ease of use and versatility to experience just this type of environment." Introductory classes use the equipment to learn the basic concepts of robotics and integrated manufacturing, while upper level and graduate students get hands-on experience in programming and operating the industry standard integrated manufacturing equipment.

Contact Information: Illinois State University Media Contact Information: Eric Jome media relations coordinator Telephone: (309) 438-5631 E-mail: www.tec.ilstu.edu Bosch Rexroth Media Contact Information: Todd Walter Godfrey Public Relations Telephone: 717-393-3831 E-mail: www.godfrey.com - or - Kevin Gingerich Bosch Rexroth marketing director Telephone: 269-697-5295 E-mail: www.boschrexroth-us.com