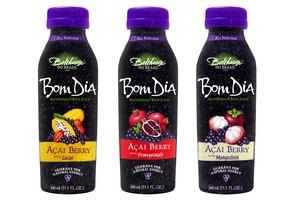 Bolthouse Farms acai line, called Bom Dia, consists of three flavors including cacao, pomegranate and mangosteen.
BAKERSFIELD, CA--(Marketwire - August 21, 2007) - The popularity of the acai berry from the Amazon rainforests of Brazil has grown rapidly among health savvy consumers here in the States. The fruit is loaded with the antioxidant anthocyanin and is up to seven times more powerful than its purple family members, pomegranates and blueberries. Today, acai can be found globally in a variety of food and beauty products. What was once merely a staple for Brazilians is now transitioning to a commercial commodity, and there's no turning back. And while many U.S. companies are accommodating consumer demand by importing more of the acai, one California beverage company is taking a different approach. Bolthouse Farms has added an entire line of acai juices to their existing 15 flavors of health drinks. The acai line called Bom Dia, which means "Good Morning" in Portuguese (the national language of Brazil) consists of three flavors including cacao, mangosteen and pomegranate. The Bom Dia drinks are different than their acai counterparts because Bolthouse has developed a proprietary process to retain more of the nutritional aspects of the acai while eliminating the gritty texture, normally found in the pulp of this berry. But the difference isn't in just how the product tastes but how the company is choosing to work in Brazil. Bolthouse has built its own manufacturing plant in the city of Belem, located at the mouth of the Amazon River, to provide its U.S. beverage operation with the highest quality of acai possible. The manufacturing plant was built out of need when the company could not acquire acai pulp from other suppliers that met their quality specifications. But, by actively doing business in Brazil (through its Brazilian company called 'Bolthouse do Brasil'), Bolthouse has found an even greater benefit by providing job opportunities to approximately 200 citizens in the Amazonian state of Para. As a result, they have launched half a dozen different social responsibility programs that have nothing to do with their beverage business but everything to do with supporting one of the poorest communities in Brazil. "One of our goals in Brazil is to provide effective support and develop relationships with the people there so we can identify their needs and give back to their community in tangible ways," says John Lake, brand manager for Bom Dia. "We wanted to do more than just 'support the rainforest,' we wanted to make a difference and be an active part of their community." Bom Dia Acai juices can be purchased in major grocery chains and health food stores across the country. You can learn more about Bolthouse do Brasil at http://www.bomdia.com. BOLTHOUSE do BRASIL Over 2 million people live in Belem, Brazil and more than half are living beneath the poverty line despite the popularity of their native fruit, acai. In addition to planting their acai operation in Brazil and employing local harvesters at fair wages, Bolthouse Farms is also providing these community programs to help build a better Brazil:

--  Sanitary Water Supply Program
--  Free Daycare Facility
--  Free Boat Driveshaft Covers
--  Children's Annual Holiday Party
--  New Grade School
--  Sustainable Harvesting Practice
    
To learn more about these Bolthouse do Brazil programs go to http://www.bomdia.com.

Contact Information: Media Contact: Amy Summers 727-848-1618 ext. 202 Pitch Inc.