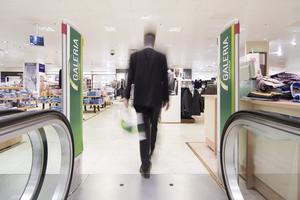 The entrance to the UHF Gen 2 RFID 'Shopping Experience' at the Galeria Kaufhof department store in Essen, Germany. Garment tagging provides continuous and real-time supply chain management.
ESSEN, GERMANY--(Marketwire - September 20, 2007) - Leading radio frequency identification (RFID) solution providers Checkpoint Systems (NYSE: CKP), Impinj, Inc., and Reva Systems today announced a breakthrough item-level tagging retail apparel implementation. The companies joined forces in METRO Group's Future Store Initiative to enable the first complete supplier distribution to in-store point-of-sale RFID deployment using UHF Gen 2 standards-based systems. The implementation for METRO Group's high-end Galeria Kaufhof department store in Essen, Germany is a milestone for the retail industry, delivering consumer-facing RFID applications that are integrated from the distribution center to retail smart shelves and cashier checkout stations. This deployment addresses METRO Group's vision of real-time inventory management at Galeria Kaufhof stores and is the next step in years of pioneering RFID effort and successful collaboration among RFID innovators. It is the first live RFID implementation to use the full suite of evolved EPCglobal standards, including Gen 2 tags & readers, fixed and handheld readers running low-level reader protocol (LLRP) for communications with the local network, and application level events (ALE) to pass clean formatted RFID data to the application layer, which uses an EPCIS implementation to facilitate RFID data sharing, mining and analytics. Galeria Kaufhof has been using RFID in logistics and warehouse pilots since 2003, and is determined to leverage its wealth of item-level tag data to deliver an improved retail shopping experience. This significant implementation covers a wide breadth of applications including:

--  Inbound goods receipt
--  Back room real-time inventory management
--  Fixed and handheld readers tracking real-time sales floor inventory
--  A Smart Mirror showing complementary clothing choices or accessories
--  Smart Shelves with monitors indicating available garment size and
    style choices
--  In-aisle product information triggered by scanning items
--  RFID-enabled point-of-sale terminals delivering efficient checkout
    
The store's integrated solution elements and features include:

--  At METRO Group's Neuss warehouse, tagged goods are read and recorded
    by Checkpoint Systems' RFID/UHF hanging conveyor and packing table
    antennas, as well as Checkpoint UHF dock-door portals. Once at the Galeria
    Kaufhof store, garments are tracked using Checkpoint portals in the
    receiving area and stock room. Checkpoint has also deployed its dual
    EAS/RFID antennas for security monitoring at the entry/exit and fitting
    room areas, as well as point-of-service deactivation. In addition,
    Checkpoint will provide its system integration expertise for the trial.
--  The Galeria Kaufhof RFID solution uses Impinj Speedway® readers
    exclusively for all in-store fixed read points, and Impinj Monza™ tag
    chips to power all tags used in the store. Impinj near-field UHF RFID
    reader antennas in the smart shelves continuously gather data from tagged
    garments and accessories on the retail floor, and Impinj point-of-sale
    displays provide immediate product information to store personnel at all
    sale terminals.
--  Reva Systems provides centralized management capabilities for Galeria
    Kaufhof's RFID operations with the Tag Acquisition Processor (TAP) network
    infrastructure product. Reva's TAP is used to centrally control distributed
    RFID components including roughly 60 fixed and handheld readers from
    different vendors; it also integrates the RFID system with multiple
    applications and back-office systems, optimizing data capture across all of
    Galeria Kaufhof's RFID operations.
    
"Galeria Kaufhof's deployment is the first large-scale application of near-field UHF RFID to track retail merchandise from distribution through point-of-sale," said Michael Liard, Research Director, RFID & Contactless, ABI Research. "The newly available EPCglobal standards support a unified UHF Gen 2 RFID infrastructure and, combined with innovative technology, make such a real world solution possible." "With this pilot we demonstrate how a department store fully equipped with RFID on the item level can work," said Dr. Christian Plenge, Head of Research and Innovation of MGI METRO Group Information Technology. Customers can see the benefits of item-level tagging in consumer-oriented store applications such as intelligent shelves, intelligent dressing rooms and product-aware information kiosks. "The business benefit to us as retailers is that an end-to-end RFID infrastructure at the item level can fill the data void that exists between products being received and products being sold," Plenge said. "We can now see products also in those steps of our process chain which so far weren't illuminated by the inventory management system." About Checkpoint Systems Checkpoint Systems, Inc. is the leading supplier of retail shrink management solutions. Checkpoint's global team helps retailers -- and their suppliers -- reduce theft, increase inventory visibility and provide consumers with greater merchandise availability through the company's rapidly evolving RF technology, expanding shrink management offerings and Check-Net labeling solutions. Checkpoint has more than one million RF devices installed in stores today, and since the advent of the modern retail age has secured more than 100 billion products. Scaling cost-efficiently, Checkpoint's solutions provide increased revenues and profits to a fast-growing community of successful retailers, and a superior experience for their consumers. Listed on the NYSE (NYSE: CKP), Checkpoint operates in every geographic market and employs 3,200 people worldwide. For more information, visit www.checkpointsystems.com. About Impinj, Inc. Impinj, Inc. is a semiconductor and RFID company whose patented Self-Adaptive Silicon® technology enables two synergistic business lines: high-performance RFID solutions and semiconductor intellectual property (IP). Impinj is the leading technical innovator in developing UHF RFID solutions for both item-level and supply-chain tagging worldwide. Impinj draws on its technical expertise and industry partnerships to deliver the GrandPrix™ RFID solution comprising high-performance tags, readers, software, antennas, and systems integration. Impinj also licenses innovative IP products to leading semiconductor companies worldwide, allowing them to seamlessly integrate crucial nonvolatile memory (NVM) alongside analog and digital functionality on a single chip. Impinj's IP products include the popular AEON® family of embeddable cores, which provide rewriteable NVM technology in logic CMOS manufacturing. For more information, visit www.impinj.com. About Reva Systems Reva Systems develops RFID network infrastructure products that enable customers to rapidly deploy scalable solutions using fixed and handheld readers from multiple vendors in any environment. Reva's standards-based Tag Acquisition Processor (TAP) products facilitate improved system performance, manageability and accuracy while significantly lessening implementation time and complexity. RFID networks based on Reva TAPs deliver accurate data and location information down to the plan-o-gram level in retail, dock-door level in distribution and workstation level in manufacturing facility implementations. Reva products are delivered by a global network of partners and deployed worldwide by enterprises leveraging innovative RFID applications to generate value in diverse industries. Reva's corporate office is headquartered in Chelmsford, Mass. with an EMEA headquarters in Düsseldorf, Germany. For more information, visit www.revasystems.com. Impinj, Speedway, Self-Adaptive Silicon, GrandPrix, Monza, and AEON are either registered trademarks or trademarks of Impinj, Inc. Reva, Reva Systems, and Tag Acquisition Processor are registered trademarks of Reva Systems Corporation. All other trademarks or registered trademarks are the property of their respective owners.

Contact Information: Media contacts: Checkpoint Systems, Inc. Jennifer Henry 856-251-2150 or Spectrum Marketing & Communications Bob Basmadjian 908-823-9400 Lynda Kaye Mango Communications for Impinj 650-799-2888 Pamela Nelson Reva Systems 978-337-3153