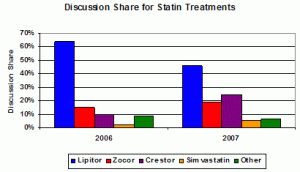 Consumer Discussion Share for Statin Treatments
TORONTO--(Marketwire - November 13, 2007) - BrandIntel, a leader in online market intelligence solutions, has launched a series of brand tracking studies in the life sciences and managed healthcare industries. As part of the series, the company will track and analyze online consumer discussion on, but not limited to, diabetes, Alzheimer's, weight loss, psoriasis, wrinkles, multiple sclerosis, asthma, arthritis and ADHD. Kicking off the research, BrandIntel released a report around statin-based cholesterol drugs. The report sites that Crestor has gained significant discussion share while Lipitor's has declined. "The Internet has become a top destination for people to research healthcare and drug related information and more and more, they are going to online forums dedicated to specific diseases to discuss treatments, get advice and share experiences," said Ted Morris, SVP at BrandIntel. "These forums serve as trusted communities for people and can provide pharmaceutical and healthcare management companies with valuable insight about drug/treatment effectiveness, potential side effects and more importantly, a consumer's intent to continue with treatment. BrandIntel's new series analyzes this rich consumer discussion to provide pharmaceutical companies with a deeper understanding of the consumer to help drive effective marketing and social media strategies." The first report, Statin Treatments for Cholesterol, focuses on statin-based drugs used to treat cholesterol. Based on analysis of consumer-created content, the report captures data from January 1, 2007 to November 4, 2007 and compares it with findings from 2006. Key findings from the report include:

--  Over the course of 2007, Crestor has gained momentum relative to the
    market leader, Lipitor.  Discussion share for Crestor has increased by 140
    percent while the Lipitor's discussion share fell by 28 percent.
--  For the statin-based drugs, discussion on side effects and continuance
    (the willingness of patients to continue with medications) had the lowest
    sentiment ratings of 1.5 and 1.4 respectively.  86% of individuals who
    discussed continuance also mentioned negative side effects, suggesting that
    these attributes are linked and that negative side effects have driven
    consumers to switch to other statins or seek alternative treatments.
--  Simvastatin's low discussion share indicates that the generic
    alternative drug has not established significant brand awareness among
    online consumers.
    
For this report, BrandIntel tracked more than 125,000 raw search results on the Internet but refined those results through technological filters and human analysis to utilize only the highest quality data -- totaling more than 2,000 consumer mentions on statin-related drugs. BrandIntel analyzed the most pertinent consumer-created content on the Internet to measure for assigned sentiment scores and share of discussion, rating the physical and emotional value of the results (positive or negative). For Life Sciences companies, this is especially important in minimizing false positives when reporting adverse events. To learn more on this issue, BrandIntel, in conjunction with Advertising Research Foundation (ARF), will be hosting a Webcast on November 15 from 12:00 - 1:00 PM ET. To register for the Webcast, please visit http://www.thearf.org/. To purchase a copy of the report or subscribe to the BrandIntel Cardiovascular Landscape Reports, please contact Mark De Paoli at 905.271.3725 x259 or mdepaoli@brandintel.com. About BrandIntel (www.brandintel.com) BrandIntel, a Brandimensions Inc. company, translates consumer-created content into reliable intelligence, enabling businesses to advance the science of decision making. The company offers an information-delivery platform combining human intelligence with award-winning technology for the most trusted market data in the industry. The BrandIntel data helps businesses validate critical business decisions, uncover new opportunities for value creation, and get closer to customers. BrandIntel works with Fortune 1000 companies and is headquartered in Toronto, Canada, with offices in the United States.

Contact Information: CONTACTS: Alicia Libucha Lois Paul & Partners 781-782-5703 alicia_libucha@lpp.com Maxine Friedman BrandIntel 646-202-9387 mfriedman@brandintel.com