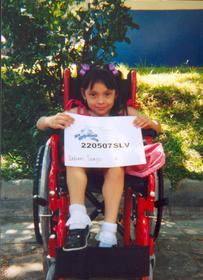 Wheelchair recipient on behalf of Wellness International Network
PLANO, TX--(Marketwire - December 20, 2007) - As successful entrepreneurs and founders of Wellness International Network, Ltd., a company recognized for its results-oriented nutritional supplements like the BioLean System, Ralph Oats and his wife, Cathy feel blessed to have achieved healthier living and financial independence. Because of their modest beginnings, they understand the difference a helping hand can make for those who aren't as fortunate. During WIN's 2007 Gala Awards Els and Paul Gebbink, along with many other distributors from the Netherlands, surprised Cathy and Ralph Oats with a presentation of their donation of 147 wheelchairs to the Wheelchair Foundation on behalf of Cathy and Ralph Oats. It was a moving and emotional moment for everyone in attendance, as they were honored to receive such a precious gift. The Wheelchair Foundation is a nonprofit organization leading an international effort to create awareness of the needs and abilities of people with physical disabilities, to promote the joy of giving, create global friendship, and to deliver a wheelchair to every child, teen and adult in the world that needs one, but cannot afford one. For these people, the Wheelchair Foundation delivers Hope, Mobility and Freedom. "We are happy to have such a large network of great people that have the means and desire to help others and we're so proud of our Dutch distributors who continue to help those in need," says Ralph Oats. Wellness International Network is committed to helping others achieve financial freedom along with mental and physical wellness with its phenomenal product line, including its omega-3 supplement, WINOmeg3complex, and BioLean II. Each year at the Anniversary Gala celebration, a Giving Back award is presented to distributors who have demonstrated the generosity of spirit that comes from giving of their time, effort and resources to those who are less fortunate. Over the years, Wellness International Network and its distributors have supported organizations such as the American Red Cross, Habitat For Humanity, Hearts Together For Haiti, St. Jude Children's Hospital, the Susan G. Komen Breast Cancer Foundation and many more. About WIN A privately held company specializing in health and nutritional products, Wellness International Network, Ltd. is headquartered in Plano, Texas, while its European affiliate, WIN Worldwide BV, is located in Hoofddorp, Netherlands and its South African affiliate, Wellness International Network S.A. (Pty) Limited, is located in Johannesburg, South Africa. Founded in 1992 by Ralph Oats and his wife, Cathy, Wellness International Network, a leader in global network marketing, operates in many countries throughout North America, Europe, Africa, and Asia. Wellness International Network's complete nutritional line is listed in the 2007 edition of the Physicians' Desk Reference® (PDR®) for Nonprescription Drugs, Dietary Supplements and Herbs, the authoritative reference for health care professionals for decades, and a number of products have been reviewed by the National Institute for Public Health and the Environment (RIVM) in The Netherlands based on International Olympic Committee (IOC) standards on behalf of The Netherlands Olympic Committee (NOC) and The Netherlands Sports Federation (NSF). Products reviewed are now listed on the 'white list,' a list of products considered safe to use by top sports athletes from all over the world. Learn more about why "It Pays to Live Well®" at winltd.com.

Contact Information: Contact: Wellness International Network, Ltd.