Thomas M. Quigg Named Vice Chairman
Source:
Bridge Capital Holdings
|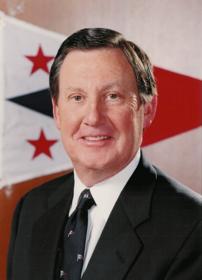 Thomas M. Quigg
SAN JOSE, CA--(Marketwire - April 22, 2008) - Bridge Capital Holdings (NASDAQ: BBNK), whose subsidiary is Bridge Bank, National Association, one of the best performing full-service business banks in California and the Nation, announced today that Thomas M. Quigg has been named Vice Chairman of its Board of Directors. Mr. Quigg has been a director of the Company and Bank since August 2001. "Tom has been an especially active and valued member of the Board. His many years of experience as a banker, entrepreneur, and member of a number of private and public boards have served the bank well as Bridge Bank has grown rapidly since our launch in 2001," said Allan C. Kramer, M.D., Chairman of Bridge Capital Holdings and Bridge Bank, N.A. "As Vice Chairman, Tom will become more active in leading the work of our various board committees to enhance our commitment to corporate governance and board best practices. He has been and will continue to be an outstanding resource for both me and Bridge Bank as we grow in the future." Mr. Quigg spent most of his career at Bank of America N.T. & S.A. and its various subsidiaries spanning a nearly four-decade career. Most recently, Mr. Quigg was Chairman, CEO and President of Bank of America's Federal Savings Bank subsidiary, and in that capacity managed all day-to-day operations. Under his leadership during a six-year period through 1999, the bank grew to over $4 billion in size through rapid acquisitions of another savings and loan company, a national manufactured housing business, and three regional mortgage banking companies. Previously, Mr. Quigg served as Managing Director of the Bank of America's High Technology Practice, where he was responsible for worldwide management of that function, including marketing to the Silicon Valley venture capital community. Mr. Quigg's unit served a full spectrum of companies ranging from newly emerging ventures to Fortune 100 companies. Mr. Quigg's top-level executive positions with Bank of America included Division Executive Officer of International investment and Private Banking from 1987 to 1989, Chief Administrative Officer of the World Banking Group from 1982 to 1987, and Regional Senior Vice President of North America Division in Houston, Texas. At the start of his career, he was a lending and administrative officer at various retail branches operated by Bank of America throughout the State of California. Mr. Quigg earned MBA and BS degrees from the University of San Francisco. Bridge Bank specializes in providing superior service and customized banking solutions to small and middle-market, and emerging technology businesses, in Silicon Valley, California, and the Nation. The bank's product offerings include 24/7 internet-based business cash and treasury management, on-line account statement and item imaging, remote deposit capture, commercial lines of credit, growth capital financing, construction loans, Small Business Administration 7(a) and 504 loans as an SBA Preferred Lender Participant-accredited direct lender, and factoring and asset-based loans through its Bridge Capital Finance Group. About Bridge Capital Holdings Bridge Capital Holdings is the holding company for Bridge Bank, National Association. Bridge Capital Holdings was formed on October 1, 2004 and holds a Global Select listing on The NASDAQ Stock Market under the trading symbol BBNK. Visit Bridge Capital Holdings on the web at www.bridgecapitalholdings.com. About Bridge Bank, N.A. Bridge Bank, N.A. is Silicon Valley's full-service professional business bank. The Bank is dedicated to meeting the financial needs of small, middle-market, and emerging technology businesses. Bridge Bank provides its clients with a comprehensive package of business banking solutions delivered through experienced, professional bankers. Visit Bridge Bank on the web at www.bridgebank.com. Forward-Looking Statements Certain matters discussed in this press release constitute forward-looking statements within the meaning of the Private Securities Litigation Reform Act of 1995, and are subject to the safe harbors created by that Act. Forward-looking statements describe future plans, strategies, and expectations, and are based on currently available information, expectations, assumptions, projections, and management's judgment about the Bank, the banking industry and general economic conditions. These forward-looking statements are subject to certain risks and uncertainties that could cause the actual results, performance or achievements to differ materially from those expressed, suggested or implied by the forward-looking statements. These risks and uncertainties include, but are not limited to: (1) competitive pressures in the banking industry; (2) changes in interest rate environment; (3) general economic conditions, nationally, regionally, and in operating markets; (4) changes in the regulatory environment; (5) changes in business conditions and inflation; (6) changes in securities markets; (7) future credit loss experience; (8) the ability to satisfy requirements related to the Sarbanes-Oxley Act and other regulation on internal control; (9) civil disturbances or terrorist threats or acts, or apprehension about the possible future occurrences of acts of this type; and (10) the involvement of the United States in war or other hostilities. The reader should refer to the more complete discussion of such risks in Bridge Capital Holdings reports on Forms 10-K and 10-Q on file with the SEC.