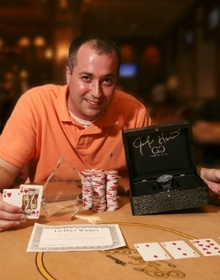 2008 Jennifer Harman Charity Poker Tournament Winner Seth Dupre. Photos by Rob Gracie/GreasieWheels.com.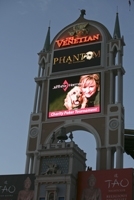 Venetian marquee displays 2008 Jennifer Harman Charity Poker Tournament. Photos by Rob Gracie/GreasieWheels.com.
LAS VEGAS, NV--(Marketwire - April 24, 2008) - On Friday, April 18, a Las Vegas Strip marquee lured pedestrians to The Venetian Poker Room for the Jennifer Harman Charity Poker Tournament. The second annual fundraiser benefiting the Nevada Society for the Prevention of Cruelty to Animals made history on April 18th, raising more than $325,000 for the no-kill animal sanctuary. The $330 no-limit hold'em tournament attracted hundreds of poker professionals, industry VIPs, Action Sports celebrities, media, and fans. A variety of animals escorted the rich and famous along the red carpet. Jennifer Harman and Marco Traniello were dragged along by a pit bull named "Baby Jax," Howard Lederer and Barry Greenstein shared a dog named "Shadow Girl," NFL quarterback Shaun King cuddled a cat named "Ferry" sporting a hot pink feather boa, and Phil Ivey nestled "Trailer" the kitten. Other notable players included Daniel Negreanu, Joe Hachem, Eli Elezra, Michael and Lilly Mizrachi, Mike Sexton, John Hennigan, Chau Giang, Gavin Smith, David Singer, Kristy Gazes, Mary Jones, Brad Booth, Lacey Jones, Justin Bonomo, TJ Cloutier, Melissa Hayden, Erik Seidel, David Williams, Young Phan, Steve Cyr, PPSN's Davrick Liles, Dan Fleyshman, snowboarders Kier Dillon, Dave Driscoll, Ross Powers, and Jeff Brushie, and motocross celebrity Jimmy Button. Private donations were made by Missing-Ingredient's Dina Cianchetti and Torri Smith, Pokernews.com Senior Editor John Caldwell, and Mike Howell of Curtis & Company Watches. The Venetian Poker Room Director Kathy Raymond presented a $5,000 check to the Nevada SPCA. The largest contribution of $60,000 came from professional poker player Howard Lederer and his wife Suzie. Steve Zolotow was honored for facilitating the rescue of a puppy boxer named "Giancarlo." The tournament started at 3:30 p.m. During the first break, Robert Williamson III, Triumph Sports, Nevada SPCA volunteers, and PPSN models hosted live and silent auctions that raised more than $150,000. Out of 271 participants, nine final table finishers were awarded the following sponsored prizes.

1. Seth Dupre, Las Vegas, NV - Crystal trophy, Curtis & Co. watch, 2008
   $10,000 WSOP Main Event seat
2. John McCrink, Las Vegas, NV and 3. John "Kicker" Roveto, Deluth, GA,
   both received a trophy, WSOP Advanced Academy packages, and Curtis & Co.
   watches
4. Michael Statkiewicz, Las Vegas, NV - World Poker Tour two-day Bootcamp
   package
5. Jay Mercer, Bakersfield, CA - $2,000 Monte Carlo Night package, Bart
   Simpson memorabilia
6. Steve Lindner, Madison, WI - Venetian accommodations, Blue Man Group
   tickets, Canyon Spa Package
7. Vince Baldossano, Chatham, NJ - RWIII entertainment package, Sony
   Playstation2 Silver Compact, board games
8. Tiffany Michelle, Beverly Hills, CA - Autographed Paulson Poker Chips
9. John Barnocky of Oviedo, FL - $75 Tiny Prints certificate, Life's A
   Bluff limited edition lithograph

All guests received gift bags by SpadeClub, including donated items by Who's Your Daddy, Borba, Nettie Scrub, Card Player, Fetch Pet Care, and Doggy Tug Toys. "I play online poker recreationally," said Dupre after winning the event. "But to witness all of those big names you usually see on television was incredible." When asked how he felt about winning the WSOP Main Event seat, he replied, "I would never have bought into such an event, but I'm going to give it my best shot. Hopefully I'll donate a percentage of my winnings back to the Nevada SPCA." If you would like to make a private donation to the Nevada SPCA no-kill animal sanctuary, visit http://www.nevadaspca.org. The Jennifer Harman Charity Poker Tournament is a GreasieWheels production. Images are available for viewing and download at http://www.gwphotostore.com. For complete event details visit http://web.mac.com/pievegas/GreasieWheels/Events/Entries/2008/4/18_2008_Jennifer_Harman_Charity_Poker_Tournament.html.

Contact Information: Media Contact: Lisa Wheeler Phone: (702) 327-7250