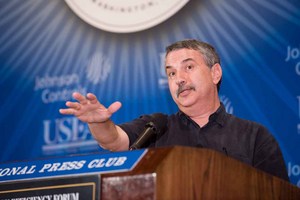 New York Times columnist Thomas Friedman challenges influential energy executives in business and government at the 19th Annual Energy Efficiency Forum.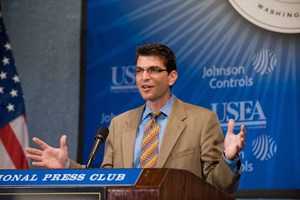 Commenting on the energy and climate change perspectives of the Obama presidential campaign at the Forum was Jason Grumet, Executive Director, National Commission on Energy Policy.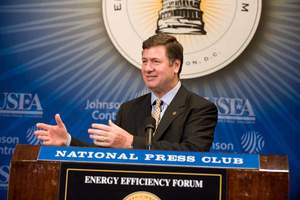 Former Governor of Virginia, George Allen outlines McCain strategy for energy independence and diversification of energy resources.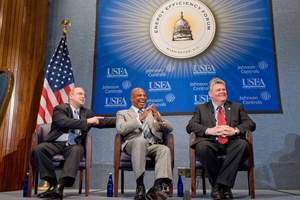 Mayors Douglas Palmer (Trenton, NJ), Gregory Nickels (Seattle, WA), and John Brenner (York, PA) participate in a lively dialogue about energy initiatives at the local level.
Overview of 19th Annual Energy Efficiency Forum
WASHINGTON, DC--(Marketwire - June 13, 2008) - The 19th Annual Energy Efficiency Forum, sponsored by the U.S. Energy Association and Johnson Controls, Inc., offered spirited discourse on the potential for innovative energy and climate change policies under a new presidential administration. The event, held this week at the National Press Club, included a keynote address by U.S. Secretary of Energy Samuel W. Bodman who stressed to an audience of energy decision makers that "efficiency does not need to come at the expense of profitability." A packed Forum agenda was ushered in with speeches by representatives from both the Democratic and Republican presidential campaigns. In his remarks on behalf of Senator John McCain, former Governor of Virginia George Allen said, "What Senator McCain as president would do is propose a national energy strategy that will amount to a declaration of independence from energy insecurity and he'll promote diversification and conservation of our energy resources." In his comments about the need to change energy production incentives, Executive Director of the National Commission on Energy Policy, and advisor to Senator Barrack Obama's campaign Jason Grumet said, "Senator Obama believes that we have to decouple the profit motives of the energy sector from energy production." Grumet added that Senator Obama also believes that within the next decade new buildings need to be 25% more efficient than they are today, and 50% more efficient by 2030. Delivering the luncheon keynote address at the Forum was Pulitzer Prize-winning author and New York Times columnist, Thomas Friedman, author of the upcoming book, "Hot, Flat, and Crowded: Why We Need a Green Revolution - and How It Can Renew America." During his address, he shared excerpts of the book for the first time in the U.S. Through the reading he offered strong advice about the serious challenges we face and proposed mobilizing to a "code green." He explained, "What red was to America in the 1950s and 1960s...we need green to be for today's America." Friedman went on to say, "I would be less than truthful, though, if I said that America as it operates today is ready for this mission. We are not." Immediately following his speech, Friedman lead an engaging panel discussion with Robert K. Watson, founder of the U.S. Green Building Council's LEED® Green Building Rating System, and David B. Goldstein, co-director of the Natural Resources Defense Council's energy program. Electric Power Research Institute president Steven Specker spoke separately about his organization's focus on research and development on technology, and Brenna Walraven, president of the Building Owners and Managers Association (BOMA) International, discussed the impact of energy legislation on facility owners and operators. The Forum agenda also paid close attention to youth awareness of energy efficiency, beginning with the U.S. Environmental Protection Agency's debut of its "Horton Hears a Who" public service announcements aimed at children. Student and teacher winners from the Igniting Creative Energy competition were recognized, along with a group of college students from Carnegie Mellon University who won a national climate change writing competition. Additionally, the Forum's Energy Leaderships Awards were presented to: -- Andy Karsner, assistant secretary for energy efficiency and renewable energy at the U.S. Department of Energy, for his efforts to advance programs that reduce energy in buildings and vehicles. -- Greg Nickels, Seattle mayor, for his efforts to reduce energy in his own city in addition to his formation of the U.S. Conference of Mayors Climate Protection Agreement to advance the goals of the Kyoto Protocol through leadership and action. It has been signed by more than 850 mayors across the country. -- Alan Edwards, national energy manager for the U.S. Federal Bureau of Prisons, for his efforts in implementing energy efficiency projects at 96 federal prisons to renew aging prison infrastructure and introduce renewable technologies, resulting in approximately 166 billion Btu in energy savings. A special pre-Forum event sponsored by Johnson Controls featured an address delivered by noted political pundit, Charles Cook, editor and publisher of the Cook Political Report. His presentation to business leaders and government policy leaders offered an engaging mix political insight and humor that focused on the turn of events leading to the current nomination of both presidential candidates. Following the Cook presentation, top-level policy and energy decision makers representing a variety of industries participated in a World Café format working session. This exercise focused on sustainability and functioned as a tool by which participants could share strategies and solutions that they would later consider putting into action at their respective organizations. The Forum's mission is to be the premier event that promotes an energy efficiency ethic through the presentation of national and worldwide views on energy efficiency and the resulting impact on the environment, national security and economic growth. About United States Energy Association The United States Energy Association is the U.S. Member Committee of the World Energy Council. USEA is an association of public and private energy-related organizations, corporations, and government agencies. It represents the broad interests of the U.S. energy sector by increasing the understanding of energy issues, both domestically and internationally. In conjunction with the U.S. Agency for International Development and the U.S. Department of Energy, USEA sponsors our nation's Energy Partnership Program. Membership in USEA is open to all organizations having an interest in the energy sector of the United States. For more information, please visit http://www.usea.org/. About Johnson Controls Johnson Controls (NYSE: JCI) is the global leader that brings ingenuity to the places where people live, work and travel. By integrating technologies, products and services, we create smart environments that redefine the relationships between people and their surroundings. Our team of 140,000 employees creates a more comfortable, safe and sustainable world through our products and services for more than 200 million vehicles, 12 million homes and one million commercial buildings. Our commitment to sustainability drives our environmental stewardship, good corporate citizenship in our workplaces and communities, and the products and services we provide to customers. For additional information, please visit http://www.johnsoncontrols.com/.

Contact Information: Darryll Fortune (414) 791-8464 Samuel Wells (717) 393-3831 ext. 146 (717) 823-1855 (mobile)