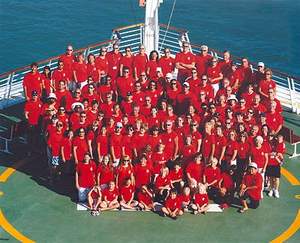 Wellness International Network Founders Ralph and Cathy Oats recently returned from a luxurious incentive cruise with WIN's top producers and their families.
PLANO, TX--(Marketwire - August 4, 2008) - Ralph Oats and Cathy Oats, Founders of Wellness International Network, Ltd. (WIN), a company known for its anti-aging supplement WIN CoQ10™ and top-selling weight management line, BioLean® System, recently announced their 12th annual incentive cruise will award qualifying distributors with a breathtaking, seven-day vacation aboard Royal Caribbean's Liberty of the Seas to San Juan, St. Maarten, Haiti and Miami. The Escape to the Islands cruise will sail July 18-25, 2009, and feature plenty of gorgeous views of the Caribbean's white, sandy beaches and clear-blue water. On the Liberty of the Seas cruise ship, top Wellness International Network distributors will enjoy exciting amenities including a water park, FlowRider® surfing machine and an indoor/outdoor pool in a beautiful solarium. Qualified Wellness International Network cruisers can also enjoy delicious cuisine, themed bars and lounges, state-of-art fitness facilities and a relaxing day spa. "There's always a positive energy on our incentive cruises," says Ralph Oats. "People on the ship can't help but notice our large group of health-conscious, ambitious distributors. The cruises also provide an opportunity to share our vision for the future with our worldwide, top-producing distributors." More than 120 distributors of Wellness International Network, an undisputed leader in the health and nutrition industries, recently returned from a Mediterranean cruise vacation to Italy, Sicily, Turkey, Crete and Greece. This Myths & Legends cruise featured more qualifiers than ever enjoying this ultimate vacation and making lifelong memories with their family and friends. "We can't stop talking about how much fun we all had on the cruise," shares a first-time qualifier. "I can't stop bragging to everyone how much we enjoyed spending time with our Wellness family. We are ready for next year in the Caribbean!" For the past 12 years, Wellness International Network has awarded its top distributors with trips to dream destinations around the world including: Barcelona, Spain; Nice, France; Florence, Italy; Rome, Italy; Naples, Italy; Palermo, Italy; Monte Carlo; Athens, Greece; Dubrovnik, Croatia; Marseille, France; Villefranche, France; Taormina, Sicily; Mykonos, Greece; Hiroshima, Japan; Mallorca, Spain; Cannes, France; Istanbul, Turkey; Venice, Italy; Shanghai, China; Beijing, China; Odessa, Ukraine; Yalta, Ukraine; Kusadasi, Turkey; Santorini, Greece; St. Thomas; St. John; Sorrento, Italy; Livorno, Italy; Georgetown, Cayman Islands; Ocho Rios, Jamaica; Cozumel, Mexico and many other memorable ports. About Wellness International Network, Ltd. (WIN) A privately held company specializing in health and nutritional products, Wellness International Network, Ltd. is headquartered in Plano, Texas, with its European affiliate, WIN Worldwide BV, located in Hoofddorp, Holland and its South African affiliate, Wellness International Network S.A. (Pty) Limited, located in Johannesburg, South Africa. Founded in 1992 by Ralph Oats and his wife, Cathy, WIN operates in many countries throughout North America, Europe and Africa, and is far and away the forefront leader in global network marketing. Management Team 500 Magazine recently selected Wellness International Network, Ltd. as a Top 500 company. WIN's complete nutritional line is listed in the Physicians' Desk Reference® (PDR®) for Nonprescription Drugs and Dietary Supplements, the authoritative reference for health care professionals for decades. Serious athletes are delighted to learn that WIN Worldwide BV participates in the Netherlands Security System Food Supplements Top Sport [NZVT] system with the following products: ProXtreme™, Mass Appeal™, Sure2Endure™ and Phyto-Vite®. This system controls only on a batch basis; for additional information click here. Learn more about why "It Pays to Live Well" at www.winltd.com.

Contact Information: Contact: Wellness International Network, Ltd.