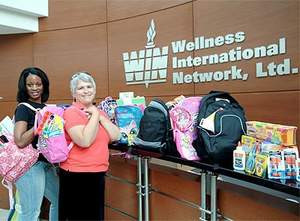 Wellness International Network employees Vonetta Fleming and Jeanette Camp gathered and delivered dozens of donated backpacks and school supplies to Rainbow Days, an organization that supports high risk children in the Dallas Metroplex.
PLANO, TX--(Marketwire - August 13, 2008) - Wellness International Network, Ltd., a company known for its top-selling weight management BioLean® System and its highly-concentrated omega-3 supplement, WINOmeg3complex™, recently donated and delivered dozens of backpacks and school supplies to Rainbow Days, an organization that supports children living in high risk homes in the Dallas Metroplex. Wellness International Network Founders Ralph Oats and Cathy Oats have supported Rainbow Days and other charitable organizations for more than 15 years. "We understand the heartache parents face when they can't meet the needs of their children, and we wanted to help," says Ralph Oats. "Cathy and I started Wellness International Network for people to realize their true potential, and we believe giving to others is an important part of that reality." For more than a month, employees of Wellness International Network donated pencils, crayons, notebooks, folders, backpacks and packages of paper to help Rainbow Days children start school on the right track. "Cathy and Ralph Oats always talk about how when something has been done for you in the past, at some point in the future, you'll always have a chance to give back," shares WIN employee Jeanette Camp, who organized the effort and also dropped four dress sizes (more than 80 pounds) on Wellness International Network's BioLean® System. "Cathy and Ralph Oats, and a lot of us, have experienced others lending a helping hand, so at Wellness International Network we embrace opportunities to help others." In the past, Wellness International Network has donated clothing, keeping homeless children warm in the winter, to Rainbow Days, which facilitates local life-skills support groups and drug and alcohol prevention programs. "As a parent, you feel fortunate to provide for your children, and you know how you would be affected if you couldn't provide for them," says WIN employee Vonetta Fleming, who let her son pick out school supplies for Rainbow Days with other children of Wellness International Network employees. "Making sure children have what they need and taking the burden off those parents who have to explain to their children why they can't have certain things is very gratifying." In addition, Wellness International Network regularly donates to the Juvenile Diabetes Research Foundation and encourages donations on winltd.com in hopes of a cure for this disease, which affects 246 million people worldwide and is expected to affect 380 million by 2025. Ralph Oats and Wellness International Network also generously support St. Jude Children's Research Hospital, The Wheelchair Foundation, Hearts Together for Haiti and many other charitable organizations. About Wellness International Network, Ltd., (WIN) A privately held company specializing in health and nutritional products, Wellness International Network, Ltd. is headquartered in Plano, Texas, with its European affiliate, WIN Worldwide BV, located in Hoofddorp, Holland and its South African affiliate, Wellness International Network S.A. (Pty) Limited, located in Johannesburg, South Africa. Founded in 1992 by Ralph Oats and his wife, Cathy, WIN operates in many countries throughout North America, Europe and Africa, and is far and away the forefront leader in global network marketing. Management Team 500 Magazine recently selected Wellness International Network, Ltd. as a Top 500 company. WIN's complete nutritional line is listed in the Physicians' Desk Reference® (PDR®) for Nonprescription Drugs and Dietary Supplements, the authoritative reference for health care professionals for decades. Serious athletes are delighted to learn that WIN Worldwide BV participates in the Netherlands Security System Food Supplements Top Sport [NZVT] system with the following products: ProXtreme™, Mass Appeal™, Sure2Endure™ and Phyto-Vite®. This system controls only on a batch basis; for additional information click here. Learn more about why "It Pays to Live Well" at www.winltd.com.

Contact Information: Contact: Wellness International Network, Ltd.