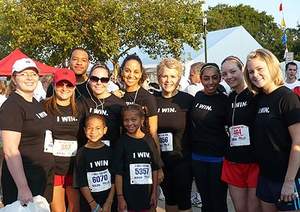 Wellness International Network employees participate in last year's Oktoberfest 5K benefiting 'Wipe Out Kids' Cancer,' a nonprofit organization that helps eradicate pediatric cancer.
PLANO, TX--(Marketwire - September 16, 2008) - Ralph Oats and Wellness International Network, Ltd., a company known for its top-quality weight management line BioLean® System and anti-aging supplement WIN CoQ10™, constantly support charitable organizations and promote healthy living. Employees of Wellness International Network are excited to participate on Saturday, Sept. 20, in the Oktoberfest 5k and Mile Fun Run for the Children benefiting Wipe Out Kids' Cancer, a nonprofit organization that helps eradicate pediatric cancer by funding research, education and treatment. This marks the second year Wellness International Network employees have participated in this charity race, and they even doubled their participation this year. "We are dedicated to helping people find physical and mental wellness," shares Ralph Oats, founder of Wellness International Network. "This business is about helping people take control of their destinies. We're proud so many people worldwide have created a brighter future with WIN's opportunity and are committed to giving back." Ralph Oats and Wellness International Network recently embraced a young Dutch girl, who was diagnosed with meningitis and needed hyperbaric oxygen therapy. Shortly after learning of Kelly's needs, Wellness International Network helped fund her recovery, raising more than $83,000 and enabling Kelly to come to the United States for treatment. "This is pretty incredible," says Paul, a Wellness International Network distributor who spearheaded the Help Kelly Foundation. "She's our Wellness International Network child. I know she will continue to have great results with the combination of this therapy and WINOmeg3complex™." Since receiving oxygen therapy, Kelly has been able to hold her head up better and many of her emotional responses have returned. Most notably, the return of her laughter has overjoyed her parents and brightened their daily lives. Wellness International Network regularly donates to the Juvenile Diabetes Research Foundation, encouraging donations on winltd.com in hopes of a cure for this disease that affects 246 million people worldwide and is expected to affect 380 million by 2025. Ralph Oats and Wellness International Network also generously support St. Jude Children's Research Hospital, The Wheelchair Foundation, Hearts Together for Haiti, disaster relief efforts, Rainbow Days, local schools and many other charitable organizations. About Wellness International Network, Ltd. (WIN) A privately held company specializing in health and nutritional products, Wellness International Network, Ltd. is headquartered in Plano, Texas, with its European affiliate, WIN Worldwide BV, located in Hoofddorp, Holland and its South African affiliate, Wellness International Network S.A. (Pty) Limited, located in Johannesburg, South Africa. Founded in 1992 by Ralph Oats and his wife, Cathy, WIN operates in many countries throughout North America, Europe and Africa, and is far and away the forefront leader in global network marketing. Management Team 500 Magazine recently selected Wellness International Network, Ltd. as a Top 500 company. WIN's complete nutritional line is listed in the Physicians' Desk Reference® (PDR®) for Nonprescription Drugs and Dietary Supplements, the authoritative reference for health care professionals for decades. Serious athletes are delighted to learn that WIN Worldwide BV participates in the Netherlands Security System Food Supplements Top Sport [NZVT] system with the following products: ProXtreme™, Mass Appeal™, Sure2Endure™ and Phyto-Vite®. This system controls only on a batch basis; for additional information click here. Learn more about why "It Pays to Live Well" at www.winltd.com.

Contact Information: Contact: Wellness International Network, Ltd.