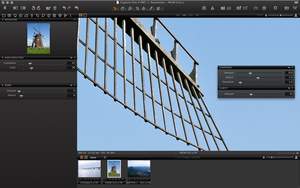 Customizable workflow - Drag out tools of your choice from your tool tabs to have adjustment options available right in the image where you want them.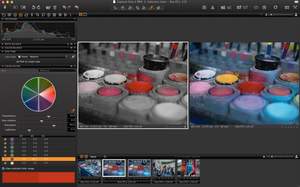 Superior image quality - An enhanced Color Editor feature permits fine-tuning of image colors with precise adjustment tools.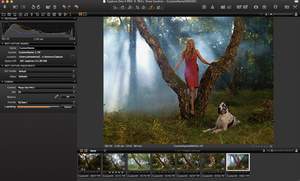 Tethered shooting - Connect a Phase One digital back or a supported DSLR camera to the computer and capture images directly into Capture One 4 PRO.
COPENHAGEN, DENMANRK--(Marketwire - October 15, 2008) - Phase One A/S today announced the immediate availability of Capture One 4 PRO, the RAW workflow software for photographers focused on transforming RAW files into the highest quality photographs. Capture One 4 PRO has been designed to enhance the image quality of professional digital captures. It is built on a darkroom paradigm to enhance images and minimize the need for post-production. The workflow is responsive and flexible, adapting to a photographer's needs. "Phase One supports pro photographers who prefer straightforward, responsive, effective options to meet uncompromising standards of quality," said British fashion photographer Drew Gardner. "So you find in Capture One 4 PRO an experience more consistent with what photography is all about. Using Capture One 4 PRO is more like stepping into a darkroom than entering a post-production computer class." Capture One 4 PRO Builds on RAW Workflow Innovations (click here for video) Capture One 4 PRO is designed to satisfy a photographer's specific work preference and situation. It offers freedom to create custom tool tabs with existing personal toolsets, and to work with multi monitor setups. World leading tethered shooting is delivered by connecting a Phase One digital back or a supported DSLR camera to the computer and capturing images directly into Capture One 4 PRO. The Styles feature has been redesigned to give photographers broader choices in exploring and creating unique looks that can be controlled and reproduced to create an exclusive signature. An enhanced Color Editor feature permits fine-tuning of image colors with precise adjustment tools. Color adjustments can be saved as presets or as customized ICC profiles for consistent reproduction across multiple images. A new Skin Tone tool lets photographers easily set and reproduce skin tones shot under various light conditions, even without using a gray card. New Lens Correction tools improve image quality by compensating for undesired lens characteristics. These tools minimize chromatic aberration, purple fringing, distortion, sharpness falloff and light falloff. They permit creative effects such as image framing with a new vignetting tool. "Phase One pioneered RAW workflow software," said Jan Christiansen, marketing director at Phase One. "Now, Capture One 4 PRO takes these innovations to the highest level, with a clean, intuitive interface to give photographers a creative edge with superior image quality." Capture One 4 PRO supports Phase One and Mamiya medium format cameras and RAW files from a wide range of cameras including: Canon, Epson, Fuji, Konica Minolta, Leica, Nikon, Olympus, Pentax, and Sony. Please see http://www.phaseone.com/4 for specific models. Pricing and Availability Phase One Capture One 4 PRO is available now in English through Phase One's worldwide partner network http://www.phaseone.com/Content/ContactUs/LocateDealer.aspx and Phase One's e-shop at http://www.phaseone.com/Content/EshopMenu.aspx. Other language versions are planned for release at a future date. Capture One 4 PRO is free for registered users of Capture One PRO 3.x. Its estimated street price is USD399 and EUR299. Recommended minimum system requirements are Macintosh OS X 10.5.5 or later, Intel® based processor, or Microsoft Windows® XP SP3 or Windows Vista SP1 and Windows .NET Framework v3, Intel Pentium 4® processor, 1 GB RAM and a 1280 x 800 resolution screen. More information on product features is available at http://www.phaseone.com/4. About Phase One Phase One is a leading provider of digital image capture and work flow management technology. Phase One P+ Series digital backs and camera systems open new possibilities, putting the focus back on the moment of capture. Phase One Capture One software helps streamline the capture and post-production process. Supporting DSLR, medium- and large-format photographic equipment, Phase One products are renowned for their superior quality, flexibility and speed -- enabling pro photographers to realize their most subtle and most complex visions without compromise. Phase One is an employee-owned company based in Copenhagen with offices in New York, London, Tokyo, Cologne and Shanghai. For more information about the products, visit the Phase One web site on www.phaseone.com. Phase One and Capture One are registered trademarks of Phase One A/S. All other brand or product names are trademarks or registered trademarks of their respective holders.

Contact Information: PR Contacts Kathy Madison Arcand & Madison Public Relations Phone: +1.781.259.1764 Mobile: +1.781.640.1850 Email: kathy@am-pr.com Viviane Baltzer Wick Communications Phone: +49.89.306688.66 Mobile: +49.170.5531673 Email: Viviane.baltzer@wickpr.de