Space Adventures' Orbital Client Richard Garriott, the 1st second-generation astronaut, launches on the Soyuz TMA-13 spacecraft from Kazakhstan and docks to the International Space Station.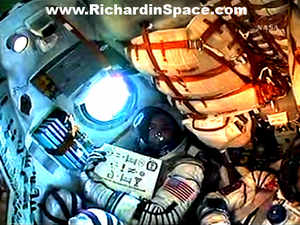 Shortly after lift-off, Space Adventures' orbital client Richard Garriott displayed a message written in the fictional language of 'logos' from his famed video game storyline. Can you decipher it?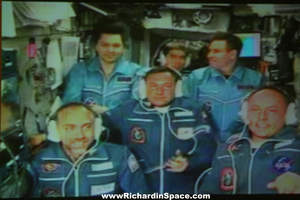 Space Adventures' client Richard Garriott Richard and his crew mates as they docked with the International Space Station and were welcomed by the existing ISS crew.
VIENNA, VA--(Marketwire - October 20, 2008) - Space Adventures' sixth orbital client and famed Ultima and Tabula Rasa video game developer Richard Garriott is currently onboard the International Space Station (ISS) orbiting Earth, conducting research and experiments, and helping Stephen Colbert save humanity by depositing his digitized DNA on the "Immortality Drive" that will serve as a remote offsite backup of the human race. Down on Earth, you can check in on Garriott and track his space mission activities, latest photos and videos, and more by visiting www.richardinspace.com. Garriott is the 1st second generation astronaut and only the sixth private individual in history to go to space. His mission to the ISS is the latest destination in a life defined by adventure and innovation. In recent years, Garriott has conquered incredible quests that span the globe including searching for meteorites on the continent of Antarctica, tracking mountain gorillas in Rwanda, canoeing down the Amazon, deep ocean hydrothermal vent expeditions and dives to the Titanic. While in space, Garriott aims to accomplish numerous efforts including scientific and environmental research, and educational outreach. Always the leader of the pack, Garriott also will host the first-ever zero-gravity art show in space. All will be chronicled on www.richardinspace.com. The site is constantly updated with details on Garriott's adventure and includes rich videos and photos of Garriott throughout his training, launch and current spaceflight. Visitors to www.richardinspace.com can track his exact location as he orbits Earth; pose questions to Richard; view the multi-media gallery, which offers an inside look into what it takes to go to space and back again; and check out awesome video links like Garriott's ZERO-G weightless training and water landing training. On Monday, Oct. 20, at 1:20 p.m. EDT, Garriott will be part of the NASA-sponsored videoconference with Expedition Crew 18. The live online video conference with Garriott will be posted on www.richardinspace.com. About Richard Garriott Garriott was born in Cambridge, England and raised in Nassau Bay, Texas. In 1980, Garriott attended the University of Texas at Austin where he developed the Ultima computer game series. Garriott, along with his father and brother, created Origin Systems, a private video game publisher. In 1992, Garriott sold Origin Systems to Electronic Arts. In 1999, Garriott left Electronic Arts and in 2000 he formed Destination Games and partnered with NCsoft. In November 2007, his latest game, Richard Garriott's Tabula Rasa, was launched in North America and in the European Union. For more information, please visit www.rgtr.com. About Space Adventures Space Adventures, the company that organized the flights for the world's first private space explorers, is headquartered in Vienna, Va. with an office in Moscow. It offers a variety of programs such as the availability today for spaceflight missions to the International Space Station and around the moon, Zero-Gravity flights, cosmonaut training, spaceflight qualification programs and reservations on future suborbital spacecrafts. The company's advisory board includes Apollo 11 moonwalker Buzz Aldrin, Shuttle astronauts Sam Durrance, Tom Jones, Byron Lichtenberg, Norm Thagard, Kathy Thornton, Pierre Thuot, Charles Walker, Skylab/Shuttle astronaut Owen Garriott and Russian cosmonaut Yuri Usachev. For more information, please visit www.spaceadventures.com.

Contact Information: For More Information: Stacey Tearne Space Adventures +1 703 894 2192