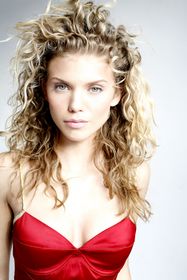 '90210's' AnnaLynne McCord will perform as a celebrity guest Siren during an exclusive production from the cast at the Sirens of TI 5th Anniversary Bash at Christian Audigier The Nightclub on October 25.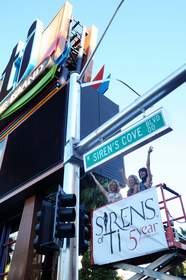 Signifying the show's mark on the city of Las Vegas, the Sirens of TI celebrate their fifth anniversary with the unveiling of Treasure Island's new street sign on October 21.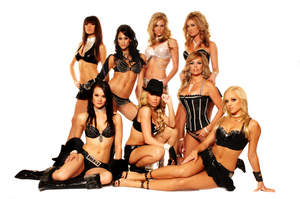 The Sirens of TI have welcomed more than 10 million visitors to Treasure Island since the show's inception in 2003.
LAS VEGAS, NV--(Marketwire - October 23, 2008) - On October 25, one of Las Vegas' most iconic free shows -- the Sirens of TI -- will celebrate its fifth anniversary in the Entertainment Capital of the World. Launched in 2003 to correspond with the sexy rebranding of Treasure Island Hotel & Casino (TI), the Sirens of TI has become a must-see attraction that has welcomed more than 10 million viewers since its inception. Created by Emmy-award winner Kenny Ortega, director of "High School Musical," Sirens is a battle of wit, beauty and brawn, featuring gorgeous women and men, stunts, jaw-dropping pyrotechnics and mesmerizing special effects. "The Sirens of TI requires a tremendous amount of talent and skill from the cast, who have special effects and explosions happening around them, and are diving off of high platforms as the ship is sinking," said Ortega. In creating the Sirens of TI, Ortega cites the Greek mythology of Homer's "Odyssey" as its foundation, recreated in the frame of a pop opera. He endeavored to create a production that would be accessible to a young Vegas crowd with an upbeat, sexy and interactive presence. Having choreographed popular movies such as "Dirty Dancing" and "Ferris Bueller's Day Off"; and performances for world-renowned artists such as Michael Jackson, Madonna and Shakira, Ortega drew inspiration from his body of work for Sirens. "(Choreographer) Travis Payne and I were looking for a signature dance for the Pirates once they arrived on the Song (Sirens' ship). Both Travis and I had worked with Michael Jackson on a number of tours and drew inspiration from that -- we thought the stomp-like rhythms were character appropriate." To celebrate five years of the Sirens, TI is paying homage to its star attraction with a series of special events. This week, TI renamed the street leading into the property "Sirens Cove Blvd," in honor of the productions' indisputable success. On October 25, the cast will celebrate its official anniversary with an 11:30 p.m. never-before-seen production featuring sizzling dance numbers, silk acts, high-divers and an electrifying pyrotechnics display on the show's massive pirate ship just outside the patio of Christian Audigier The Nightclub. "90210's" AnnaLynne McCord will guest star as a celebrity Siren and perform in the show's finale dressed in the costume of Sirens' lead seductress, "Sin." Following the show, AnnaLynne will host a sinful soirée at Christian Audigier The Nightclub to continue the celebration for Vegas' sexiest free attraction into the early hours of the morning. The evening will feature drink specials created for the occasion, along with the cast in rare form, dancing the night away and mingling with partygoers. To keep the party going long after the evening is over, TI is offering unbeatable room and spa packages through November for revelers who can't get enough of the sexy Sirens. As brand ambassadors for TI, Sirens only features the highest caliber of talent. Ranging from classical opera singers and professionally trained dancers to former Junior Olympic high divers, the ensemble cast has performed in countless music videos, commercials, movies and off-Broadway tours. Since their debut, the Sirens have become one of the country's hot touring performance acts, singing the National Anthem before sold-out crowds at games for the Chargers, Browns, Clippers, Lakers, Diamondbacks, Padres and others. The sultry ladies also have lent their dancing talents to steamy high-profile affairs for GQ, Playboy, Crown Royal, St. Louis Rams' Pro Bowl running back Steven Jackson and automotive industry magnate Claus Ettensberger. Visitors to TI line up an hour in advance of the show for the ultimate spot to view one of the most entertaining free productions on The Strip. The crowds during each show are now stronger than ever -- an indication that the Sirens of TI are here to stay. About the Sirens of TI Celebrating its fifth anniversary on October 25, 2008 and drawing thousands of viewers nightly at Sirens Cove in front of Treasure Island Hotel & Casino, the Sirens of TI begins with a 17th century clash between a group of beautiful, tempting Sirens and a band of renegade Pirates. With their mesmerizing and powerful song, the Sirens lure the Pirates to their cove, stir up a tempest strong enough to sink a ship, and transform Sirens Cove into a 21st century party featuring daring swordplay, high-diving acrobatics and eye-popping pyrotechnics. The Sirens of TI was created by Emmy-award-winning director Kenny Ortega and features a musical score by award-winning record producer and songwriter Emilio Estefan. About Treasure Island Treasure Island is the Las Vegas destination for those seeking a sophisticated resort experience coupled with the energy and excitement for which the city is known. TI guests enjoy fashionable AAA Four Diamond accommodations, an elegant lobby and a high-energy pool highlighted by luxurious cabanas and exotic cocktails. The resort also offers dynamic restaurants such as Richard Sandoval's Isla Mexican Kitchen & Tequila Bar and Social House, an energetic dining experience for sushi lovers; one of the city's best entertainment options, Cirque du Soleil's Mystère; and Christian Audigier The Nightclub. Treasure Island is a wholly owned subsidiary of MGM MIRAGE™. For more information and reservations, visit the web site at www.treasureisland.com or call toll free at (800) 944-7444.

Contact Information: FOR MORE INFORMATION: Shelby Tuttle Kirvin Doak Communications 702.737.3100