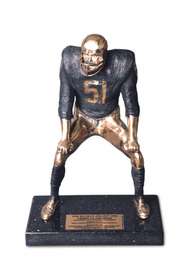 Butkus Award(R) for linebackers expands to include prep, collegiate, and pro categories.
CHICAGO, IL--(Marketwire - November 3, 2008) - For the first time in its 24 year history, the Butkus Award® is being expanded to honor the best high school and professional linebackers in addition to the nation's top collegiate linebacker. Expanding honorees is part of a makeover initiated by the Butkus family after receiving control of the Butkus Award earlier this year. The selection committee has been reconfigured, honorees will be recognized in Dick Butkus' hometown of Chicago, and the Award will support a charitable purpose -- the I Play Clean™ program. "This Award is about honoring linebackers, and reminding them that they have a responsibility to serve as role models and to give back to society," said Dick Butkus, the award's namesake, who is considered one of the greatest football players in history. The Butkus Award watch list includes 82 high school nominees from 28 states, and 66 collegiate nominees from 53 institutions, all which are posted at www.thebutkusaward.com. Collegiate and high school finalists are to be announced the week of November 24, and winners the week of December 8. The professional winner is expected to be announced January 13 at a Butkus Award reception in Chicago. Other details:

--  The Butkus Award reception will be the evening of January 13, 2009, at
    the National Italian American Sports Hall of Fame in Chicago.  Ticket and
    sponsor inquiries can be directed to the Butkus Foundation at
    rarp@butkusfoundation.org
    
--  Butkus wants the Award to draw attention to the I Play Clean campaign,
    which aims to end steroid use in organized sports.  He encourages past and
    current athletes, coaches and fans to pledge their support at
    www.iplayclean.org.  In partnership with Old Spice, the campaign hosted a
    Chicago kickoff event in July and is distributing educational toolkits to
    10,000 schools reaching 12 million students.
    
--  In an effort to assure the utmost integrity and expertise in picking
    the Butkus Award winners, a selection committee of at least 51 (Butkus'
    professional jersey number) of the nation's most respected coaches, General
    Managers, talent evaluators, scouts and media will select the winners.
    Among them: Pete Carroll - U.S.C., Nick Saban - Alabama, Pat Fitzgerald -
    Northwestern, John Harbaugh - Baltimore Ravens, Leslie Frazier - Minnesota
    Vikings, Scott Pioli - New England Patriots, A. J. Smith - San Diego
    Chargers, Tom Dimitroff - Atlanta Falcons, Nolan Nawrocki - Pro Football
    Weekly and Tom Lemming - Prep Football Report and CSTV.
    
    A complete list of the selection committee will be available at
    www.thebutkusaward.com by Friday, November 21. Please note that NCAA
    College Coaches included on our committee will not be allowed to vote for
    or have any contact with any candidates for the Butkus Award High School
    honoree and will absolutely be in compliance with all NCAA rules.
    Individual votes of all members of the committee will remain completely
    confidential.
    
Butkus was inducted into the Pro Football Hall of Fame in 1979, following an illustrious career with the Chicago Bears, University of Illinois and Chicago Vocational School. Meanwhile, his son Matt was a defensive lineman for the University of Southern California and joins his father in philanthropic efforts.

Contact Information: Contact: Ron Arp 360.601.2991