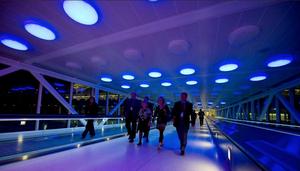 Using the TYZX Person-tracking solution, Electroland's installation illuminates lights in response to the movements of pedestrians at Indianapolis International Airport.
MENLO PARK, CA--(Marketwire - February 25, 2009) - TYZX, the 3D vision technology company, today announced that Electroland, Inc. has selected TYZX 3D vision systems to track people in real time for "Connection," an interactive public art installation at the new Indianapolis International Airport. "Connection" features colored lights and ambient sounds that react to pedestrians as they walk through a 43-meter-long bridge connecting the parking garage to the main terminal. Ten TYZX 3D vision systems mounted in the ceiling enable the installation to track people in the bridge 24 hours a day and react to their changing locations in real time, even in varied lighting conditions. The airport serves 8.5 million people each year. Most of those travelers will pass through "Connection" while visiting the airport. "We've spent years researching vision systems and finding new and better ways to sense people in pedestrian spaces," says Damon Seeley, an interaction designer and a partner at Electroland. "We haven't found anything that works as well as TYZX for tracking people in a space. TYZX is simply the best." Seeley identified three advantages of the TYZX solution over other 2D and 3D vision systems:

--  First, the TYZX system is the best solution for reliably tracking a
    person moving through a space. Other 2D and 3D vision systems lose track of
    people when they pass behind other people or objects.
    
--  Second, TYZX delivers high performance person-tracking even in
    challenging lighting conditions. Public spaces with lots of windows are
    susceptible to dramatic changes in lighting. Despite these changes, the
    TYZX system can reliably track people moving through a crowded space.
    
--  Third, a few TYZX cameras unobtrusively mounted along the upper sides
    of the bridge could cover the entire area of the installation. Each TYZX
    system has a large field of view, eliminating the need for large numbers of
    cameras.
    
The TYZX solution offered other advantages as well. Its use of distributed processing enabled the person-tracking software to process large amounts of data without requiring expensive computer hardware or special network technology. Its Power over Ethernet (PoE) technology enabled the TYZX systems to draw electrical power over their network cables, reducing the number of cables needed at the installation. "We're excited to have our person-tracking solution play a key role in this innovative installation," said Ron Buck, President and CEO of TYZX. "The combination of Electroland's creativity and TYZX technology makes possible a new kind of interactive art in public spaces -- art that surprises and connects people who would otherwise be strangers." In 2006, Electroland chose TYZX for another interactive project, Breezeway, which has been running continuously in Rockefeller Center since it was installed. About Electroland Electroland is a team that creates objects, interactive experiences, and large-scale public art projects. Each project is site-specific and may employ a broad range of media, including light, sound, images, motion, architecture, and interactivity. Based in Los Angeles, Electroland is led by Cameron McNall, an architect and educator, and Damon Seeley, an interaction designer. About TYZX, Inc. TYZX (www.TYZX.com) is a 3D vision company that provides a platform of hardware, software and services for building products that see and interact with the world in three dimensions. TYZX delivers high volume, cost-effective 3D vision solutions to industry leaders in the automotive, consumer electronics, robotics and security markets. TYZX, a privately held company, is backed by investments from Microsoft co-founder Paul Allen and Takata, the global manufacturer of automotive safety systems. TYZX is a registered trademark, and DeepSea is a trademark, of TYZX, Inc. All other brands and products referenced herein are acknowledged trademarks or registered trademarks of their respective holders.

Contact Information: For media inquiries, please contact: John Bennett (for TYZX) +1-510-495-6590 Ron Buck +1-408-282-4510