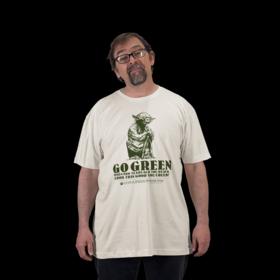 Yoda Says Go Green: Star Wars Earth Day Shirt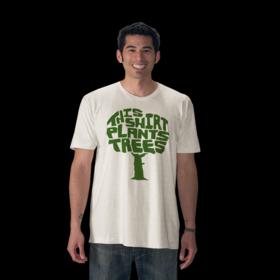 This Shirt Plants Trees: Zazzle and American Forests' Earth Day 'Tree-Shirt'
REDWOOD CITY, CA--(Marketwire - April 16, 2009) - Buy a shirt and plant a tree. Zazzle, the only on-demand retail platform to offer billions of top quality, one-of-a-kind products, many of which are produced within 24 hours, in collaboration with American Forests, wants to help you celebrate Earth Day in style this year with the launch of its "Tree-Shirt ReLeaf" campaign. The promotion, with the goal of planting 100,000 trees, commences on April 16, runs through Earth Day, April 22, and concludes on Arbor Day, April 24, 2009. To support the ReLeaf initiative, Zazzle and American Forests have designed a line of limited edition "This Shirt Plants Trees" t-shirts printed on 100-percent certified organic cotton from EDUN LIVE, the sustainable t-shirt brand founded by Ali Hewson and her husband Bono. The shirts are available for purchase in the American Forests online store in the Zazzle Marketplace, which also features Earth Day t-shirts from numerous Zazzle sellers, including Star Wars. Anyone can utilize Zazzle's online tools to apply their own designs, pictures, or text to a variety of products, including t-shirts, postage, mugs, calendars, shoes, skateboards, posters, greeting cards, buttons, stickers, and more. Zazzle's groundbreaking on-demand manufacturing process allows users to create customized products -- usually shipped within 24 hours -- and to earn money selling their product designs in the Zazzle Marketplace. Tree-Shirt ReLeaf Promotion Fast Facts

--  Any and every t-shirt sold on Zazzle.com during the promotional period
    plants a tree.
--  Campaign commences April 16, runs through Earth Day, April 22, and
    concludes on Arbor Day, April 24.
--  Goal of this first-of-its-kind promotion is to sell 100,000 shirts and
    plant 100,000 trees (enough to cover nearly 300 football fields).
--  Promotional proceeds support the American Forests Global ReLeaf
    reforestation project, which aims to plant 100 million trees by 2020.
    
To Participate

--  Purchase any existing or custom-designed t-shirt at Zazzle.com from
    April 16 - 24, 2009.
--  Buyers must use the promotional code "PLANTATREE09" at check out to
    contribute to this campaign.

--  Limited Edition American Forests "tree-shirts":
    -- http://www.zazzle.com/this_shirt_plants_trees-235427579406195965
    -- http://www.zazzle.com/this_shirt_plants_trees-235964837981143310
    -- http://www.zazzle.com/this_shirt_plants_trees-235686632650993055

--  Star Wars Earth Day t-shirts:
    -- http://www.zazzle.com/yoda_says_go_green_tshirt-235875003978710790
    -- http://www.zazzle.com/recycling_its_not_just_for_jawas_tshirt-235685873168588626
    -- http://www.zazzle.com/stormtroopers_watch_your_aim_tshirt-235885975006436243

Supporting Quotes "T-shirts are a great mechanism for spreading awareness and generating support for any cause," said Zazzle Co-Founder and Chief Product Officer Jeff Beaver. "Now, with our Tree-Shirt ReLeaf promotion, the simple act of purchasing a t-shirt will result in the planting of a new tree." "The Tree-Shirt ReLeaf campaign gives everyone a chance to contribute to the renewal of dwindling forests, and to promote cleaner air and a healthier planet," said Deborah Gangloff, Executive Director of American Forests. "With 100,000 t-shirts sold, we can make a difference. 100,000 trees will eventually absorb a million pounds of air pollutants from the atmosphere each year -- now that's a dent in global warming." About Zazzle Infinite and instant, Zazzle is the only on-demand retail platform for consumers and major brands, offering billions of retail quality, one-of-a-kind products, many of which are produced within 24 hours. Offering the largest library of customizable digital images from world-class brands, Zazzle enables content owners to unlock their entire libraries of content, making them available for purchase and customization by consumers. Through Zazzle's innovative on-demand retail and technology platform, users can instantly create, customize to fit their personal style, purchase and sell a near infinite array of products online. The company launched in 2005 and is based in Redwood City, California. For more information, visit www.Zazzle.com. About American Forests American Forests' mission is to grow a healthier world by working with communities on local efforts that restore and maintain forest ecosystems. Our work encompasses planting trees, calculating the value of urban forests, fostering environmental education, and improving public policy for trees at the national level. We have a goal of 100 million trees planted by 2020. American Forests earns four stars from Charity Navigator and approval from the BBB Wise Giving Alliance. For more information, visit www.americanforests.org. ©2009 Zazzle.com, Inc., all rights reserved. Zazzle and its logo are registered trademarks of Zazzle.com, Inc. in the United States and other countries. All other trade names mentioned herein are recognized to be the properties of their respective owners.