|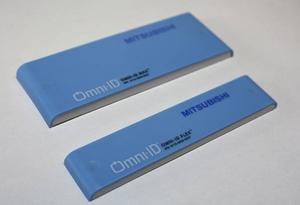 Co-Branded Tag
FOSTER CITY, CA--(Marketwire - June 23, 2009) -
NEWS SUMMARY:
Omni-ID, the leading supplier of low-profile, passive UHF RFID tags, today announces it has joined forces with Mitsubishi Electric and IBM Japan to deliver RFID asset management and IT data center solutions in Japan.



Mitsubishi Electric currently deploys UHF band RFID solutions for small-and-medium-scale implementations. IBM Japan provides asset management solutions for mid-to-large size projects. By collaborating with RFID innovator Omni-ID to incorporate the Prox on-metal tag into their solution offerings, the companies will combine their individual strengths to co-market a packaged solution that meets a wide range of asset management and IT data center customer needs.



Prior to this collaboration, IBM performed successful testing of their co-branded Omni-ID Data Center Resource Management (DCRM) solution across the U.S. and U.K. IBM Japan will leverage that knowledge to team with Omni-ID and Mitsubishi in co-marketing and extending the DCRM solution to enterprises throughout Japan.



Under this agreement, Mitsubishi Electric, together with IBM Japan, will support the development and expansion of their packaged asset management solutions, including the co-branded Omni-ID Prox™. Mitsubishi Electric's RFID asset management packaged product "e! Tracking Lite" will be adopted as the common entry level solution for both IBM Japan and Mitsubishi Electric. IBM's asset management solutions including DCRM and Maximo will be adopted as the enterprise level solution.



In addition, Mitsubishi Electric will offer a co-branded version of its RFID solution in Japan, using Omni-ID RFID tags exclusively.
QUOTES: "We're proud to join forces with Mitsubishi Electric and IBM Japan to expand our presence in the Japanese market," said Tom Pavela, President and CEO of Omni-ID. "Combining our innovative tag solutions with the offerings of two leading companies will bring customers the value and complete solution they need to more effectively leverage RFID." "The Japanese market is ready for more advanced RFID offerings that bring together best of breed technologies," said Yasuhide Shibata, Manager, IT Solutions Marketing Department of Mitsubishi Electric. "Working with other leaders such as IBM Japan and innovators such as Omni-ID will bring the market long term value in their RFID investments." "Asset tracking and IT data center management are two areas that could quickly and easily benefit from a strong combined RFID solution," said Kazutaka Kubota, Manager, ValueNet Consulting, Global Business Services of IBM Japan. "We are excited to combine with Mitsubishi Electric and Omni-ID to deliver the types of high quality solutions that the market demands." About Omni-ID
Omni-ID is the leading supplier of passive, low-profile UHF RFID solutions. Through its patent-pending technology Omni-ID "cracked the code" to overcome the problems traditionally associated with RFID, enabling a broad range of new applications that improve accuracy and efficiency in asset tracking, supply chain management and work-in-process. The company's family of versatile RFID tags works reliably in the harshest environments -- including on, off, and near metal and liquids -- and excels in solving tracking and identification challenges with unprecedented accuracy. With offices in Foster City, Calif. and in the U.K., Omni-ID's mission is to drive the widespread adoption of RFID technology as the optimal tracking and identification solution. For more information, visit www.Omni-ID.com.

Contact Information: Chris Iafolla SHIFT Communications (617) 779-1857