The Cheez-It Big Cheese Carving, 2009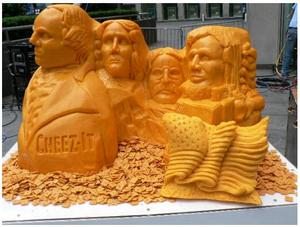 The Cheez-It Big Cheese Carving, 2007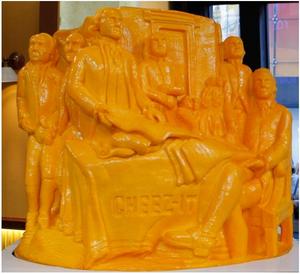 The Cheez-It Big Cheese Carving, 2008
BATTLE CREEK, MI--(Marketwire - July 3, 2009) - For the third consecutive year, Cheez-It -- the little cracker with Big Cheese taste -- saluted America's "big cheeses" (former presidents) by commissioning a cheese carving of patriotic significance, known as The Cheez-It Big Cheese. This year, to commemorate the bicentennial year of Abraham Lincoln's birth, master cheese carver Troy Landwehr created his tallest Big Cheese statue to date: a life-sized rendering of America's 16th president.
Using a 1,000-pound block of Wisconsin cheddar cheese, Landwehr's carved rendering of Lincoln measured 6-feet, 8-inches tall: Lincoln in a standing position, complete with his famous top hat.
At 6-feet, 4-inches tall, Lincoln is truly one of America's "biggest cheeses": he still holds the record as the tallest U.S. President.
The life-sized Lincoln carving was on display at 2215 Constitution Avenue N.W. in Washington, D.C., in the shadow of the Lincoln Memorial.
Patriots and cheese enthusiasts alike had the opportunity to take photographs with the life-sized Lincoln replica and sample Cheez-It crackers.
The Cheez-It Big Cheese debuted in 2007 with Landwehr's intricate masterpiece of the presidential portraits on Mount Rushmore, created from a 700-lb block of cheddar cheese. The 2008 Cheez-It Big Cheese carving was even larger: a replica of John Trumbull's iconic painting of the signing of the Declaration of Independence, created from a one-ton block of cheese.
After the Cheez-It Big Cheese unveiling festivities in Washington, D.C. the edible cheese underneath the carving was divided and donated to charity.
QUOTE:
"We are honored to help Americans celebrate the July 4th holiday each year with The Cheez-It Big Cheese carving," said Scott Hamric, senior director, brand marketing, Kellogg Company. "Cheez-It crackers bring the big cheese taste baked into each little bite, so it seems fitting for the brand to tip our hat this year to our nation's 'biggest' president during his bicentennial year."
ABOUT KELLOGG COMPANY:
With 2008 sales of nearly $13 billion, Kellogg Company is the world's leading producer of cereal and a leading producer of convenience foods, including cookies, crackers, toaster pastries, cereal bars, fruit-flavored snacks, frozen waffles and veggie foods. The Company's brands include Kellogg's®, Keebler®, Pop-Tarts®, Eggo®, Cheez-It®, All-Bran®, Mini-Wheats® Nutri-Grain®, Rice Krispies®, Special K®, Chips Deluxe®, Famous Amos®, Sandies®, Bear Naked®, Kashi®, MorningStar Farms®, Gardenburger® and Stretch Island®. Kellogg products are manufactured in 19 countries and marketed in more than 180 countries. For more information, visit www.kelloggcompany.com. Kellogg Company's Corporate Responsibility report including its approach, progress and future direction in the marketplace, workplace, environment and community can be found at www.kelloggcompany.com/CR. For information on Kellogg Company's commitment to nutrition, visit www.kelloggnutrition.com.
LINKS:
The Cheez-It Big Cheese on The CBS Early Show (May 29) (http://www.cbsnews.com/video/watch/?id=5049390n&tag=contentMain;contentBody)
Cheez-It Brand Website (http://www.cheez-it.com)
Kellogg Company Website (http://www2.kelloggs.com/)
Contact Information:
CONTACT:
Jessica Wickliffe
Hunter Public Relations
212-679-6600 Ext. 297