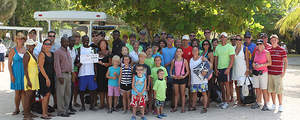 While on their 2009 Escape to the Islands incentive cruise in the Caribbean, Wellness International Network Founders Ralph and Cathy Oats and top-producing distributors donated clothing, thousands of dollars, medicine, and school and medical supplies to Hearts Together for Haiti.
PLANO, TX--(Marketwire - August 3, 2009) - Dedicated to giving back and making a difference in others' lives, Wellness International Network recently brought joy and hope to many Haitian families. When Wellness International Network Founders Ralph Oats and Cathy Oats recently rewarded dozens of its top producers with a seven-day, ultimate Caribbean vacation, they took time in Haiti to deliver donated clothing, thousands of dollars and school and medical supplies to Hearts Together for Haiti. On this trip, a few Wellness International Network distributors were allowed to visit the Haitian village and personally witness the dismal conditions and needs of those living there. "I have never seen poverty like that, but I also really saw hope," shares Helga Stekelenburg from the Netherlands. "Since I spoke French, I talked to those little children and told them we were there to help and that education is so important. From this small part I have a feeling of hope. Just by being there, we can think about the possibilities to help. It's so powerful to see it. Now we can make an even bigger difference." After seeing the poverty and lack of health care, Wellness International Network distributors plan to regularly send more medical supplies and medicine to this village and set up rotations for medical professionals to provide charity work in Haiti. "There is nothing to compare with what I was able to see in that village," says Dr. David Fein, an OB/GYN physician from Dallas. "It was a great feeling to drop off a lot of toothbrushes and shirts and do some good for the community. We also connected with some of the charity leaders, and they pleaded with us to set up a direct link for medical supplies. It was an amazing and heartfelt connection we had. We exchanged emails and got a list of supplies they needed. I'm going to set up a donation bin in my hospital." "It was very memorable and emotional for me to see people who live like that everyday. In the States, we are really fortunate," shares Kim Lamb, a trauma nurse from California. "In my hospital, we have nurses and doctors that spend weeks traveling around doing charity work. Through this organization, we can get some to spend time and provide treatment in Haiti. We can set up a rotation, so that's a future goal." "The clinic in Haiti was the most heartbreaking because the conditions were so meager. I was grateful we brought antibiotics, bandages and gauze for them because when we went to the clinic and their pharmacy, the cupboards were bare," shares Dara McLeod from California. "It makes me appreciate every day that we were born fortunately and have the opportunity to change our circumstances." "Getting a chance to see the extreme poverty in Haiti and knowing how much everyone in Wellness International Network helped those families in need was a good feeling," shares Bob Wagner. "Seeing the conditions those people live under also made me appreciate even more what a great opportunity we all have with Wellness International Network." Ever since Ralph Oats and Cathy Oats learned of Haiti's conditions in 2005, Wellness International Network, an undisputed nutritional leader known for its anti-aging supplement WIN CoQ10™ and its top-selling weight management line, the BioLean® System, has supported Hearts Together for Haiti, a non-profit Canadian charity that provides nutritional, medical and educational services to local communities in Haiti. About Wellness International Network, Ltd. (WIN) A privately held company specializing in health and nutritional products, Wellness International Network, Ltd. is headquartered in Plano, Texas, with its European affiliate, WIN Worldwide BV, located in Hoofddorp, Holland. Its South African affiliate, Wellness International Network S.A. (Pty) Limited, is located in Johannesburg, South Africa, and WIN Worldwide Mexico S. de R.L. de C.V. is located in Nuevo León, México. Founded in 1992 by Ralph Oats and his wife, Cathy, WIN operates in many countries throughout North America, Europe and Africa, and is far and away the forefront leader in global network marketing. Management Team 500 Magazine recently selected Wellness International Network as a Top 500 company. WIN's complete nutritional line is listed in the Physicians' Desk Reference® (PDR®) for Nonprescription Drugs and Dietary Supplements, the authoritative reference for health care professionals for decades. In the Netherlands, WIN's products are listed in the Z-Index, a database of products associated with the public pharmacy, used by doctors, pharmacists, businesses and government. Serious athletes are delighted to learn that WIN Worldwide BV participates in the Netherlands Security System Nutritional Supplements Top Elite Sports [NZVT] system; for additional information click here. Learn more about why "It Pays to Live Well" at winltd.com.

Contact Information: Contact: Wellness International Network, Ltd.