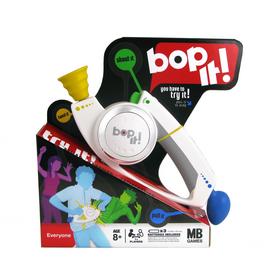 Bop-It! is the think fast game from Hasbro that calls all the shots and invites you to 'bop,' 'twist,' 'pull,' or 'shout' your way to victory.
Bop-It!, which was originally introduced in 1996, has been updated with new playing challenges, including 'advanced' and 'party' modes.
EAST LONGMEADOW, MA--(Marketwire - August 7, 2009) - BOP-IT!, Hasbro's fast-action game that calls the shots, will make a star-studded debut this weekend at the Teen Choice 2009 backstage "Celebrity Retreat" produced by Backstage Creations at the Gibson Amphitheatre in Los Angeles. Stars visiting the BOP-IT! Celebrity Retreat gifting suite will be invited to play the game and attempt to set a high score. These celebrities may be able to act, dance and sing, but can they win at BOP-IT!? The top-scoring celebrity of the BOP-IT! Challenge for Charity will be rewarded with a $10,000 donation in their name to The City of Hope or another charity of their choice.
Teen Choice 2009 will air Monday, August 10, 2009 at 8:00 p.m./7:00 p.m. CDT on FOX.
Players begin the game by activating any of the knobs or buttons, and decide between "Solo," "Pass It" or "Party Bop" modes. In "Solo" or "Pass It" modes, the game will call out actions in random order as players "Bop It" by tapping the middle button on the game, "Pull It" by tugging the blue handle and "Twist It" by turning the yellow, spiraled lever.
Players can trigger the new, optional "Shout It" feature by moving a green switch, which triggers the game's microphone. Shout any word that comes to mind into the microphone, just shout fast!
The commands will continue to speed up as players correctly act out instructions -- be careful, one wrong move and a player will have to start from the beginning.
Once players have reached the 100-point goal, they unlock more difficult Expert and Master skill levels of the game. If players crack the Master Solo level or are the last player standing during the "Pass It" round, they can try the "Party Bop" mode for advanced entertainment. This new BOP-IT! feature will challenge players to "Bop" different body parts at random, such as the elbow, head or hip on the middle "Bop It" button.
BOP-IT! will be available at mass merchandise retailers this Fall for an approximate retail price of $19.99, and can be enjoyed by one or more players, ages 8 and up.
QUOTE
"Hasbro is excited to be the title sponsor of the BOP-IT! Celebrity Retreat produced by Backstage Creations at Teen Choice 2009 to introduce the new, re-imagined BOP-IT! game. We are looking forward to seeing which talented stars have the necessary skills to bop, twist, pull or shout their way to victory. We wish everyone luck in their quest to win $10,000 for charity."
-- Sarah Hoskin, U.S. Brand Manager for BOP-IT! at Hasbro Games
LINKS
ABOUT HASBRO
Hasbro, Inc. (NYSE: HAS) is a worldwide leader in children's and family leisure time products and services with a rich portfolio of brands and entertainment properties that provides some of the highest quality and most recognizable play and recreational experiences in the world. As a brand-driven, consumer-focused global company, Hasbro brings to market a range of toys, games and licensed products, from traditional to high-tech and digital, under such powerful brand names as TRANSFORMERS, PLAYSKOOL, TONKA, MILTON BRADLEY, PARKER BROTHERS, CRANIUM and WIZARDS OF THE COAST. Come see how we inspire play through our brands at http://www.hasbro.com © 2009 Hasbro, Inc. All Rights Reserved.
Contact Information:
Contacts:
Donetta Allen
Hunter Public Relations
212-679-6600, Ext. 229
dallen@hunterpr.com
Pat Riso
Hasbro Games
413-526-2307
priso@hasbro.com