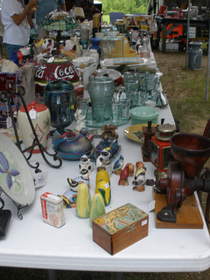 Use a sturdy, folding table like those from Lifetime Products to display yard sale items, says Curt H. from Knoxville, TN.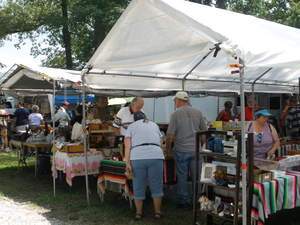 Shoppers look through sale items at the World's Longest Yard Sale.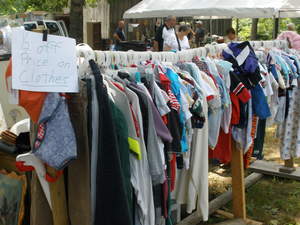 Display a clear price on all yard sale items and include a discount whenever possible, says professional organizer Donna Smallin.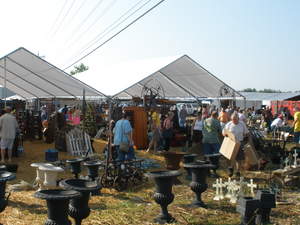 Yard salers in Clarkrange, TN look for best buys at the World's Longest Yard Sale.
Professional organizer Donna Smallin shares yard sale tips for turning your clutter into cash.
CLEARFIELD, UT--(Marketwire - August 7, 2009) - In the game of yard sales, there's only one that truly is extreme. The World's Longest Yard Sale -- spanning 650 miles from Ohio to Alabama -- takes place August 6-9, 2009, attracting sellers and buyers from around the country. If you can't make it to this grand daddy of yard sales, there's no reason you can't have your own at home. In fact, August 8 is National Garage Sale Day! Follow these tips from World's Longest Yard Sale veterans to turn your clutter into cash:
No one will stop at your yard sale if you don't have a place for them to park. Block off one side of the road or the lawn area for buyers. Be sure to have visible signs telling buyers where to park. -Randy P. from Clarkrange, TN
Shaded areas make it more comfortable for shoppers, plus people will stay longer and buy more if they're comfortable. Have pop-up tents set up and if possible, run electrical fans from an inside power source. -Michael D. from Lenore City, TN
Place all similar items, such as books, shoes or toys in containers labeled with brightly colored signs. Whenever possible, use one price for each bin to attract more buyers. -Rita H. from Clarkrange, TN
People don't want to have to bend down on blankets so have good, sturdy tables for all your sale items. I use all-weather tables from Lifetime Products because they last whether rain or shine. -Curt H. from Knoxville, TN
Always be friendly because you can meet people from all over, and don't be too attached to your stuff. It's OK to bargain -- remember you want to get rid of your stuff! -Kerry Ann from Gadsden, AL
ABOUT LIFETIME
Lifetime Products, Inc. applies innovation and cutting-edge technology in plastics and metals to create a family of affordable lifestyle products that feature superior strength and durability. The world's leading manufacturer of folding tables and chairs, Lifetime was founded in 1986 as the maker of portable basketball systems that revolutionized the industry with patented technology. With product offerings such as outdoor sheds and steel utility trailers, Lifetime continues to develop innovative products that outfit the lifestyles of today's Americans. For more information about Lifetime, a privately held company headquartered in Clearfield, Utah, visit www.lifetime.com or call 1-800-242-3865. Lifetime Products, Inc. is not affiliated with Lifetime Television.
RELATED LINKS
Lifetime.com
BuyLifetime.com
127sale.com
Unclutter.com
Contact Information:
CONTACT
Melissa Kuhn (Agency)
Hunter Public Relations for Lifetime Products
p: 212-679-6600 ext. 223