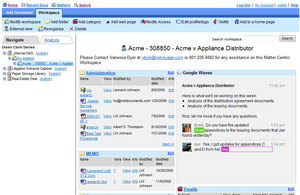 Google Wave embedded within a NetDocuments Client-Centric Workspace
NetDocuments documents within a Google Wave
WASHINGTON, DC--(Marketwire - August 24, 2009) - ILTA09 Conference -- NetDocuments, the leading Software-as-a-Service (SaaS) content management service provider, announced today that it is developing an integration with Google Wave™ (http://wave.google.com/) to simplify document collaboration and extend the NetDocuments collaborative reach to more people. NetDocuments has been offering web-based collaborative services for over ten years. In fact, its genesis in 1998 was "NetEnvelope" a collaborative container to exchange documents over the web -- now referred to as a NetBinder. The NetDocuments NetBinder was just awarded in the KMWorld's September issue (http://www.kmworld.com) "2009 Technology Trend of the Year" and is used today by tens of thousands of users. The market demand to improve the efficiencies of email for business collaboration, as well as an organization's need to deal with the high volume of emails and documents being shared, predominately for regulatory compliance, has attracted the NetDocuments team towards Google Wave. Google Wave is a new communication and collaboration tool, currently available as a developer preview. A "wave" is equal parts conversation and document, where people can communicate and work together with richly formatted text, photos, videos, maps and more. Wave supports live transmission as a person types, and participants can have faster conversations, see edits more quickly and interact with others in real time. By extending the NetDocuments NetBinder collaborative service with the Google Wave functionality and platform, NetDocuments customers can ride the wave for communicating and conversing on projects more efficiently than emailing -- the same phenomenon that has occurred with Facebook users in the consumer world as they have reduced their use of email with more direct ways to communicate within the context of Facebook. A SaaS service that integrates NetDocuments with Google Wave is a contemporary rethink of collaborative content management and how documents are to be shared, tracked and managed. "Many of our customers see the value of collaboration via a web service and use our collaborative features regularly," said Alvin Tedjamulia, CTO at NetDocuments. "Extending our NetDocuments service with Wave will not only enhance our collaborative features but will make it easier for our customers to share content and conversations with the people in Google's current and future market reach." Another important concept is that through Google Wave, external users of NetDocuments no longer need to use NetDocuments login credentials-just any credentials supported by Wave, thus greatly improving the ease of content sharing. The integrated solution offers NetDocuments customers the following:

--  Ability to create a wave within NetDocuments and display it as a
    separate object in a folder. It can also be embedded as an IFrame within a
    NetDocuments Project/Client-Centric Workspace allowing the wave contents to
    be visible when viewing the entire Workspace.
--  Ability to have NetDocuments folders, documents, and search results
    displayed within a wave.
--  Drag and drop documents from an internal NetDocuments folder to a
    wave, and vice-versa.
--  Login to the collaborative space using any methods that Google
    supports.
--  Leverage the real-time wave collaborative features when it's released
    to the market.
    
The release of the NetDocuments integration with Google Wave will follow Google's development schedule. The NetDocuments team has participated in the Google development program since Wave's initial announcements at the Google I/O conference. For further information, please contact info@netdocuments.com or call +1.866.netdocs. About NetDocuments NetDocuments was organized in 1998 as one of the first Software-as-a-Service (SaaS) companies in the world. Our vision is to leverage the Web and the SaaS delivery model to offer the most feature-rich and efficient document service, including the management and collaboration of work in process documents, emails and records. For more information about the company and management, go to www.netdocuments.com All product and company names herein may be trademarks of their registered owners.

Contact Information: Media Contact: Leonard Johnson NetDocuments (801) 722.6608