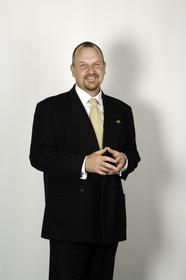 Mal Thatcher, CIO of Mater Health Services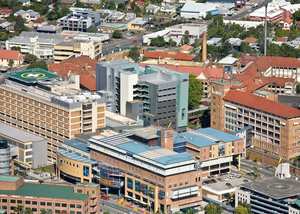 Aerial view of the Mater South Brisbane complex which includes Mater Mothers' Hospitals, Mater Children's Hospitals and Mater Adult Hospital
Cisco Medical-Grade Network is helping to transform health care at Mater Health Services
BRISBANE, AUSTRALIA--(Marketwire - September 30, 2009) - Cisco (NASDAQ: CSCO) announced today that Mater Health Services, Queensland's largest not-for-profit hospital group, is making significant strides in achieving its Smart Hospital strategy with a roll-out of an expanded suite of business applications on its Cisco® Medical-Grade Network across its seven ultra-modern hospitals.
At the forefront of clinical excellence, Mater Health Services is continually developing new methods and practices to improve outcomes for the more than 500,000 patients it cares for annually and to enhance the medical working environment of more than 6,000 staff.
In the third year of its Smart Hospital information and communications technology (ICT) strategic plan roll-out, the Cisco Medical-Grade Network provides Mater Health Services with a communications infrastructure converging voice, video, data and wireless in a single highly secure real-time information system. Mater Health Services chose to implement the Cisco Medical-Grade Network to fundamentally improve health care delivery and clinical outcomes for patients.
Additionally, the Cisco Medical-Grade Network is helping to transform health care at Mater Health Services as follows:
A new clinical information system to be deployed in the neonatal intensive care unit, which will allow clinicians to track the progress of premature babies from anywhere on the hospital network and remotely via a highly secure Internet connection.
With the pending Cisco nurse-call integration solution, nurses can easily reach patients from wherever they are. This solution provides faster response times, more time for staff to spend on primary functions, and a reduction in paging for a quieter, less-disruptive environment. Nurses will have the capability to speak to the patient to better understand his or her needs before going to the patient room.
By allowing access to clinical information systems wherever they are needed, medical staff can access patient records, pathology and radiology results and key clinical information right at the bedside or point of care. This highly secure Cisco mobility solution untethers medical staff and supports different workflows and maximises their efficiency.
For the third consecutive year, Mater has tapped into the magic of the Internet to bring holiday magic to hospitalised children by making it possible for them to see and talk live with Santa at the North Pole, using Cisco video phone technology.
Malcolm Thatcher, chief information officer, Mater Health Services, said: "Mater's Smart Hospital strategy needed to be underpinned by a reliable and pervasive IP delivery platform. Cisco's commitment to understanding the unique needs of the health care sector made Cisco and its technology the only plausible choice for Mater. Over the past two years, Mater has rolled out what is now a robust, unifying Cisco network to support our data and communications needs."

As demands on health care providers increase in volume and complexity, communications amongst health care professionals is becoming a key enabler towards patient-centric care. Recent health care research has highlighted a need for better communication and information sharing within the health workforce. Models of care are also shifting to team-based structures, which require better collaboration capabilities in the hospital environment but which are also key to improving productivity and patient care.

Ken Boal, director of Public Sector, Cisco Australia and New Zealand, said: "With its strategic ICT focus on patient outcomes, Mater Health Services has built a Cisco Medical-Grade Network that today helps maximise staff productivity and enhances patient satisfaction. This platform connects people to people, people to information and people to assets within the hospital when and where they need it. Mater Health Services is leveraging this capability to achieve its long-term vision and transform the patient experience."

The IP-based network includes a Cisco Unified Communications system, including nearly 1,500 desktop Cisco IP phones over 300 Cisco Unified Wireless Phones and Cisco Unified Communications Manager, Cisco's call-processing solution. Mater Health Services' intelligent network is built on Cisco Catalyst® Series Switches and Cisco Aironet® Wireless Access Points.

Technorati Tags: Cisco, Mater Health Services, Australia, Healthcare, Medical-Grade Network, Video, Switches, Wireless and IP Telephony.

About Mater Health Services
Established in 1906 by the Sisters of Mercy, Mater Health Services was founded on the spirit of compassionate service to the sick and needy and continues in that mission today. Each year around half a million people receive care through MHS Brisbane's health care network, which features seven hospitals and employs more than 6,000 staff. MHS was incorporated in 2002 and is recognised nationally for its specialty services including maternal fetal medicine, maternity services, cancer care and neurosurgery.

About Cisco Systems
Cisco (NASDAQ: CSCO) is the worldwide leader in networking that transforms how people connect, communicate and collaborate. Information about Cisco can be found at http://www.cisco.com. For ongoing news, please go to News@Cisco in Australia and New Zealand at http://newsroom.cisco.com/anz.

Cisco, the Cisco logo, Cisco Systems, Catalyst and Aironet are registered trademarks or trademarks of Cisco Systems, Inc. and/or its affiliates in the United States and certain other countries. All other trademarks mentioned in this document are the property of their respective owners. The use of the word partner does not imply a partnership relationship between Cisco and any other company. This document is Cisco Public Information.

For direct RSS Feeds of all Cisco news, please visit "News@Cisco" at the following link:

http://newsroom.cisco.com/dlls/rss.html

Contact Information:

Press Contacts:
Linda Horiuchi
Cisco
+ 61 466 153 335
lhoriuch@cisco.com

Carly Wright
Kinetics Pty. Ltd. for Cisco
+ 61 2 9212 3848
carly@kinetics.com.au

Miranda Hunt
Mater Hospital
+ 61 7 3163 1195
miranda.hunt@mater.org.au