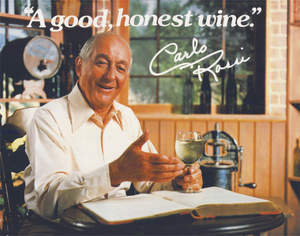 Carlo Rossi Wine is looking for the leader of the 'Carlo Rossi Posse.' The winner receives $10,000 to outfit their dream den.
MODESTO, CA--(Marketwire - October 6, 2009) - Carlo Rossi was a simple, practical man who loved drinking good, honest wine with friends. He was also famous for saying, "I like to talk about wine, but I'd rather drink it!" Sound like you?
In keeping with the long-standing tradition of paying tribute to the man behind it all, the Carlo Rossi Posse Contest will recognize an individual who embodies Carlo's spirit. If you're a dedicated, good, honest guy or gal, you could become the next leader of the Carlo Rossi Posse. One lucky winner will win $10,000 toward creating their very own dream den where you can kick back with friends, relax and enjoy a jug of your favorite vino.
Contest details are as follows:
Enter by describing in 100 words or less why you should lead the Carlo Rossi Posse and how you would outfit your dream den. Responses will be judged based on the entrant's signature style, genuine character and true leadership skills. But keep in mind, the only right answer is the good, honest one!
Entries should include:

Name, age, home address, phone number and e-mail address
Entries must be received no later than November 30, 2009 and should be submitted by visiting www.CarloRossiPosse.com. Get off your couch and start writing! Applicants must be 21 years of age or older at the time of entry.
Carlo Rossi introduced good, honest wines for real people in 1975. Since then, Carlo Rossi has become known for its iconic jug and sensibly priced wines. Carlo Rossi offers 12 unique varietals and wine blends including Chardonnay, White Zinfandel, Merlot, Cabernet Sauvignon, Sangria, Paisano, Chianti, Rhine, Chablis, Blush, Vin Rose and Burgundy. Carlo Rossi wines are available at retailers nationwide. California Table Wine, © 2009 Carlo Rossi Vineyards, Modesto, Stanislaus Co., CA. All rights reserved.

Related Links:
www.CarloRossiPosse.com
www.CarloRossi.com
www.Facebook.com/CarloRossi

Contact Information:

Contact:

Nancy Fishgold
nfishgold@hunterpr.com
212-679-6600 x261