AVN Adult Entertainment Expo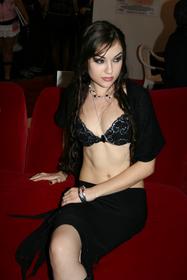 Sasha Grey takes a break from greeting fans to lounge at the AVN Adult Entertainment Expo
ENCINO, CA--(Marketwire - October 7, 2009) - Sasha Grey, the breakthrough star of Academy Award-winning director Steven Soderbergh's "The Girlfriend Experience," adult video phenomenon, and author, will present the keynote address at the 2010 AVN Adult Entertainment Expo (AEE). Grey's speech will occur on Friday, January 8 at 1:30 pm at the Sands Expo and Convention Center in Las Vegas, Nevada and is open to trade attendees and press only. Immediately following her talk, the Expo will present its always-popular women's session, entitled "We Are Women, Hear Us Roar." About Sasha Grey:

--  Star of more than 80 adult films in the past three years, Sasha Grey
    has won four AVN awards, including the prestigious Female Performer of the
    Year award.
    
--  She was featured as part of the art work for The Smashing Pumpkins'
    2007 album "Zeitgeist" and included in the 2009 Rolling Stone Magazine Hot
    List.
    
--  Grey recently starred in "The Girlfriend Experience," which was
    released theatrically through Magnolia Pictures on May 22, 2009.
    
Quotes: Sasha Grey: "I am very excited to be asked to give the keynote speech at the 2010 AVN Adult Entertainment Expo. This has been an incredibly exciting year and one in which many things have changed for me and for our industry at large. In this tough economy it is of even greater importance to show appreciation for the fans and supporters who make it possible for us to continue to do what we love. I am proud to be part of AEE and to continue to work hard and provide my voice to an industry that I believe in." AEE spokesperson Sean Devlin: "Sasha Grey is one of the most thoughtful, intelligent, and original voices in adult entertainment today. We are thrilled that she is going to share with our attendees her thoughts about the adult entertainment industry, her artistic and sexual aesthetic, women and the industry, and breaking through to mainstream celebrity." Regarding Grey, Vanessa Grigoriadis of Rolling Stone magazine recently wrote, "To me, what's most important about her is her impact on feminism. Porn has been one of feminism's most divisive issues because it hits on such a raw level to so many women. Here are the fantasies of men, and it's of course better to live out those fantasies through pornography than to try to do them in the real world, but the fact is the real world is impacted by it. Grey says, 'If you look at me and you think 'Here's a woman who's intelligent, cognizant and making her own choices,' and you still tell me that what I'm doing is wrong, screw you, because that should end the debate.'" About AEE:

--  The AVN Adult Entertainment Expo (AEE) is the largest adult
    entertainment convention in the world. AEE showcases the most comprehensive
    collection of adult talent, exhibitors, and products, which attracts buyers
    and fans from all over the world.
    
--  The 2010 show will be held January 7-10 at the Sands Expo and
    Convention Center in Las Vegas, Nevada. Trade registration provides an all-
    access badge that admits the holder to the keynote, all AEE seminars, the
    main exhibit hall during all show hours, and the B2B marketplace.
    
--  AEE hosts the hottest adult entertainment stars in the world and
    several hundred exhibiting companies, including Adam & Eve Pictures,
    Bluebird Films, Digital Playground Inc., Elegant Angel Video Productions,
    Evil Angel Video, Exquisite Multimedia Inc., Heatwave Entertainment,
    Hustler Video, Pink Visual, Vivid Entertainment LLC, Wicked Pictures, and
    Zero Tolerance. For complete list of exhibitors from 2009, please visit
    http://show.adultentertainmentexpo.com/exibitor-list/aee-past-exhibitors.
    
--  Seminars at the 2010 AEE will address challenges in the adult
    industry, marketing trends, pressing legal issues, new developments in
    retail for adult content and products, and women in the industry.
    
--  Approximately 25,000 people attended the Expo in 2009.
    
--  The 2010 AVN Adult Entertainment Expo sets the stage for the AVN
    Awards Show, which will be held at the Pearl Concert Theatre at the Palms
    Resort & Casino, on Saturday, January 9, 2010. The annual AVN Awards Show
    is the premier gala of adult video and recognizes titles, individuals, and
    companies for contributions to and excellence in the industry. Please note
    that a separate ticket is required for admission to the AVN Awards Show.
    
--  AEE runs concurrently with the International Consumer Electronics Show
    (CES) on all four days, but is not affiliated with CES. Separate
    registrations are required for each event.
    
--  To register or for more information about the Expo, including a list
    of exhibitors and events, please refer to AdultEntertainmentExpo.com.
    
Follow AVN Adult Entertainment Expo (AEE) on Twitter at Twitter.com/AEexpo Follow us on TwittSex at Twittsex.com/sex/profile/AEexpo Facebook: www.Facebook.com/AdultEntertainmentExpo MySpace: MySpace.com/AdultEntertainmentExpo

Contact Information: Media contact: Grace Lee (818) 728-8674