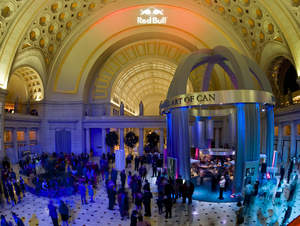 Red Bull Art of Can Washington, DC Union Station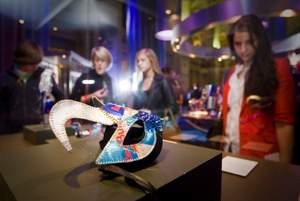 Red Bull Art of Can Washington, DC Union Station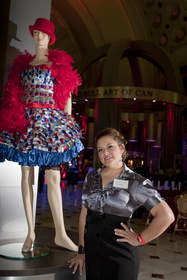 Red Bull Art of Can Washington, DC
WASHINGTON, DC--(Marketwire - October 12, 2009) - The Red Bull Art of Can exhibit opened last week at Union Station. Over 500 people attended to get a first peek at the 56 pieces of art inspired by the Red Bull can. The topic of conversation for the night included human robot "Boyfriend Operating Bionic" and oversized snow globe "Old Faithbull." The exhibit is open to the public now through October 19th at Union Station during regular operating hours. The major metro hub showcased a wide variety of aluminum offerings. They didn't just deliver diversity and variety, but edge and excitement including a 14-foot bull and the familiar -- donkey and elephant -- representing our fellow Democrat and Republican parties. Heads were spinning when they were greeted by a Red Bull-inspired Can-Can outfit and a 8-foot octopus as they walked through the doorways into Union Station. "What's great about this exhibit is that it isn't just artists that have works on display, it's people from all walks of life that were inspired by the can," said Philippa Hughes, one of the night's EMCEEs and a Red Bull Art of Can DC judge. AND THE WINNER IS... The judges awarded special honors to the top three artists and their pieces. The grand prize, which was an all expenses paid trip to Art Basel, the world's leading modern art exhibit in Switzerland, went to Kathryn Beale for her politically inspired "Common Ground" sculpture. Second place went to Thomas David Fesperman for "Great Bull Cubed" and received tickets for two to Art Basel in Miami. The third place award is a local art experience and went to Bryan Lawson for "Taurus in the Rye," which was a 270' by 100' crop circle replica of a Red Bull can. The Red Bull Art of Can competition challenged artists to construct pieces created with or inspired by Red Bull Energy Drink and Red Bull Simply Cola cans. Innovative artists -- professional and amateur -- submitted their designs for consideration. With over 300 pieces submitted, 56 pieces were selected to be a part of the DC Collection. The featured artists are creative types of all ages and occupations -- from students to industrial designers and sales professionals to artists. A distinguished judging panel were brought in to help sort through the array of submissions and determine top prizes. Their decision was based on the overall creativity, execution and construction of each piece. DC's judging lineup includes:

--  Tristan Eaton - Illustrator, Toy Designer, President and Creative
    Director of NYC Toy Brand Thunderdog Studios
--  Stash - New York Graffiti legend, Innovator and Influencer in the
    world of urban design
--  SAGA MOOR - Philadelphia Art Pioneer and Creative Art Director at
    Miskeen Originals, an urban clothing line
--  Philippa P.B. Hughes - Founder of The Pink Line Project, which fosters
    art innovation through creative programs
--  Laurel Lukaszewski - DC installation and sculpture artist and founding
    member of Flux Studios in Mt. Rainier, MD
--  George Charles Koch - Painter and Founder of A. Salon, Ltd., an
    artist's service organization in DC
    
Val Lewton, former Chief of Design and Production at Smithsonian American Art Museum, was the 2009 Art of Can DC Art Director. He was responsible for the layout of the pieces and the exhibit in Union Station. The Red Bull Art of Can 2010 exhibit will be held in Miami's South Beach from March 2nd - 14th. Visit www.redbull-photofiles.com for photos of the exhibit.