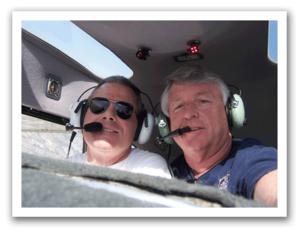 John T and Del Olson (right) in the 1949 Cessna C-140A used for the GPS SkyWriting adventure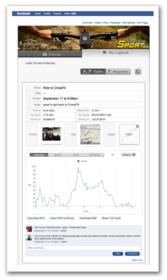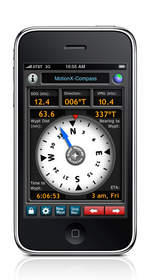 MotionX-GPS(TM) Sport the iPhone application for active outdoor enthusiasts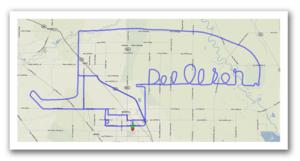 MotionX-GPS(TM) Sport User Del Olson Invents "GPS SkyWriting"
SANTA CRUZ, CA--(Marketwire - October 12, 2009) - Today, Fullpower is introducing MotionX-GPS Sport for Facebook providing MotionX users with simple and direct access to Facebook. With one click, users can easily post and share their MotionX-GPS activities with Facebook friends and with the Facebook community at large. The integration of MotionX-GPS Sport with Facebook is seamless, easy-to-use and is included in MotionX-GPS Sport at no additional cost. Getting started couldn't be easier; all that is needed for set-up is a Facebook account, and MotionX-GPS Sport will automatically do the rest. MotionX outdoor enthusiasts can automatically start interacting with Facebook in some of the following ways, right from their iPhones:
Create your own MotionX-GPS Sport tracks and waypoints on the iPhone, and then with one click post these to your free personal Facebook Logbook.
Import tracks to your iPhone from other Facebook users with MotionX-GPS Sport. Tackle these imported tracks on your own by simply following the orange line!
Share and challenge other MotionX-GPS Sport users on Facebook. It's all built-in, and is one-click away.
"Facebook and MotionX-GPS Sport are perfect for our outdoor lives: cycling, hiking, skiing, sailing, and running," said Philippe Kahn, CEO of Fullpower. "True sharing is possible now because I can import the track that I wanted to follow, and take it with me on my adventures. As a skier for example, I love to get that tour of the mountain from the locals, and just track it and report back on Facebook." Several MotionX-GPS customers have already started taking advantage of the powerful integration of MotionX with Facebook: MotionX-GPS User Profile: The Shenandoah EcoVenture uses MotionX-GPS Sport Facebook integration to tell its inspiring story of Eco-education in "real time."
Students and faculty from Shenandoah University are turning mountains, trails, and the Shenandoah River into their classroom. The EcoVenture vision for sharing and educating others relies on MotionX-GPS Sport and its excellent Facebook integration to help tell this important story of eco-education. EcoVenture invites everyone to follow its progress via Facebook, and is relying on MotionX-GPS to make that possible. MotionX-GPS User Profile: Del Olson uses two important tools to sign his name -- MotionX-GPS Sport and a Cessna 140 Airplane!
Del Olson is a Cessna 140 pilot with a passion for flying and for GPS. He let us in on one of his adventures -- writing his name with his Cessna on a GPS track! Del explains, "Well, I just had to try it. I went flying and I wrote my name using the MotionX-GPS Sport app on my iPhone. It was a great flight. My name is 9 miles wide and 2 miles tall. I flew this holding between 1200 feet and 1500 feet. I love this app." MotionX-GPS leads the iPhone App Store Navigation category. Embraced by more than 2 million outdoor enthusiasts, MotionX-GPS Sport for the iPhone 3G and 3GS is available for $2.99 for a limited time through the Apple App Store. About Fullpower/MotionX
Founded in 2003 by Sonia Lee and Philippe Kahn, Fullpower's mission is to put motion-sensing in every mobile device. As the leader in mobile sensing solutions, Fullpower is building on its expertise in wireless sensor technology to deliver unique, interactive motion-sensing applications. MotionX solutions are designed and developed in Santa Cruz, Calif. Important Links:
MotionX-GPS Sport in the iTunes Store:
http://itunes.apple.com/WebObjects/MZStore.woa/wa/viewSoftware?id=299949744&mt=8 MotionX Facebook Application:
http://apps.facebook.com/motionx-gps/ MotionX Website:
http://www.motionx.com Complete story on Del Olson's SkyWriting:
http://news.motionx.com/motionx-gps/2009/10/11/sky-writing-with-motionx-gps-sport/

Contact Information: Contact: Tami Casey Kulesa Faul for MotionX 650.340.1984