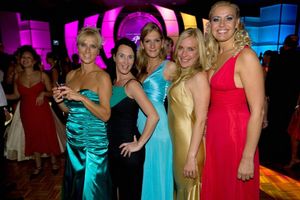 Celebrating 17 years of physical, mental and financial wellness, Wellness International Network will host hundreds of international distributors for its 17th Anniversary Gala.
PLANO, TX--(Marketwire - October 13, 2009) - Ralph Oats and Wellness International Network are preparing for their biggest and most anticipated event of year, Wellness International Network's 17th annual Anniversary Gala. This exciting four-day celebration of Wellness International Network's continual growth will welcome hundreds of its international distributors to the DFW area. During 2009, Wellness International Network has launched new product and packaging, hosted a Caribbean cruise for top performers and announced two luxury get-aways for distributors in 2010. According to the Plano Convention & Visitors Bureau, Wellness International Network recently saw a 25 percent increase of hotel rooms locally booked from last year. Also, Wellness International Network has experienced upward trends in traffic to company web sites, particularly to MyWINWebPage (MWWP), WIN's dynamic shopping cart. Set for November 4-7, Wellness International Network's Anniversary Gala will include in-depth training meetings by WIN Founders Ralph Oats and Cathy Oats at its Corporate Headquarters and the Marriott at Legacy Town Center, both in Plano's prestigious Legacy Park. For the first time ever, Wellness International Network's glitzy Awards Ceremony will be held at the historic Majestic Theater in downtown Dallas, including a performance by two-time Comedian of the Year Adam Ace. Many international distributors of Wellness International Network, an undisputed leader known for its top-selling weight management line, the BioLean® System, and highly concentrated omega-3 supplement WINOmeg3complex™, will be celebrating the 15-year anniversary of opening an affiliate office in the Netherlands, WIN Worldwide B.V. Also, Texas Unlimited Band will headline an exciting Lone Star Lounge Party, following training sessions on Thursday night. Local, popular party band, InsideOut, will complete the exciting week as they headline the Gala Finale Celebration on Saturday night. "While some companies are scaling back in these harsh economic times, we are planning an unforgettable event and anticipate celebrating another year of achieving physical, mental and financial wellness in style," shares Ralph Oats. "We are excited to recognize the incredible efforts of our distributors." About Wellness International Network, Ltd. (WIN) A privately held company specializing in health and nutritional products, Wellness International Network, Ltd. is headquartered in Plano, Texas, with its European affiliate, WIN Worldwide BV, located in Hoofddorp, Holland. Its South African affiliate, Wellness International Network S.A. (Pty) Limited, is located in Johannesburg, South Africa, and WIN Worldwide Mexico S. de R.L. de C.V. is located in Nuevo León, México. Founded in 1992 by Ralph Oats and his wife, Cathy, WIN operates in many countries throughout North America, Europe and Africa, and is far and away the forefront leader in global network marketing. Management Team 500 Magazine recently selected Wellness International Network as a Top 500 company. WIN's complete nutritional line is listed in the Physicians' Desk Reference® (PDR®) for Nonprescription Drugs and Dietary Supplements, the authoritative reference for health care professionals for decades. In the Netherlands, WIN's products are listed in the Z-Index, a database of products associated with the public pharmacy, used by doctors, pharmacists, businesses and government. Serious athletes are delighted to learn that WIN Worldwide BV participates in the Netherlands Security System Nutritional Supplements Top Elite Sports [NZVT] system; for additional information click here. Learn more about why "It Pays to Live Well" at winltd.com.

Contact Information: Contact: Wellness International Network, Ltd.