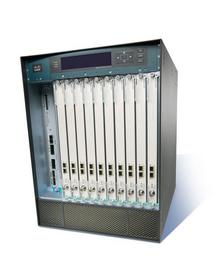 Cisco's low-power RF Gateway 10 Universal Edge QAM
SAN JOSE, CA--(Marketwire - October 28, 2009) - Cisco (NASDAQ: CSCO) announced today it will display a host of medianet technologies at the SCTE Cable-Tec Expo Oct. 28-30 in Denver that will enable service provider networks to become the platform for a new generation of advanced broadband and video applications and services. Cisco is working in close collaboration with its service provider customers to enable the Connected Life experience for consumers that offer more personal, social and interactive services to any screen.
Cisco Exhibit Space: Colorado Convention Center, Denver, Hall C, Booth 13115
Key product demonstrations include:
Cisco green products on display at the SCTE Green Pavilion:
Cisco RF Gateway-10 Universal Edge QAM: Features low power consumption per QAM. Typical edge QAMs are 8-10 watts per QAM; the Cisco RFGW-10 is currently 5 watts/QAM.
Prisma II XD Platform: Offers superior power efficiency with just 7.5 watts per slot.
Prisma II High Density 1310nm Transmitter: Requires only 7.5 watts of power to operate.
Cisco GS7000 Optical Hub: Made up predominantly of passive devices and low-power erbium-doped fiber amplifiers (EDFAs) and switches. The convenient strand-mount enclosure eliminates the need for costly, time-consuming building costs and permits, and it has no heating, ventilation, and air conditioning (HVAC) and associated power requirements.
Cisco D-PON ONT (DOCSIS Passive Optical Network Optical Network Terminal): Eliminates the need for the numerous active components (RF amplifiers) in the network, and thus the need for energy to power these components.
Cisco next-generation set-top boxes: Consuming 17 percent less energy, on average, than the Tier 1 guidelines specify; Energy Star-qualified.
Cisco booth theater presentations:
Cisco will feature a range of speakers at its in-booth theater covering a number of workshop sessions daily, including topics such as Cable Business Services, MDU Services for the Digital Age and Cable IP Video.

Cisco Cable-Tec Expo Session Speakers:

About Cisco
Cisco (NASDAQ: CSCO) is the worldwide leader in networking that transforms how people connect, communicate and collaborate. Information on Cisco can be found at http://www.cisco.com. For ongoing news, please go to http://newsroom.cisco.com.

Cisco, the Cisco logo and Cisco Systems are registered trademarks or trademarks of Cisco Systems, Inc. and/or its affiliates in the United States and certain other countries. DOCSIS is a registered trademark of Cable Television Laboratories, Inc. All other trademarks mentioned in this document are the property of their respective owners. The use of the word partner does not imply a partnership relationship between Cisco and any other company. This document is Cisco Public Information.

For direct RSS Feeds of all Cisco news, please visit "News@Cisco" at the following link:

http://newsroom.cisco.com/dlls/rss.html

Contact Information:

Cisco Press Contact:
Sara Cicero
Cisco
(770) 236-2181
stutzes@cisco.com

Industry Analyst Contact:
Charlie Guyer
Cisco
(978) 936-0825
chguyer@cisco.com

Investor Relations Contact:
Matt Tractenberg
Cisco
(408) 525-3170
matthew2@cisco.com